From the time Haridas sang about his bulbul bhaja, or even before, Kolkatans and Bengalis have harboured a love for crispy-crunchy treats. As with most of the country, these are an integral part of the food culture in Kolkata as well, and some of the treats on the list have made a name for themselves outside borders.
Snack favourites like jhalmuri or muri makha have even crossed international borders. There have been songs for the love of jhalmuri and like its Mumbai cousin bhel puri, it has garnered a fan following.
However, if we talk about crunchy street snacks like the jhalmuri, there is a long list of items available at almost every nook and corner of the city, which are also hot favourites at melas. They are simple offerings, but have a place of their own in the street food staples of the city. With Rath Yatra celebration afoot, and a mela in every other para, these crunchy bites are a must-have.
Ghoti gorom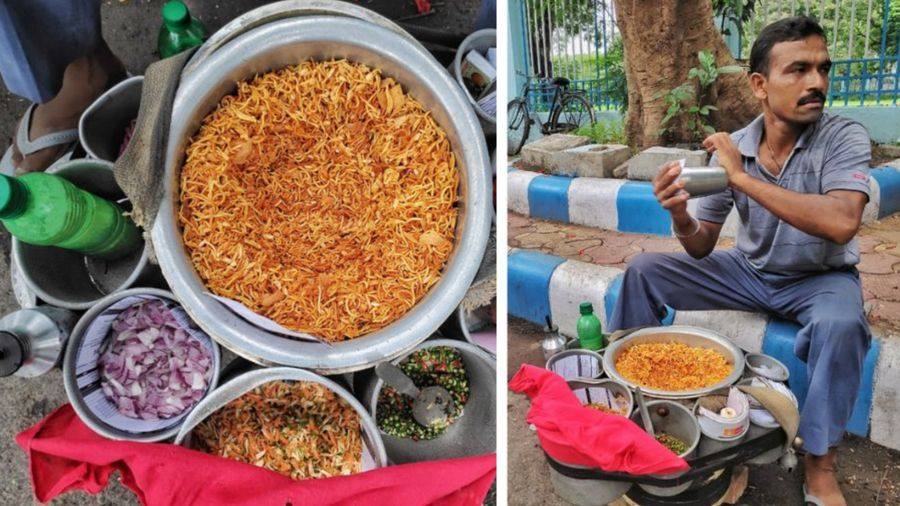 Soumyajit Dey
To start, the first snack that comes to mind is ghoti garam. For many who've grown up in the city, the sight and sound of a ghoti gorom seller is a familiar one. A man with his contraption of cylindrical metal container or a large ghoti that has a number of small containers attached to it. There are various condiments in the smaller containers and a chanachur mix in the ghoti, kept warm by a small burner. Not only in different localities, ghoti gorom sellers do the rounds on trains, ferry ghats and parks as well. And though the sight is not as common as it once was, whenever you find someone selling it, a paper thonga of it puts a smile on your face.
The lip-smacking treat is a mixture of chanachur with peanuts, chopped onions, green chillies, and the star of the snack — the sour amra (hog plum). Sometimes, the amra is replaced with raw mangoes.
Chanachur
Among the most favourite snacks for Kolkatans is chanachur, a variety of what many people outside Bengal know as 'mixture'. As a snack with tea, or as a munchie at any odd hour of the day, a small bowl of chanachur can make a Bangali happy anywhere. So much so, that almost every household has a separate container for chanachur. The tok-jhal-mishti (tangy-spicy-sweet) is the favourite, and is often mixed with some muri, a splash of mustard oil, finely chopped onion, tomato, cucumber, and even green mango in season for a satisfying bowl of chanachur makha.
For years, the brands Bapi and Mukhorochak have been synonymous with chanachur for Kolkata. There are also many shops like Ujjala Chanachur in Rashbehari and shops in Burrabazaar who have their own recipes of the snack.
Jhuri bhaja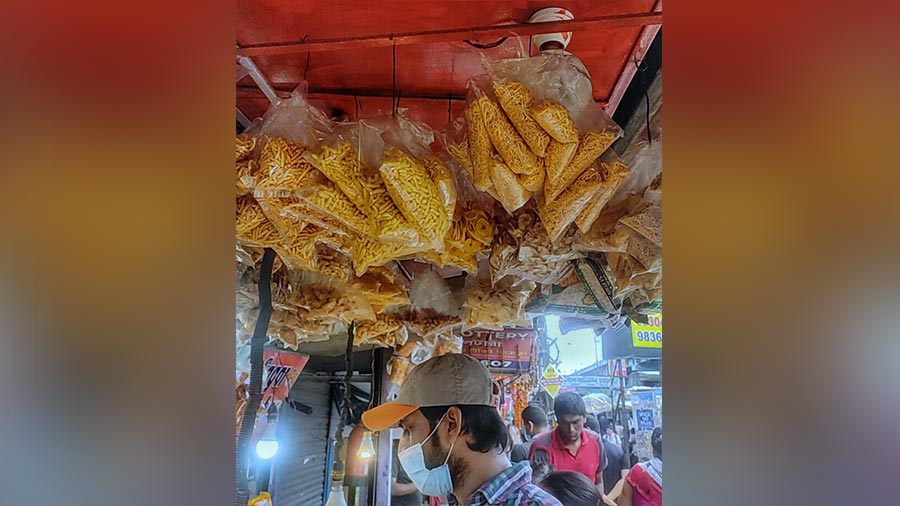 Amit Datta
For a typical Bengali foodie, jhuri bhaja could cover a range of things from aloo jhuri bhaja to loitta macher (Bombay duck) jhuri bhaja. The typical, snack-time jhuri bhaja is deep-fried besan sprinkles on jhal muri, chaats, dahi vada, bhel puri, etc. But the crispy topping is also a popular savoury snack. From sealed packets to thongas, thin to thick, shops to melas, there's a whole range of crunchy goodness to choose from.
Nimki and kaidana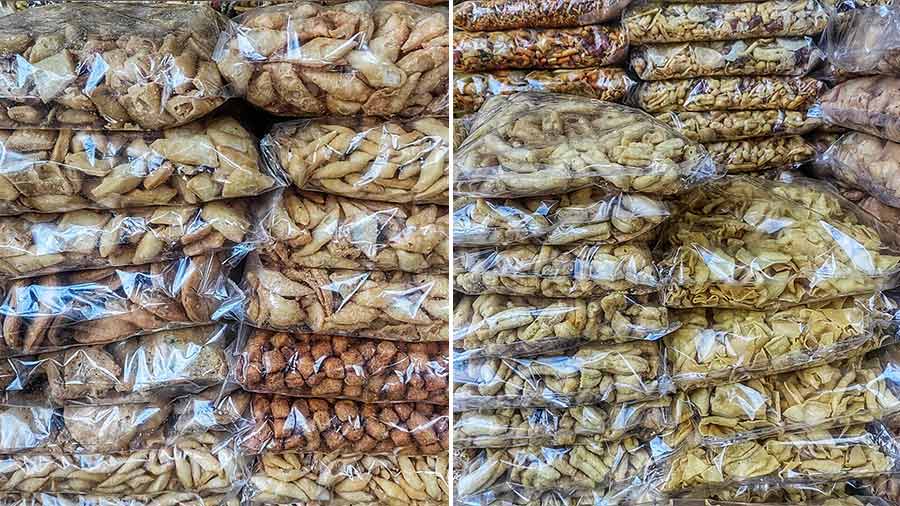 Amit Datta
An evening cha-time favourite, the crispy nimki comes in many versions, salted and sweet. Starting from small packs to branded ones, these diamond-shaped, crispy treats made with maida also have a mini household version called kucho nimki that are usually made during Bijoya Dashami. Another nimki-like snack is the Madan kotkoti — small, cuboid, fried cookies flavoured with kalo jeere. Though mainly made at home you might find them in quaint, smaller shops in the city.
The kaidana are a spiced-up, chatpata version of the nimki. The small, squarish savoury snacks are made of maida, deep fried and sprinkled with a generous amount of masala. The kaidana has also seen some branding over the years, and is available with local vendors, not to forget at the melas.
Daler bora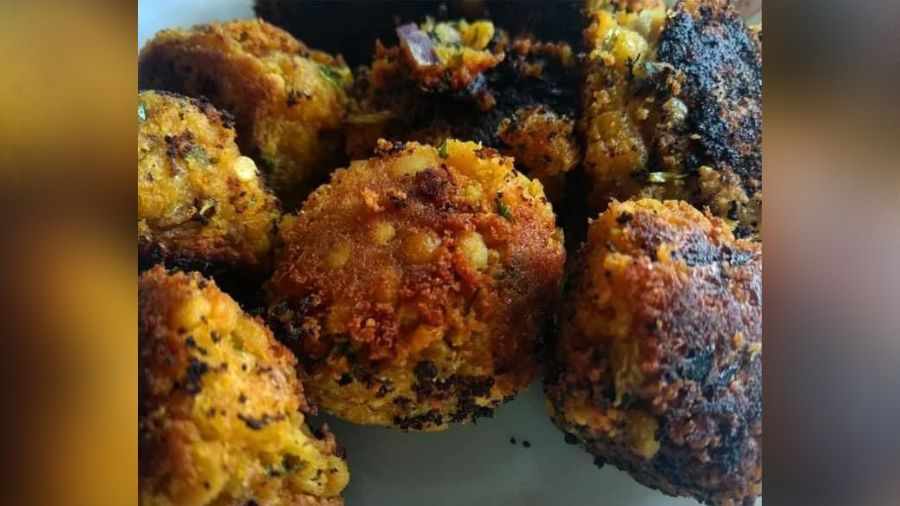 Pooja Mitra
The small lentil fritters that were typically served with dal in a Bengali lunch course have made their way to becoming a popular street food snack. Served with a green chutney, these spicy fritters, which are crunchy on the outside and fluffy inside, are too tasty to resist. There is hardly a neighbourhood in Kolkata where you won't get these fritters, and the sellers in Gariahat are among the most popular.
Potash Badam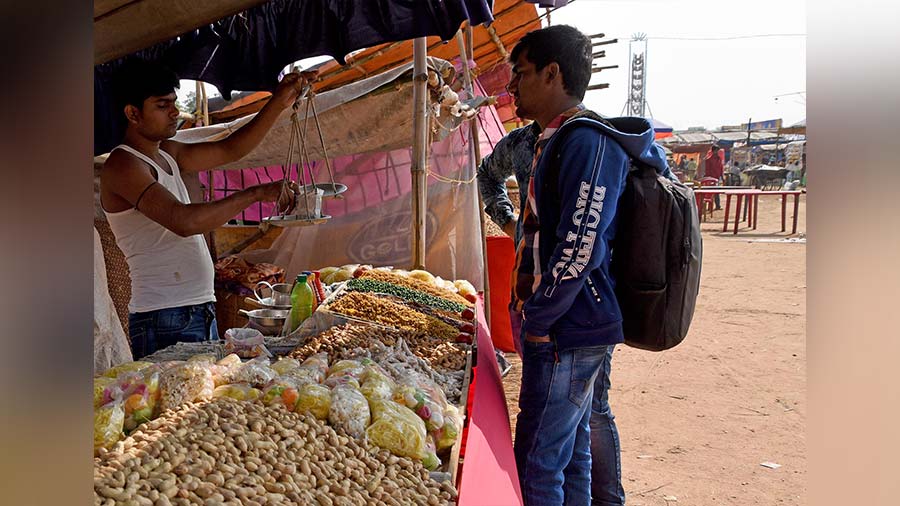 Amit Datta
With the Kacha Badam song going viral, the potash badam does not need an introduction. A snack often offered to kids to keep them engaged, potash badam is nothing but peanuts roasted in their shells. You break the shell with your fingers or teeth and get to the nut inside. It is the breaking of the nutshell that is the main attraction of this snack. Melas are usually the best places to find them, but you'll probably spot one vendor at public attractions, temples or on trains.
Gur Kotkoti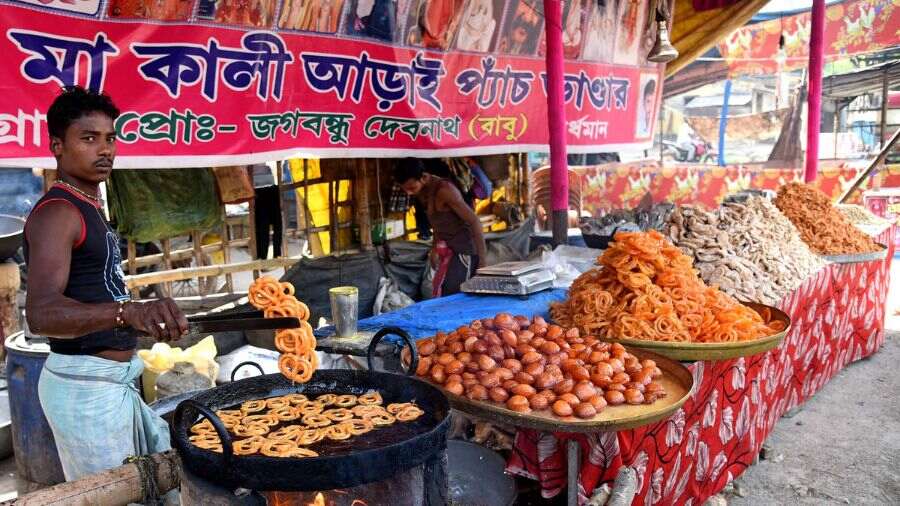 Amit Datta
This is one of the sweeter snacks on the list. Made with maida, deep fried and then dipped in gur, it's a crunchy treat that is sometimes hard enough to test the strength of your teeth — hence the name kotkoti. Gur kotkoti is a major player in any mela. The snack stalls selling jilipi, nimki and other fried snacks are heaped with these sweet treats that people buy by grams to carry and munch on when roaming the mela. There is also a sugar version, since gur is seasonal. But the darker-coloured gur version has its own attraction. The snack is also often sold in local trains and local shops.
Badam chakti
Known by a few other names — badam patali, badam kotokoti — this is another sweet treat on the list. Made with peanuts and sugar or gur, this almost chikki-like snack is available in small squares or in round shapes and best enjoyed in the winter. From local shops to melas, from stalls to train vendors, badam chakti is available almost everywhere. This multi-generational favourite is also often made at home in the winter.
Papad bhaja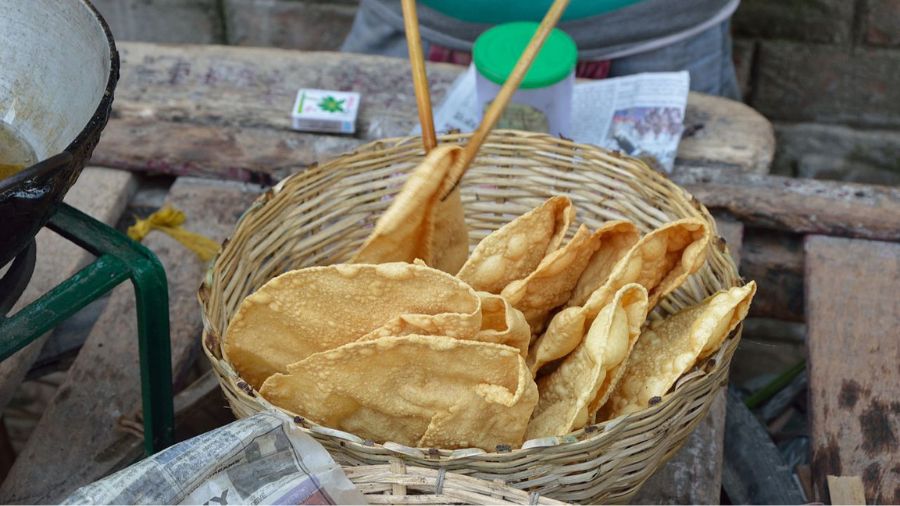 Wikimedia Commons
With the fervour of Rath Yatra still fresh, it would be wrong to not mention papad bhaja. This one is not a typical snack, often served as an accompaniment to khichuri, or dal, or served with chutney at the end of a festive meal. During Rath Yatra, makeshift papad bhaja stalls are found in almost all localities in the city.
Local chips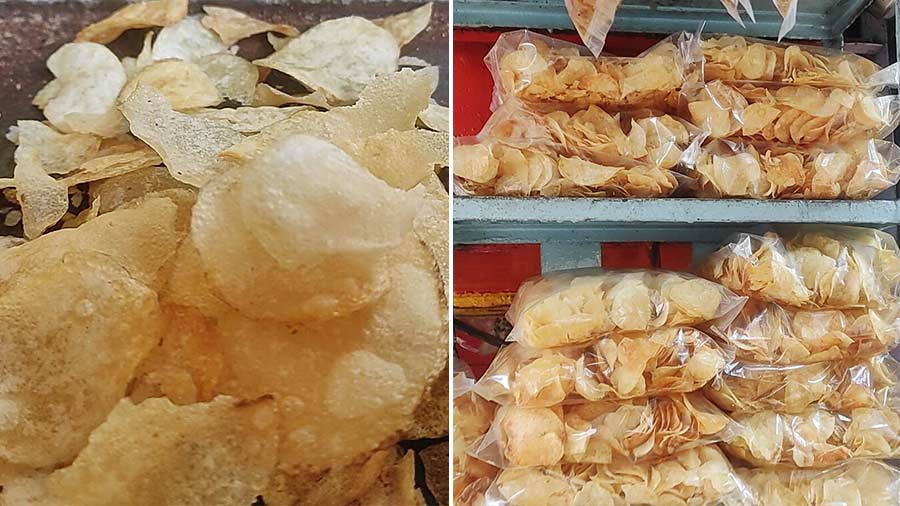 Amit Datta
Remember those super crispy, almost paper-thin potato chips you'd buy from the local shop or munch at birthday parties? Long before the big brands swept in or shops like Hot Chips came to the forefront, the locally made wafers stole the show. From standalone cinema halls to the parar jhalmuri dokan, these snacks are readily available. There's usually someone selling these wafers at most big market areas including New Market or Hatibagan Market, at a park in Girish Park area or even in a lane in Chandni Chowk.