We talk of street food, we talk of restaurants, cloud kitchens, household kitchens, but there's one kind of food that often slips under the radar — railway station food. Thousands of people commute every day by local trains and many take long-distance trains, stopping at stations for sustenance. Naturally, stations have their own food story.
The first thing that comes to mind while speaking of station food in West Bengal is bhnarer cha and local bakery biscuits at the platforms. Most people's next favourite is jhalmuri. The jhalmuri available at stations and from vendors on trains, seems to have a unique taste that no other jhalmuri compares to.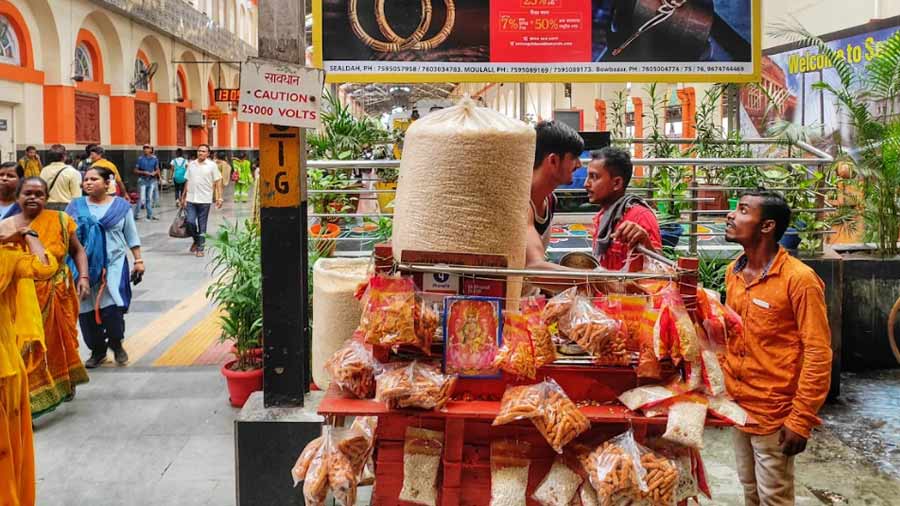 Jhalmuri has remained a firm favourite train snack for generations
Amit Datta
The other snack favourites are badam bhaja, motor bhaja, and similar crunchy treats. At different points of time, different food items have been introduced to the spread of station food such as telebhaja, Bapuji cake, patties, locally made pastries, mishti and even multiple-course meals. I also remember seeing a phuchka stall inside Dum Dum station. Just like the menu changes, so do the locations.
An essential experience
The food from vendors and at stations is one of the essential — and great — experiences to savour on a long train journey, and every station has its own set of favourites.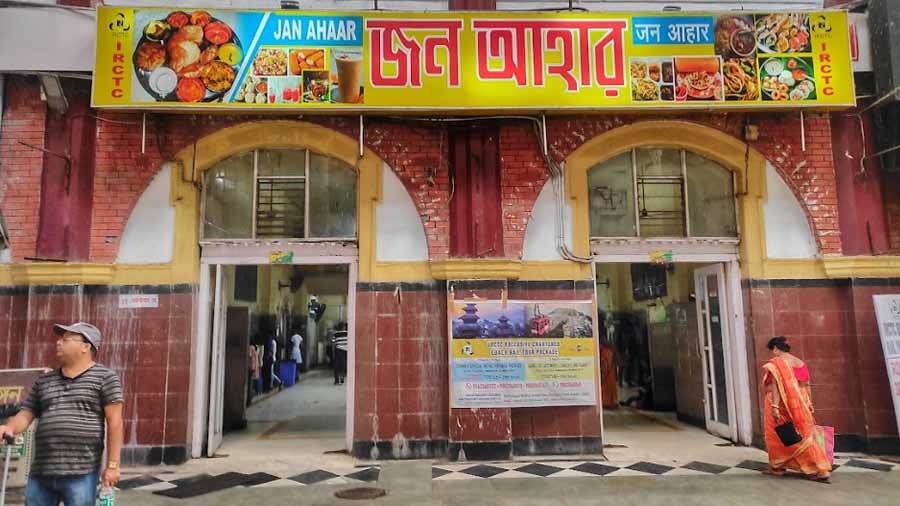 The food stalls at railway stations, are a mix of older traditional ones and newer ones, offering an interesting mix of food items
Amit Datta
As the trains enter Burdwan, vendors queue up near the compartments and sell bhnarer cha, luchi torkari and, of course, the famous sitabhog and mihidana (though I must say the sweets are better in shops). As the train enters Odisha, vegetable chop, shingara and the unique, regional round sweets dominate the food scene. Many trains have meals as part of the tickets, many have their own pantries too, but food from local vendors have a special attraction.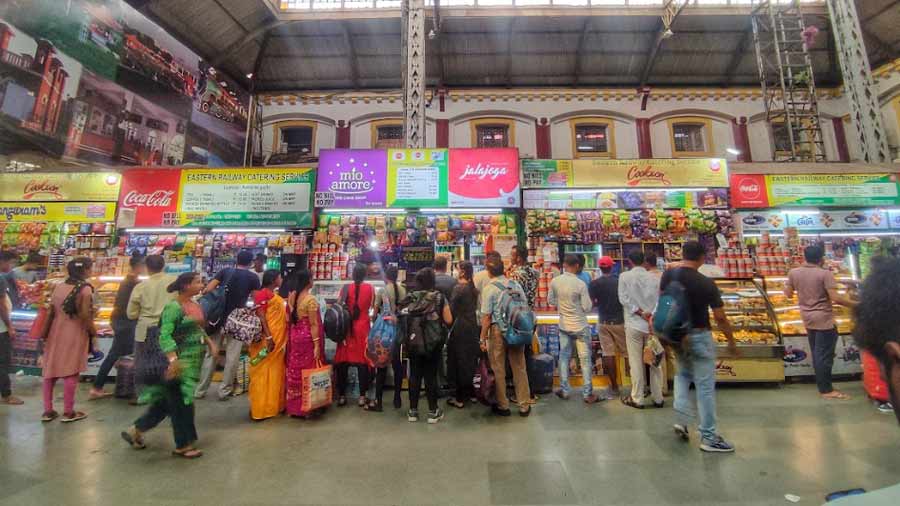 At stations like Howrah and Sealdah, food courts and branded food stalls have changed the entire food scene
Amit Datta
Like every other culinary culture, station food has gone through changes. A host of brands, collaborations, food courts have filled up the station premises now. Though the makeshift stalls of chola makha, porota, and boiled eggs are still present, their numbers have considerably declined. At stations like Howrah and Sealdah, food courts and branded food stalls have changed the entire food scene. In places like Dum Dum, junction food stalls are still present, but they cater more to newer, diverse taste buds.
A piece of history at Dum Dum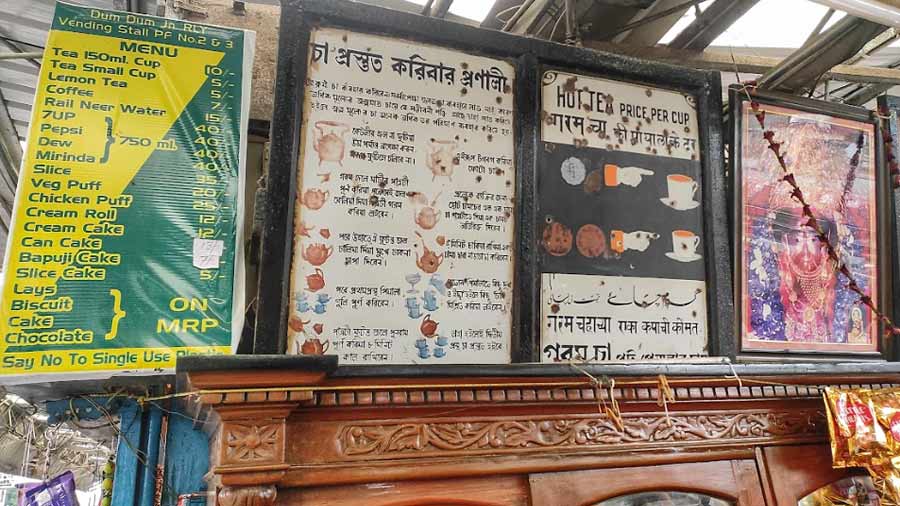 Tin boards highlighting the benefits of tea and the process of making a cup of tea at a pre-Independence-era tea stall at Dum Dum station
Amit Datta
There is an age-old, quaint tea stall from the pre-Independence era in Dum Dum station that stands firmly tucked at the intersection of platforms two and three. The present proprietor, Narayan Chandra Shaw, said that this stall is at least 90 years old. Though they used to make tea the traditional way in a kettle, due to demand, they now sell machine-made tea. Apart from the tea, other items on offer have also changed. While they still sell Bapuji cake, Laxmi's special lamboo biscuits and bakery biscuits, there's packaged goods such as chips, cup noodles and biscuits for sale at the stall to cater to the demands of customers.
The little tea shop is worth a stop, not only for the good tea, but also the pre-Independence tin display boards that hang behind the stall. The boards, written in Bengali, describe the benefits of having tea, and how to make a cup of tea. Starting from boiling the water in a kettle, the whole process is defined in steps and with images. It reminds me of a song by Rabindranath Tagore, 'Haye haye haye, din choli jaye, chaspriho choncholo' in which the poet wrote about tea, its origin, how to make it and people who mostly enjoy this beverage.
The fun 'fotash jol'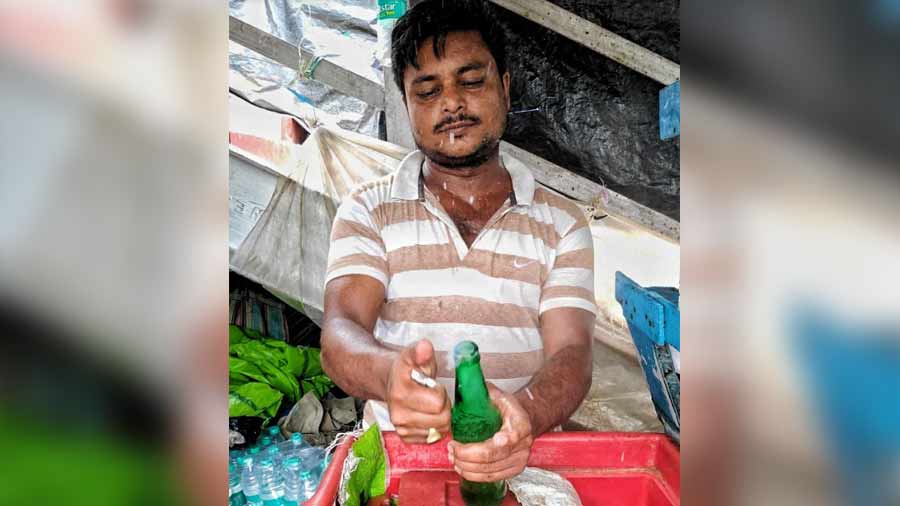 'Fotash jol,' similar to banta soda and goli soda, is sold on many stations in the southern side of Sealdah. In picture, a 'fotash jol' seller at Ballygunge station
Soumyajit Dey
Kolkata's station food story would be incomplete without the mention of fotash jol, the carbonated water sold in used cold drink or cola bottles, and zhuzhed up with mixers to make a refreshing drink. Fotash jol is usually available at stations on the southern section of Sealdah, and has a huge demand especially during the summers. At Ballygunge station, a glass of fotash jol sells between Rs 5 and Rs 10, and is a coveted drink for daily commuters.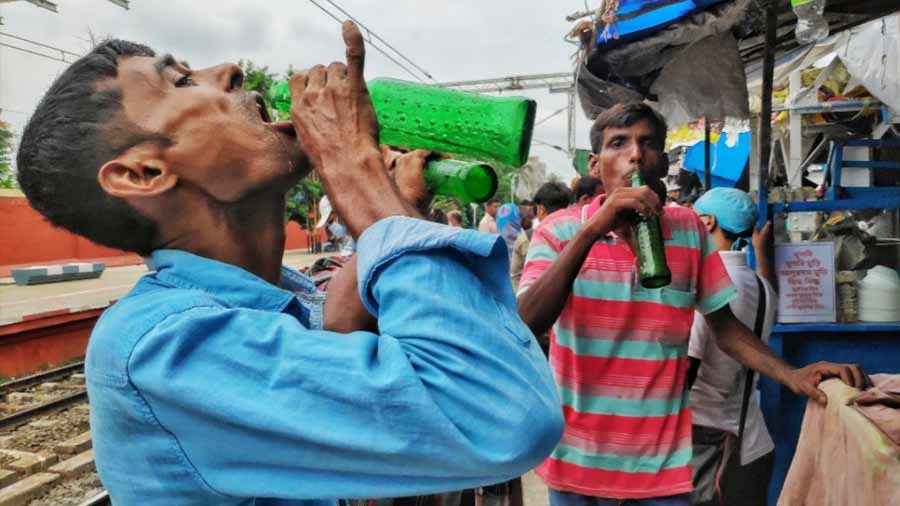 The refreshing drink is in high demand from daily commuters during the summer
Soumyajit Dey
The bottles are sealed with a rubber gasket, which when opened, makes a loud popping sound, giving the drink its name. If you have ever had or seen a banta soda or goli soda in other parts of India, you can instantly connect with the fotash jol. The bottles are stored in ice boxes to keep them cold, and often mixed with some lemon juice, kala namak, or jal jeera for a refreshing drink.