Amar naam Bhuban, tai ami bhuban bhromon kori (My name is Bhuban (Earth), so I travel the world).
And what better time to do so than now for Bhuban Badyakar, a peanut seller from Birbhum district, who went viral recently with his peppy jingle/sales pitch, Kacha Badam. The trending video has attracted the attention of popular social media personalities from around the world, including celebrities like actress Rupali Ganguli, choreographer Ganesh Acharya, internet sensations Jika and Kili Paul, among many others.
The original video
My Kolkata caught up with the singer ahead of his February 18 performance at Someplace Else, The Park, to find out his thoughts on instant fame, feeling accepted, future plans and why kacha badam…
My Kolkata: Congratulations! The Kacha Badam song is a global sensation. Did you ever imagine the song to go viral?
Bhuban Badyakar: Thank you! No, I could never imagine it. In fact, such a thought is beyond me. But by the grace of god and with everyone's blessings, it has become viral. I thank the person who made the video and put it up on social media. I do not know who they are, but I wish them well. 
Tell us a little about yourself and your family...
I come from a small village from Birbhum. My family is very happy with the success of the song. Whenever I leave home to go anywhere, for example, now that I am here in Kolkata for the concert, my wife gets very upset (laughs). My son also worries about how I will travel and  where I'll stay. But I believe that if god has shown you a way, god will also guide you through it.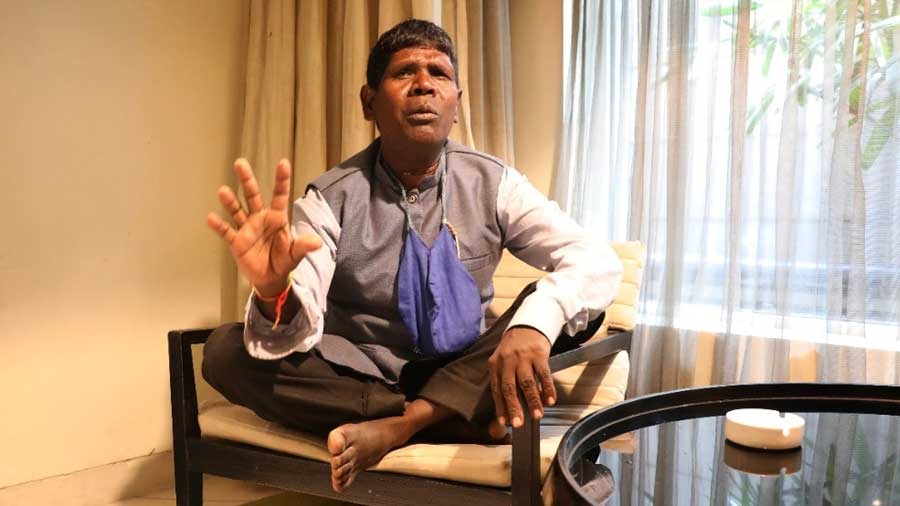 'I could never imagine it. In fact, such a thought [becoming a viral sensation] is beyond me,' said Badyakar
Arijit Sen
You sell 'kacha badam'. That is not very common.
There are many reasons why I sell the peanuts kacha (raw/unroasted). If I have to start roasting them, when will I have the time to sell? Plus, raw peanuts have a lot of nutritional qualities – they are good for your hair, your stomach etc. Fried or roasted peanuts are crunchy and tasty, but they have a tendency to make you sick.
As evident from the lyrics, you do not just take money, but also items like old phones as payment. Why so?
To be perfectly honest, it's so I can earn some more profit. If I sell peanuts only in exchange of money, the profit is not much. But if I get an item of similar weightage, unless it is completely ruined, I sell them all to a factory where I make a Rs 5 profit instead of Rs 2.5.
In the film Shriman Prithviraj, Rabi Ghosh sells dalmoot by singing a song. Did you get the inspiration from there?
No, I was not aware of this. But I was a Baul singer, I sang spiritual songs. In fact, I still do. I have sung songs my whole life.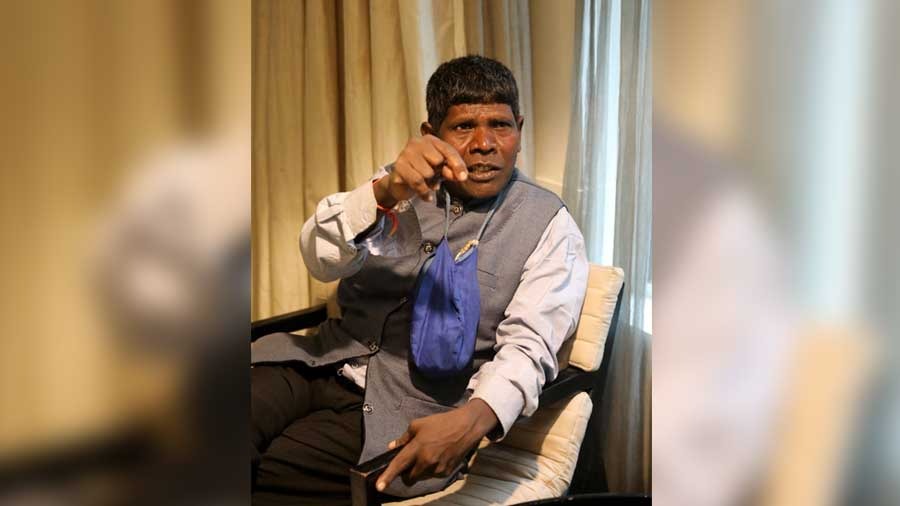 'I was a Baul singer, I sang spiritual songs. I have sung songs my whole life,' said Badyakar
Arijit Sen
From singing to sell peanuts to performing at Someplace Else, what has this journey been like and how has life changed?
Life has taken a turn beyond my imagination. I still do not understand why people are showing me this kind of love. The government and state police have given me so much support. Celebrities are speaking highly of me! I am eternally grateful to everyone – everyone who has shown me love, blessed me, who want to see me perform or take selfies with me. This is an incredible feeling of acceptance and I wholeheartedly thank everyone. My words are not polished, but they come from the heart.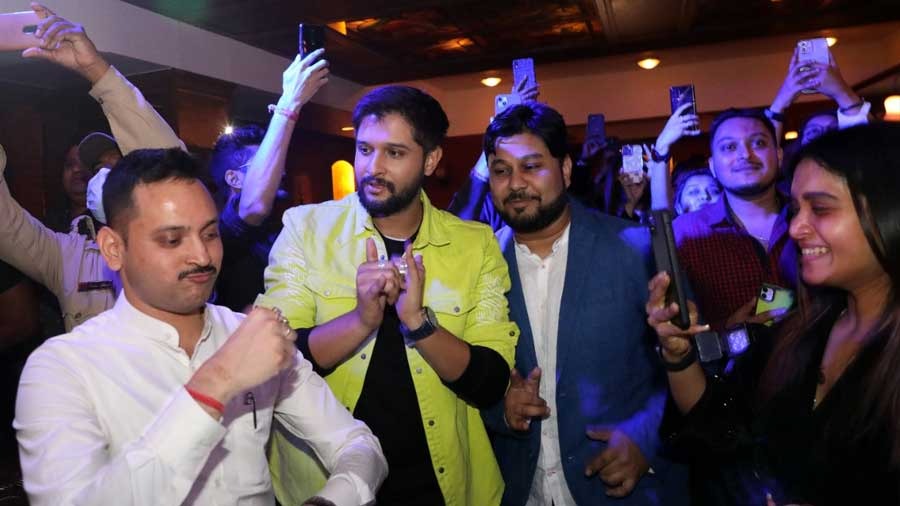 The scene at Someplace Else on 'Kacha Badam Night'
Arijit Sen
What was it like working on the remix version of your song with Haryanvi singer Amit Dhull? The dance moves from the video led to the trending 'Kacha Badam Challenge'. Have you seen any of the videos?
That was such an honour, and was so much fun to shoot! I am blessed. I haven't seen the challenge videos, but people keep telling me about them. My friends back home, my family, they all tell me that I am a celebrity now!.
What is next for Bhuban Badyakar? Are there any new songs you have composed? 
I will go wherever god and the public's love take me. They have brought me here and they will take me forward. As for a new song, yes, I am composing something and a release is on the horizon. But more on that later.