Remember the good ol' days of childhood when Monday blues weren't a thing and life seemed straight out of a Disney movie? Well, while adulting has certainly taken off those rose-coloured glasses, most of us will agree that somewhere within us, there is still a little child who finds comfort in binge-watching Tom and Jerry and eye-rolling healthy food.
This Children's Day, indulge the inner child by whipping up some quick and easy treats. Put on a movie, get cosy with your favourite blanket and munch away! Who said Children's Day is only for the kids?
Fruit salad with ice-cream toppings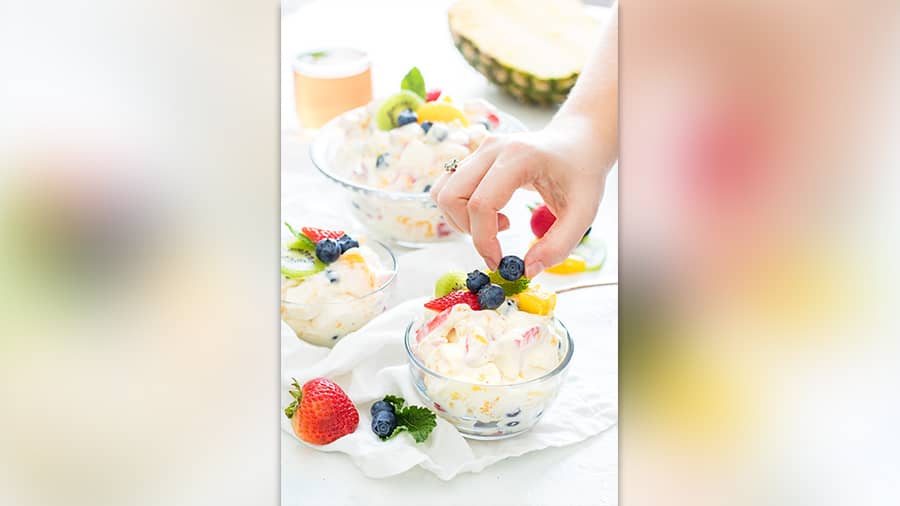 Unsplash
While a fruit salad may not always be your go-to option when the munchies hit, there's a way to make them your absolute favourite! After all, you know what they say — there's nothing that vanilla ice cream, sprinkles and generous amounts of chocolate chips can't make better.
Ingredients:
Diced kiwis: 2
Diced green apple: 1 large
Diced red apple: 1 large
Peeled pomegranate: ½ 
Peeled and deseeded sugar apple: 1 large
Sliced bananas: 2
Berries: 8-10 pieces
Chopped dates: 5-6 pieces
Honey: 2 tablespoons
Rock salt: ½ teaspoon
Vanilla ice cream: 2 scoops
Dark chocolate chips: 2 tablespoons
White chocolate chips: 2 tablespoons
Sprinkles: 2 tablespoons
Recipe:
Take a large mixing bowl and add all the fruits in it. Add honey and rock salt and mix well
Put the fruit mix in a salad bowl. Add a scoop of ice cream and then sprinkle a few dark and white chocolate chips. Put the second scoop and add some more choco chips
Top it off with sprinkles and enjoy the sweet treat!
Tip:
Add salt only if you are going to have the salad immediately after preparing it. If not, add salt later. The same rule applies to the ice cream.
Gingerbread cookie sandwiches with coconut and chocolate filling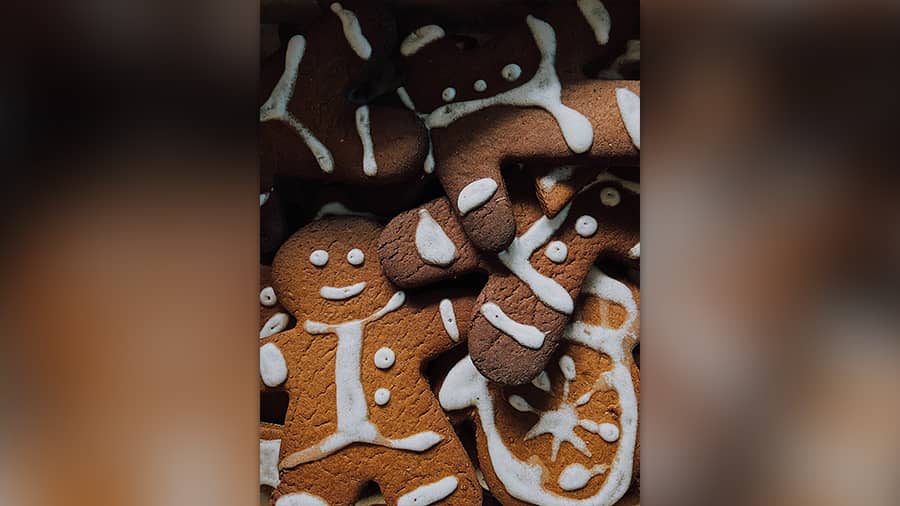 Unsplash
Gingerbread cookies are delicious. But how about adding a bangali twist to this classic cookie? Here's how to make gingerbread cookie sandwiches with a pithey-like coconut filling. There's also dark chocolate for some added yumminess!
Ingredients:
Store-bought gingerbread cookies: 8 pieces
Grated coconut: 1 small cup
Grated dark chocolate: 1 small cup
Jaggery: 2 tablespoons
Melted butter: 2 tablespoons
Recipe:
Take a non-stick pan and add butter
Add grated coconut and keep stirring for about 6-8 minutes on low heat
Once the coconut is nice and toasty, add the jaggery. After 2-3 minutes, add the dark chocolate and continue stirring on low heat for another 5 minutes or until you get a filling-like consistency. Let the mixture cool down
Take two cookies and add a dollop of filling in between. Press gently and you have your gingerbread sandwiches ready. Munch away!
Fish cakes and sweet potato wedges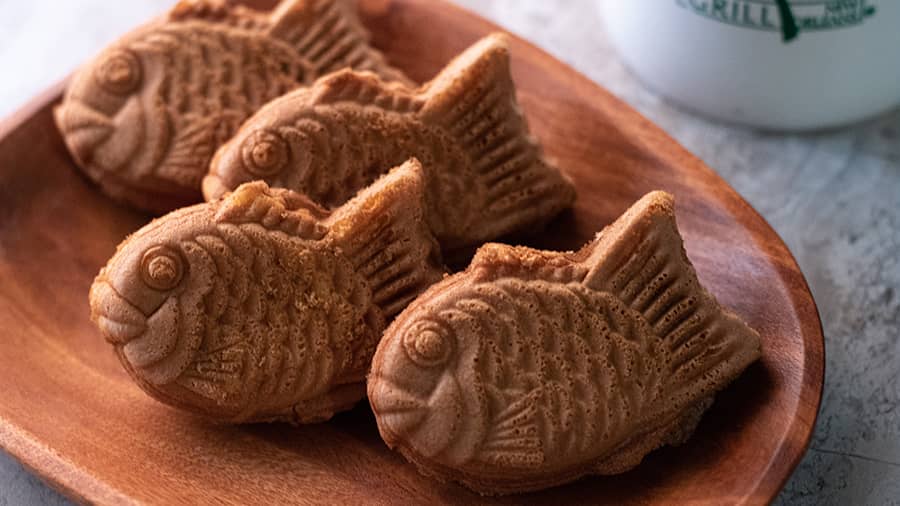 Representational image
Unsplash
Bengalis need no reason or occasion to enjoy maach, big or small. We also do not need an excuse to have alu. This fish-shaped fish cake and potato wedges combo is therefore perfect for our Bengali hearts (and tummies!).
Ingredients for fish cakes:
Fish-shaped mould: 1
Maida: 200gm
Grated boneless bekti: 200gm
Onion juice: 3 tablespoons
Ginger and garlic juice: 1 tablespoon
Finely chopped onion: 1 large
Finely chopped coriander leaves: 1 tablespoon
Finely chopped green chillies: 1 teaspoon
Black pepper powder: ½ teaspoon
Coriander powder: ½ teaspoon
Boiled, mashed potato: 1 large
Lemon juice: 1 tablespoon
Mustard oil: 3 tablespoons
Salt
Vegetable oil
Recipe for fish cakes:
Start with kneading the maida with a pinch of salt and vegetable oil. Knead for about 5 minutes. Add some lukewarm water and knead for another 5 minutes till you have a soft dough. Cover it and let it rest while you make the filling
Strain the fish to get rid of any excess water. Marinate the grated fish with salt, lemon juice, black pepper powder, onion and ginger-garlic juice, coriander leaves, coriander powder, green chilli and mashed potato
In a nonstick frying pan, heat up some mustard oil and add the chopped onions and saute until golden brown
Add the marinated fish and keep cooking on low to medium flame until the mixture sticks together and comes off from the corners of the pan
Check the seasoning, turn off the heat and let it cool
Make medium-sized balls out of the maida dough and roll each into semi-thick rotis
Take the fish mould and cut out pieces
Take one piece, put some fish filling and place the other fish-shaped piece on the top
Take a toothpick and gently press along the sides to seal. Repeat the process for other fish cakes
Heat enough oil to deep fry. Fry each on low flame until golden brown
Serve hot with ketchup or a dip of your choice
Ingredients for sweet potato wedges:
Sweet potatoes cut into medium thick wedges: 4
Special spice mix: 1 and ½ tablespoons (Recipe: 1 teaspoon rock salt, 1 teaspoon black peppercorns, 2 whole dry red chillies, ½ teaspoon whole cumin)
Lemon juice: 1 tablespoon
Turmeric powder: ½ teaspoon
Maida: 1 tablespoon
Chaat masala: 1 teaspoon
Red chilli powder: ½ teaspoon
Vegetable oil
Recipe for sweet potato wedges:
Marinate the sweet potatoes with the spice mix, lemon juice and turmeric powder
Heat oil in a kadhai to deep fry the wedges
Add maida on the wedges and give a good shake
Fry until golden brown and keep the flame low
Strain excess oil, plate and sprinkle chaat masala and red chilli powder. Don't forget to add ketchup on the side!
Cheesy mini pizza bites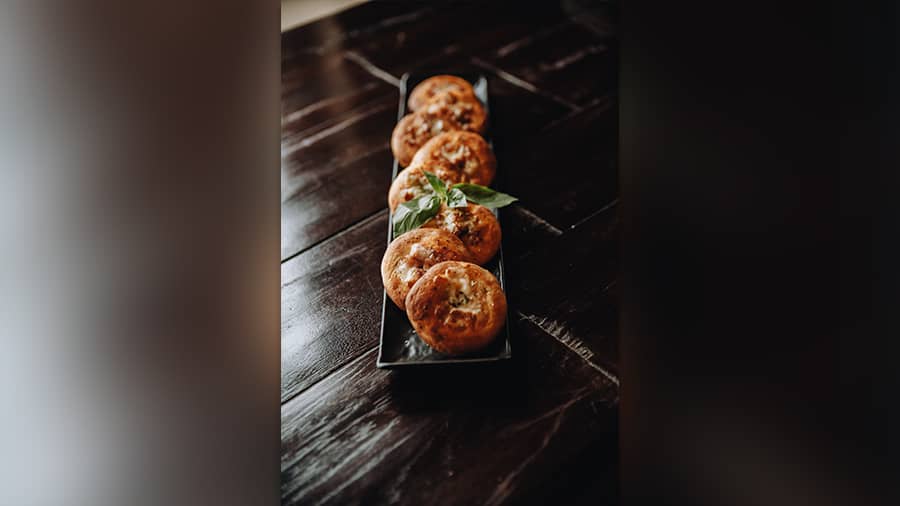 Unsplash
There are few things as widely loved as a pizza. But what's better is gorging on several mini bite-sized pizzas topped with bacon, mushroom and pork ham. Doesn't the very thought make you drool?
Ingredients:
Store-bought pizza base: 4
Grated cheese: 1 large cup
Cheese slices: 4
Sliced onion: 1 medium
Sliced tomato: 1 small
Sliced olives: 2-4 pieces
Pizza sauce: 2-3 tablespoons
Crushed blackpepper: 1 teaspoon
Oregano: 1 teaspoon
Chilli flakes: 1 teaspoon
Roughly chopped bacon: 2 stripes
Sliced button mushrooms: 3-4 pieces
Roughly chopped pork ham: 2 slices
Olive oil: 2-3 tablespoons
Recipe:
Take a round cookie cutter and carve out bite-sized pizza bases out of the regular pizza base
Brush some olive oil in a frying pan and saute the bacon strips until they are crispy
With the bacon fat left in the pan, saute the mushrooms and hen add the pork ham
Take a baking tray, place a parchment paper and brush some olive oil on it
Put the bite-sized pizza bases and add pizza sauce on each
Now, add a layer of grated cheese followed by sliced onion, tomatoes, olives, mushrooms, bacon, ham and cheese slices
Sprinkle some oregano and chilli flakes along with some black pepper
Preheat the oven for 10 minutes at 375˚F
Put the baking tray in the oven for 8-10 minutes. Voila! Your mini pizzas are ready.
Tip
If you are using a gas oven to make the pizzas, heat a nonstick pan and brush it with some olive oil. Place the pizzas and follow the same steps shared above. Cover and cook at low flame for 8-10 minutes.
Peanut butter cups with dry fruits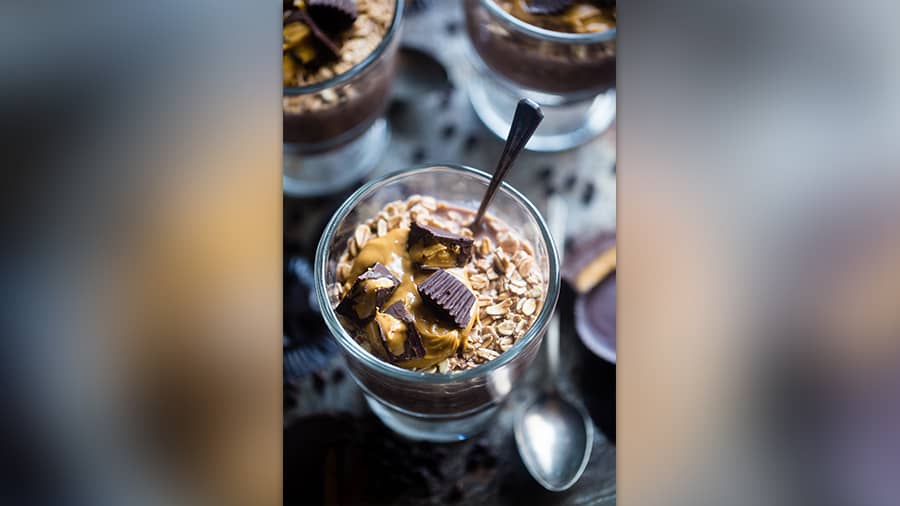 Unsplash
We surely do not need any reason to indulge in a spoonful of peanut butter. But do we need more ways to enjoy this tasty treat? Absolutely! Here is one simple recipe that heroes our all-time favourite.
Ingredients:
Peanut butter: 1 large cup
Chopped dry fruits: 1 medium cup
Dry roasted rolled oats: 4 tablespoons
Dark chocolate small chunks: 4-5 pieces
Recipe:
Mix peanut butter, dry fruits and 2 tablespoons of oats in a bowl
Take a large mug and pour the peanut butter mixture into it
Sprinkle the remaining oats and add a dollop of peanut butter
Add the chocolate chunks. Freeze for 10-12 minutes and dig in!