Kolkata has a thriving cafe culture. How then does one stand out from the competition? One can learn a lesson or two from Waypoint Cafe at 32B Sarat Bose Road (opposite The Samilton Hotel). Run by mother-son duo Megha and Karan Malhotra, the cafe not only serves some enviable plates of European and Continental food, but has also adapted itself to the broadening utility of cafes. It has a book club, hosts artistic folks and offers a dedicated co-working space. This month, the cafe (open Tuesday-Sunday), as it turns two, is also running a Middle Eastern food festival starting April 7.
My Kolkata caught up with mother-son duo Megha and Karan Malhotra to spell out for us what makes it a Kolkata cafe that clicks.
'W' for Waypoint Book Club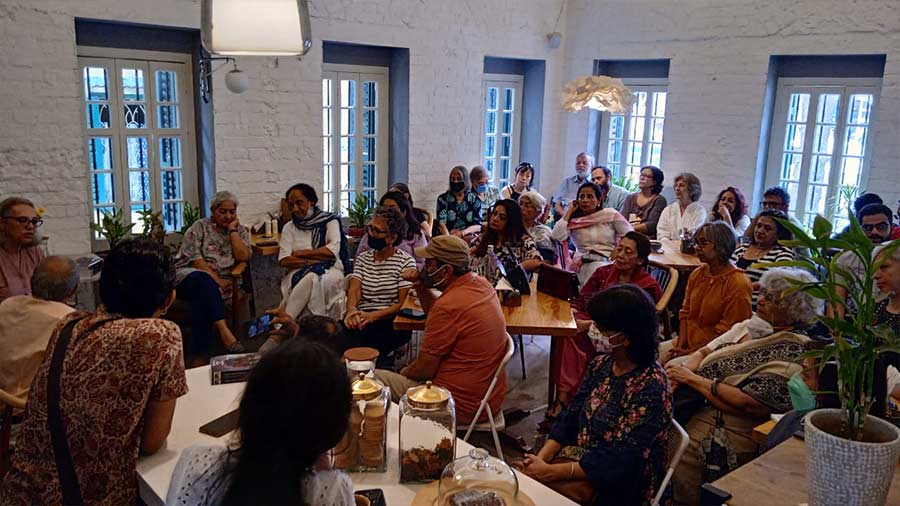 The book club meets on Sunday mornings
Photo courtesy: Megha Malhotra
Bookworms, how about a conversation about your favourite author over a cuppa? The Waypoint Book Club has been actively hosting monthly book-reading and discussion sessions. The walk-in book club meets on Sunday mornings and throws open the floor to authors. "We have hosted Jayant Kripalani, Karuna Ezara Parikh, Ranjini Guha, Anjana Basu, Caroline Turner Servaia and many more. Waypoint is not just a place to come, eat and have coffee. We are looking at it as a space where people can come together over art and cultural activities. Food and reading are both good ways of bonding," says Megha.  
The next meet-up is the book launch of Naveen Kishore's second book of poetry called Mother Muse Quintet on April 16, 2023. It is open to all.
'A' for Art exhibitions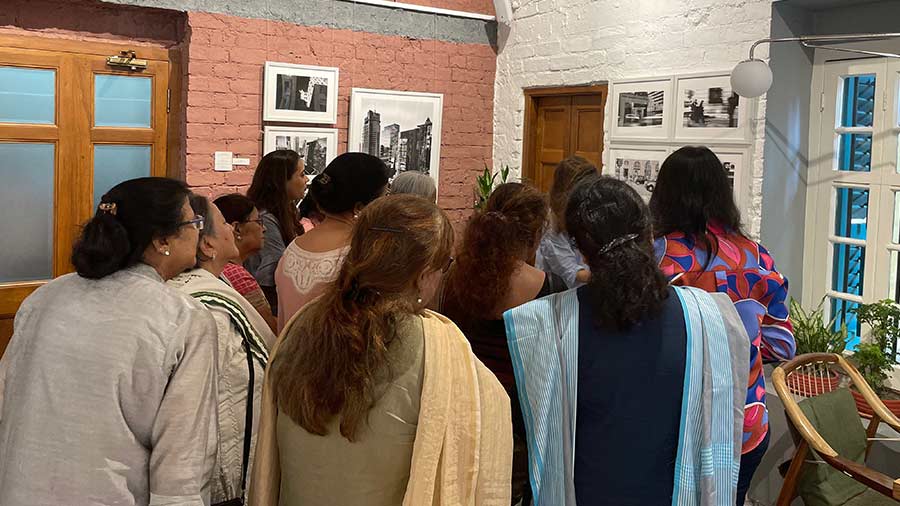 An exhibition on the premises
Photo courtesy: Megha Malhotra
Following the principle of building creative spaces, Waypoint organises art exhibitions from time to time. The first one in December, 2021, was with Nisreen Moochhala, a former art teacher in Modern High School, Kolkata; next was Sonal Jindal's photographs around May, 2022, and then a French artist called Lydia Gaudin exhibited in November, 2022. "These exhibitions are open to display and sale. We're talking to a couple of people about having more shows," says Megha. If you are an art lover, watch this space.
'Y' for Yummy additions to the menu
Right around the New Year, Waypoint updated its regular menu to include a variety of French toasts like Maple Bacon French Toast, Maple French Toast and Cream Cheese French Toast, as well as some chicken dishes like the spicy Peri Peri Grilled Chicken and tangy BBQ Grilled Chicken.
'P' for Place with a co-working zone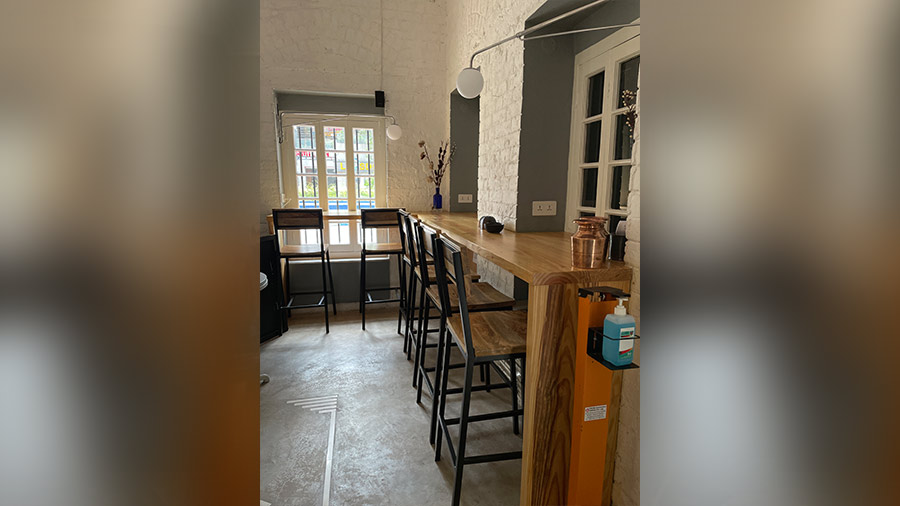 The dedicated co-working space in the cafe
Waypoint Cafe
Co-working spaces not only give you a breather from looking at blank walls, but also offer opportunities to network better. Waypoint has a co-working package for Rs 599 + taxes that allows you to work at a dedicated space from 11am to 4pm. It includes any one item of your choice from the 'small bites' section on the menu and any two cups of coffee.
'O' for Omelettes & all-day breakfasts
A good meal is always a good start to the day, especially if it involves a cup of hot coffee, buttery croissant, tangy baked beans on toast and sweet waffles. "We introduced our breakfast last year. Early morning winter days are pleasant in Kolkata and people like sitting outdoors so we thought of utilising the seating area outside as well," says Karan. The all-day breakfast menu packs in eggs as-you-like-it, a beautiful selection of house baked breads like sourdough, pancakes, waffles and more.
'I' for Indulge in 1920 bakery goodies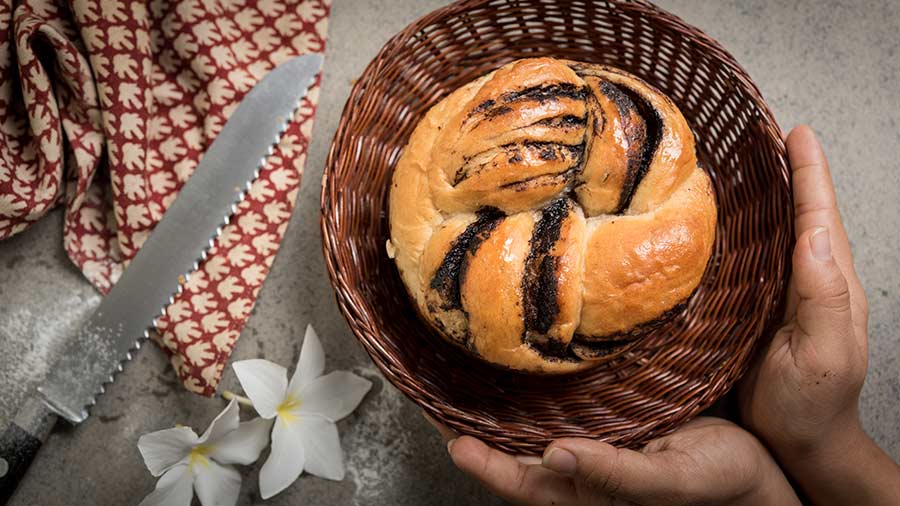 Chocolate Babka
Waypoint Cafe
If you love your loaf of freshly-baked bread, check out the 1920 Bakery retail space within the cafe. "We will be adding a few more sourdoughs to our menu as well. And Mocha Babka and Strawberry Babka might soon keep company with the existing Chocolate Babka," shares Karan.
'N' for New festival menu April 7-30
To celebrate its second birthday, the cafe is launching a Middle Eastern food festival on April 7, 8am to 10pm. Dig into Middle Eastern delicacies like Shakshuka, Fatayer (savoury pie stuffed and baked with fillings), wraps and salads. "The festival will run through the month and there are a lot of good vegetarian options available in this curated menu," says Karan.
'T' for 10% discount till April 7
Continuing the celebratory mood of its birthday month, the cafe is offering a flat 10% discount on everything from April 1 to April 7. So head over and make the most of their European and Continental menu, quick bites and of course the freshly-brewed coffees.