Come summer and it feels like the sun is sucking all the energy out of our bodies! Long outdoor hours, the scorching heat of the sun and the city's dry pollution result in pangs of thirst and dehydration. As Kolkata gears up for the Summer of 2023 (the Bryan Adams reference is unintended), here's a handy list of places you can refuel at with a refreshing sip or two.
Rose Sharbat from Ralli's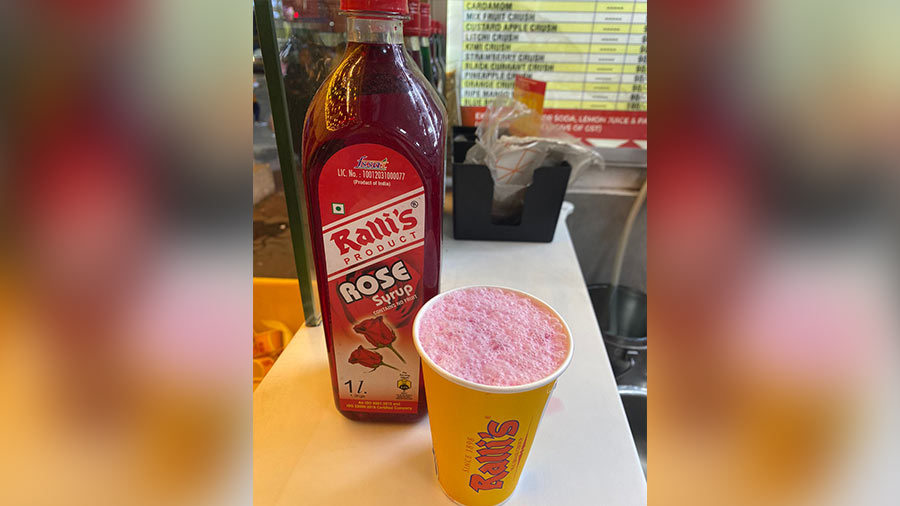 Courtesy Ralli's
A tall glass of chilled Rose Sharbat is just the antidote to a hot summer day. The naturally sweet drink cools down the body and energises your senses. Ralli's serves Rose Sharbat in two ways — mixed with water or milk — as per preference. If you're thirsty for more, you can purchase a bottle off the shelves to enjoy the drink at home. 
"Our best-selling sharbat is Rose followed by Kesar Badam. We sell more than 150-200 glasses on the most humid and hot summer days. The newest flavour which is selling the most right now is Blue Rose Sharbat," said Vikas Arora, director, Ralli's (M G Road Group). The store, opened by Late Shri Ralli Singh Arora in 1898, is celebrating 125 years in 2023. 
Address: 172, Mahatma Gandhi Road (Below Gurdwara Sahib) and a kiosk at Vardaan Market. 
Open: 10am - 10pm (approx)
Price per glass: Rs 50 (water-based) and Rs 70 (milk-based)
Sugarcane Juice or 'Ganne ka ras' from New Market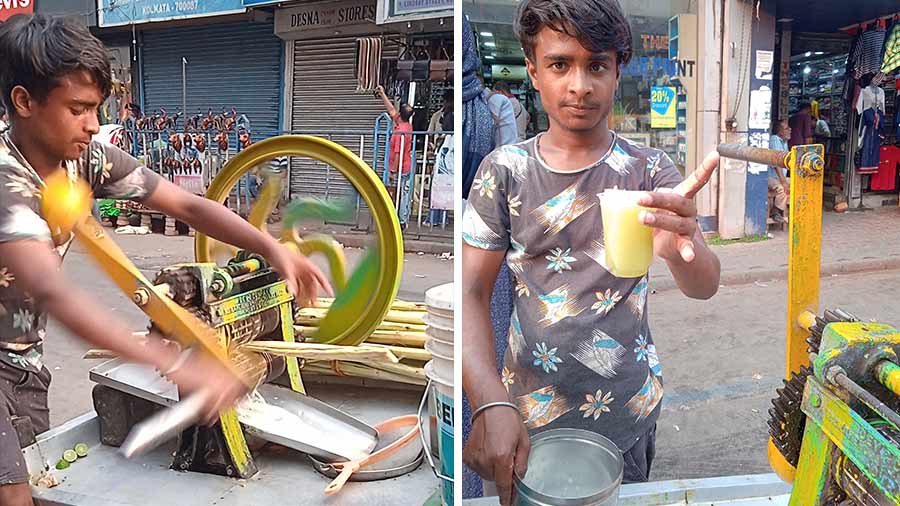 Subhadrika Sen
A glass of ganne ka ras = instant energy. You will find it widely available from the many gannawallahs on the streets of Kolkata but the one near New Market is where we made a stop.
When you enter the New Market area from Lindsay Street you will find young Jay Prakash Tiwary with his sugarcane juice stall serving customers in huge numbers. His stall serves freshly-churned sweet sugarcane juice with added nimbu or masala if you so desire but without any added sugar.
"I have been selling sugarcane juice for the last two years at this spot. We source the sugarcane sticks from College Street. From one bundle consisting of about 12-15 sticks, we can make 100-200 glasses of sugarcane," said Tiwary, who sells anything between 100 and 150 glasses per day.
Address: New Market
Open: 11am - 9pm (might vary)
Price per glass: Rs 20 - Rs 50 (depending on size)
Soda Shikanji from Shibuji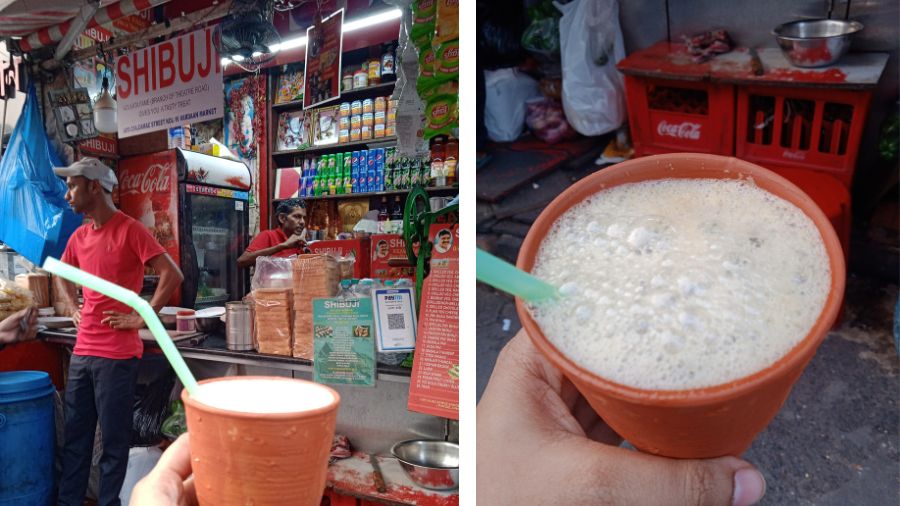 Subhadrika Sen
After one too many plates of chhole with the fluffiest bhaturas, one needs a fizzy drink to seal the meal. Shibuji, which has been running since 1988 outside Vardaan Market, is best known for its Soda Shikanji served in a kullad. It is especially popular with the young crowds from the nearby educational institutions. This light aerated lemony drink is just the citrusy punch you need to get through a summer day.
"It is difficult to mention an exact number but we sell around 1,000 - 1,500 glasses of Soda Shikanji per day," said owner Prem Singh.
Location: Beside Vardaan Market
Open: 8am - 11.30pm
Price per kullad: Rs 60 and Rs 70
Daab Sharbat from Paramount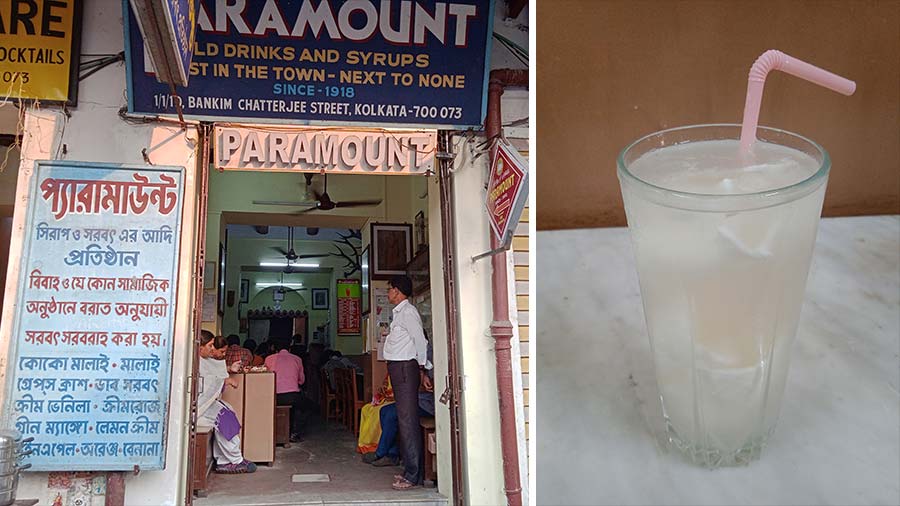 Subhadrika Sen
Running since 1918, Paramount needs no introduction. From Netaji Subhash Chandra Bose to Satyajit Ray, all have frequented the outlet off College Street. The most iconic beverage available here is the Daab Sharbat. The refreshing fresh coconut sharbat "made with secret ingredients" and topped with a handful of fresh and creamy coconut malai is one of the most preferred drinks during the hot summer months.
Partha Pratim Majumder, partner, says, "Daab is one of the oldest drinks available here. Our grandfather, the late Nihar Ranjan Majumder, was acquainted with Acharya Prafulla Chandra Roy. This Daab Sharbat recipe is under his guidance; the rest all are curated by our family. We sell almost 70-80 glasses of Daab Sharbat every day." Some other summer drinks to try at Paramount are Coco Malai, Mango Mania and Kesar Malai.
Address: 1, Bankim Chatterjee Street, College Square, Kolkata 700073
Open: (Mon - Sat) Noon - 9pm , (Sunday) 3 - 9pm
Price per glass: Rs 100
Lassi from Russel Punjabi Dhaba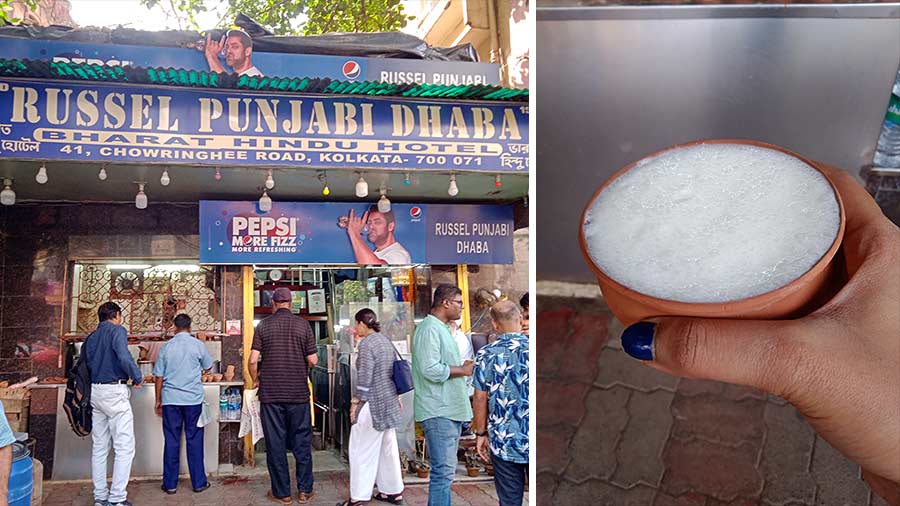 Subhadrika Sen
Established in 1950, Russel Punjabi Dhaba is most popular for its dhaba grub like Kadai Paneer, Aloo do Pyaza and Chicken Bharta. Frequented by office and party-goers alike, more often than not, a meal is washed down with a glass of sweet Lassi or Kesar Lassi.
The iconic drink is served in a bhaanr just like a cup of tea and is good for those who are looking for healthier options to beat the heat (you can ask for a salty lassi as well).
Address: 41, Jawaharlal Nehru Road, Park Street Area
Open: 6am - midnight
Price per glass: Rs 70
Mosambi Juice from Krishna Das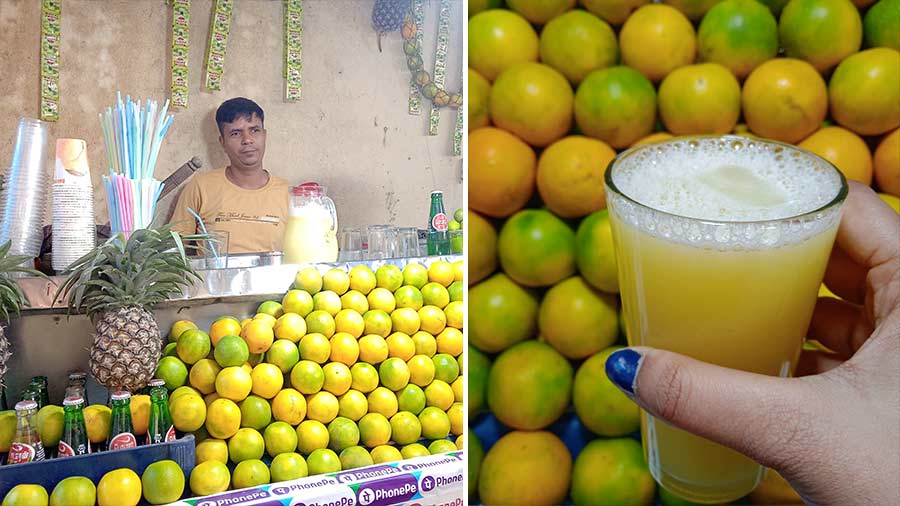 Subhadrika Sen
If you are in the mood for some fresh mosambi juice, make a stop beside the Park Street Metro Station Gate 1 (near Government College of Art and Craft). You will be greeted by the ever-smiling Krishna Das who will make you just the perfect glass of sweet and fresh Mosambi Juice.
"It takes around 4-5 whole mosambis to make one glass of juice. Apart from mosambi, pineapple juice, lassi and nimbu paani are also sold here. Per day we sell around 30-40 glasses of mosambi," said Das, who runs the stall.
Address: Beside Park Street Metro Gate 1, near Government College of Art and Craft
Open: 9am - 9pm
Price per glass: Rs 40 and Rs 50
Bonus: Aam Pora Sharbat from Oh! Calcutta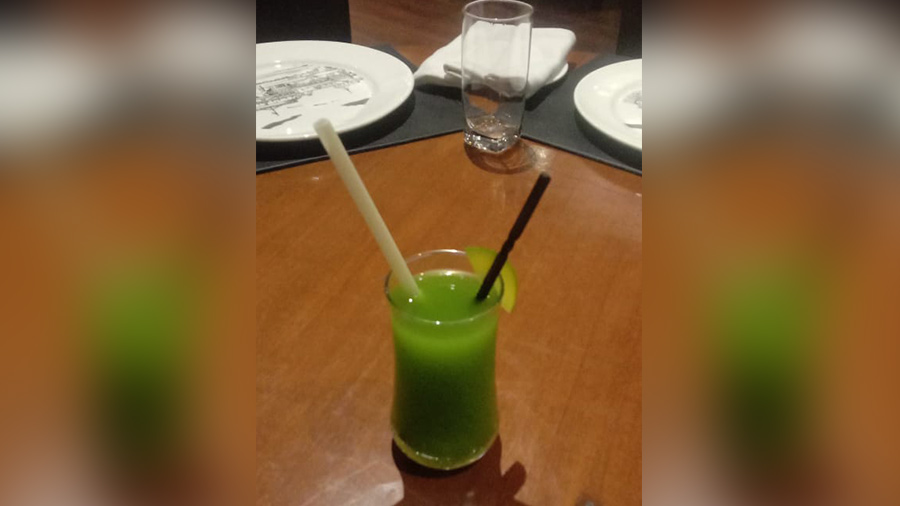 Courtesy Oh! Calcutta
With the summer season comes the Nor'westers and the season to celebrate the king of fruits — mango — in ripe or raw form. One of the most loved mango drinks is the spicy Aam Pora Sharbat, found in many places, but if you haven't tried the one in Oh! Calcutta, then bookmark this. Especially after a traditional Bengali meal.
The Aam Pora Sharbat has a sweet, spicy and smoky taste and is one of the most heavily demanded drinks on the menu. The Speciality Group restaurant also gets brownie points for serving a Vodka + Aam Pora Sharbat fusion cocktail called Kalbaisakhi.
Address: Forum Mall (4th Floor) and Silver Arcade, EM Bypass
Open: Noon - 4pm and 7 - 11pm (please check with the outlet before going)
Price per glass: Rs 220 (excluding taxes)