Books and a hot cup of brew — Kolkata's bibliophiles need little more than that to spend an enjoyable evening. In tune with that, Waypoint, on Sarat Bose Road, hosted the fourth edition of its book club, with a reading session of The Kings Court Case, a murder-mystery novel penned by Caroline Turner Servaia, on May 15.
Kolkata-born and bred, Caroline sets her book in the 1970s, when the city witnessed terrible and violent acts in the wake of the Naxalite movement. The novel slowly unravels the motives behind a macabre murder, offering the author's insight into the lives of common folk back then.
Shaon Sen Nandi, whose enthusiasm kickstarted the book club, introduced Caroline, the daughter of a British engineer and an Anglo-Indian woman from the city, to the members and interested readers.
Describing the murder mystery as a "psychological throwback" to the seething undercurrent of violence running through the early '70s, Caroline said, "The novel is set in 1973, when the city was gradually recovering from the throes of the Naxalite movement. At the same time, it was still trying to cope with the massive influx of refugees from the erstwhile East Pakistan." 
The author, a long-time educator, who has worked in city schools, said the gruesome murder in the book actually took place inside a grand old building called Kings Cross. "There's indeed a Kings Court building on Theatre Road. It had been home to many families. Like most of its contemporaries, the mansion has seen better days and is currently in a precarious condition," she added.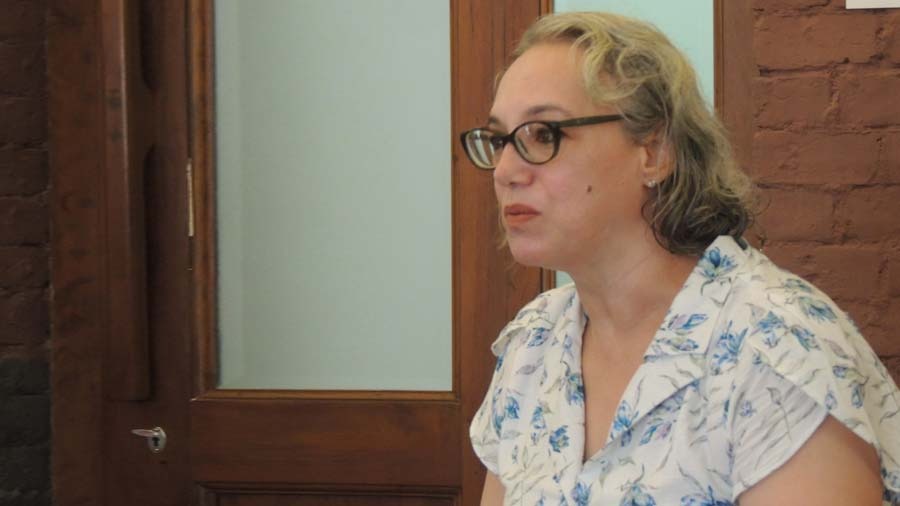 Author and educator Caroline Turner Servaia
Saurav Roy
Sharing her thoughts with My Kolkata, Caroline said, "Today's Kolkata is very different. The old-fashioned nonsense that Kolkatans don't like work has been rubbished. In the course of this change, we have grown as a society, become very welcoming to others and absorbed a lot of external influences. But it's also true that many brilliant minds have left the shores not only of the country but of the region. That is just sad."