Nutritionist and restaurateur Hena Nafis busted diet and nutrition myths and shared some advice on how to improve one's food habits in keeping with their lifestyle at the launch of her book, Good Food, Bad Food, at JW Marriott on August 13.
Here's what Hena Nafis had to say about finding the balance, diet and lifestyle, how we perceive food...
Perception of food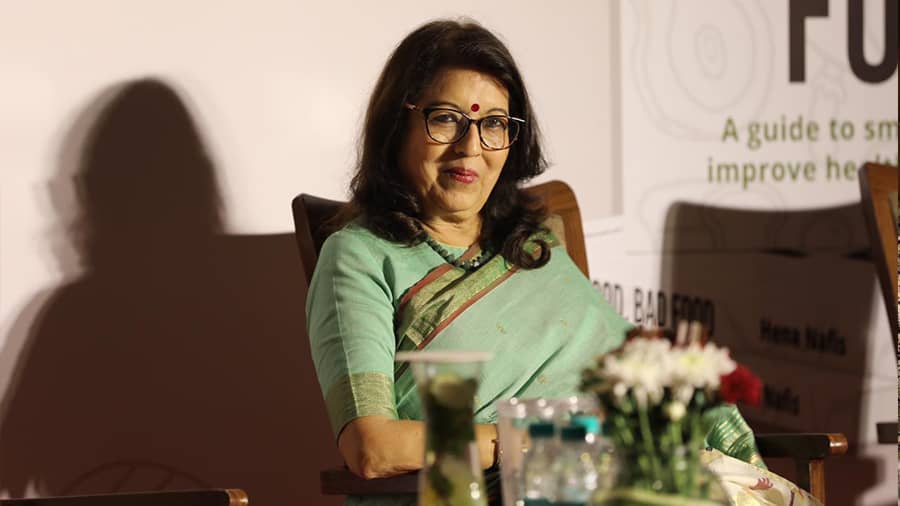 Rita Bhimani moderated the session, noting her observations after reading excerpts from the book. 'This book isn't preachy. Hena doesn't say 'no' to anything, she just insists on control, balance and maintaining a healthy lifestyle. Her ideas are compact, simple to digest, and with a lot of takeaways.'
When I started working as a nutritionist 18 years ago, people only thought about their diet when they had diseases like diabetes. Today, the discussion is about food being good or bad, and people are actually scared of food. As a nutritionist, that bothers me. Food is sacred, it has no morality. 
Another problem that arose especially during the pandemic was the misinformation surrounding food. People kept suggesting food that would cure the coronavirus. It is important to take advice from an honest practitioner, especially in this age where anyone can claim anything on social media. Educating yourself is very important, and can be very empowering. This is what drove me to write this book.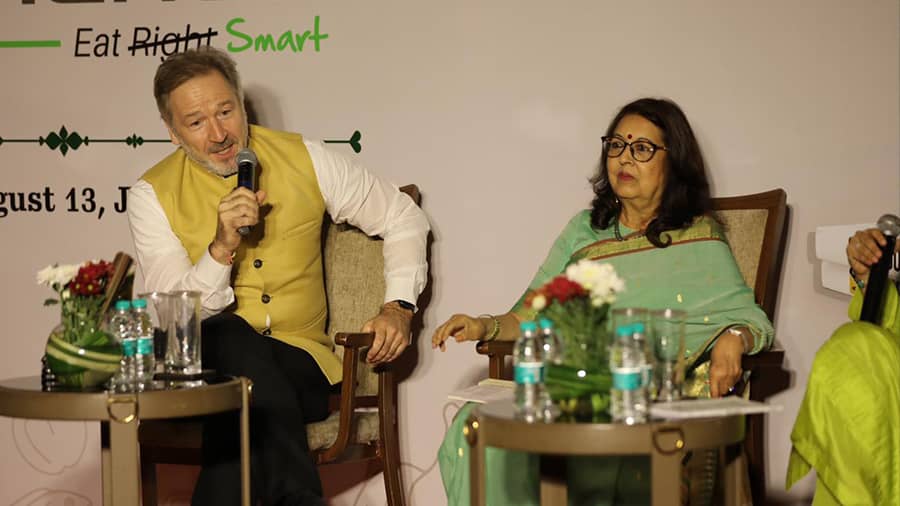 Adrian Pratt, director of American Center Kolkata, was the chief guest at the event. 'It was a wonderful discussion and I learnt so much today. Unveiling a book about food in a city that loves books and food is auspicious. Hena's observations around obesity are relevant globally, showing how there is a difference between getting richer and healthier, and I can't wait to read her book,' he said
Finding the balance
Too much of any kind of food is unhealthy, be it good food or bad food. One of my clients encountered a health issue because he would have 2kg of fruit everyday! Similarly, people often perceive red meat to be bad for the body, but you can't keep it out of your diet, as it is integral in giving your body a lot of core nutrients. Nutrition is all about maintaining a balance, you can't be on either of the extreme ends. 
I genuinely believe that most food is good, as every dish has something to offer. Just like we can't wear the same clothes every day, we can't eat the same food every day as well. Human beings need variety. If you restrict your diet to the same dish, you will lose out on many important nutrients. Only when you eat diverse items do you ensure that your body gets a variety of nutrients. 
Healthy eating is about a diet of inclusion, not exclusion. I go by the 80-20 principle, where 80 per cent times, you're right and 20 per cent times you're wrong. Besides this, the core principle is to never overeat as that is what causes obesity.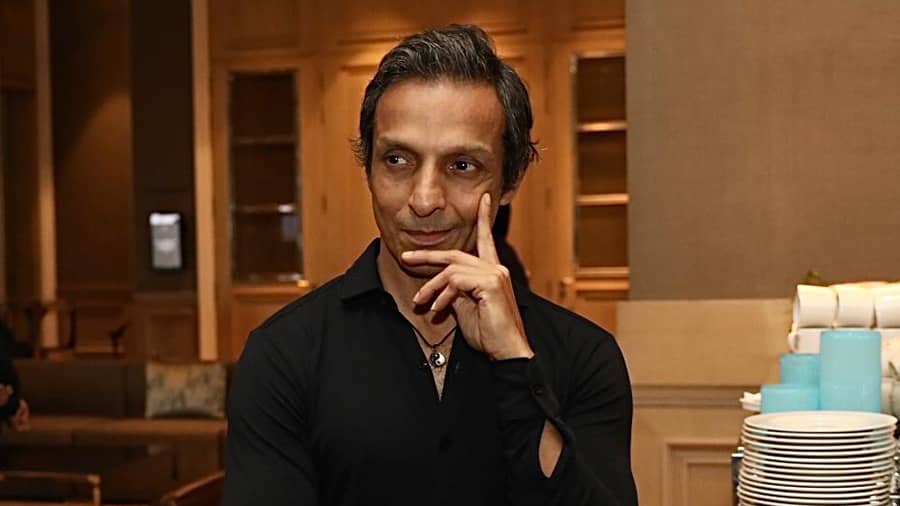 Strength and conditioning coach Ranadeep Moitra reaffirmed Hena's insights into balance and moderation. 'People look at cutting calories, but calories are actually good for you. Fat is good as long as it is on your plate and not your body. Without the yolk, your body will not be able to absorb the protein from the egg white,' he said
Lifestyle matters
A lot of our problems come due to the lives we lead today. Earlier, we would indulge ourselves only during festivals and eat whatever was prepared at home on other days. Now, the treats and celebrations are too often, with birthdays often having multiple cakes! Moreover, if you don't like something at home, you just go to Swiggy or Zomato.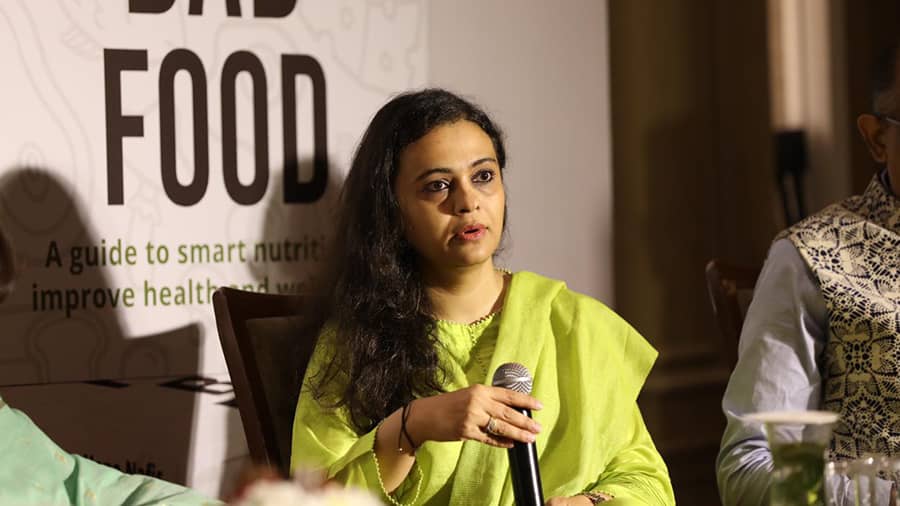 'Eating right isn't just enough. How much you eat, and when you eat is equally important,' Hena pointed out
Inclusion within the diet, not exclusion
Eating right isn't just enough. How much you eat, and when you eat is equally important. During the pandemic, many people saw their daily routine go haywire, leading to disruptive food intake and late-night munching. This also disrupts the sleep cycle, and how you sleep has a major impact on your nutrition. Sleeping is like recharging your mobile's battery, and only with adequate sleep can you be ready to carry out the day's tasks. Melatonin is nature's sleeping pill, and eating the right food has a huge impact on the way you sleep and, by extension, how healthy you are. 
At the same time, it is important to note that not everyone has a 9 to 5 job. Sometimes you can't change your lifestyle for nutrition. How do night-shift doctors and pilots maintain their health? The key is to work around your lifestyle.
Examining the situation holistically
There is so much disparity in India, with rampant obesity on one end, and a crippling food insecurity on the other. A huge chunk of the country overeats, while another has people who are struggling to obtain two square meals. Climate change is the biggest danger that we face. The first step to combat it is by stopping food wastage. You should only take as much as you need on your plate. This is also crucial in combating the obesity problem. As a nutritionist, if I don't talk about this problem, who will? I've conducted lectures in schools where they called me to say the right things, but their canteen served very unhealthy food. This is precisely why I want to study Public Health (Nafis is going to Harvard University to pursue an advanced degree in Public Health) as I believe the only way to bring about a significant change is through insightful policy-making.