All roads in New Town led to the Taal Kutir Convention Centre, the venue for The CCU Festival — a one-of- a-kind festival conceptualised by Meghdut Roychowdhury and Pauline Laravoire to celebrate the vibrancy of Kolkata — on Saturday, October 29. My Kolkata was the digital media partner for the event.
The CCU Festival made its debut this year as part of the Make Calcutta Relevant Again campaign, which was launched by the duo last year. The festival saw some of the biggest brands and names come together under one roof to celebrate Kolkata and its various facets — art, technology, music, food, lifestyle, content creation, fitness and more.
"The happiness found in doing something for Kolkata cannot be found anywhere else. Everyone is asking 'hocche ta ki?'. When we were young, we did not have so many professional possibilities, like freelancing or solo-preneurship. Today it is there, and sitting in Kolkata, you are able to create ways of making money, financial literacy and financial stability. Today's CCU Festival is a celebration of that. It's a celebration of how we can create new opportunities for people," said Meghdut Roychowdhury, the heart of Make Calcutta Relevant Again and The CCU Festival.
Here are glimpses from all the action:
Getting underway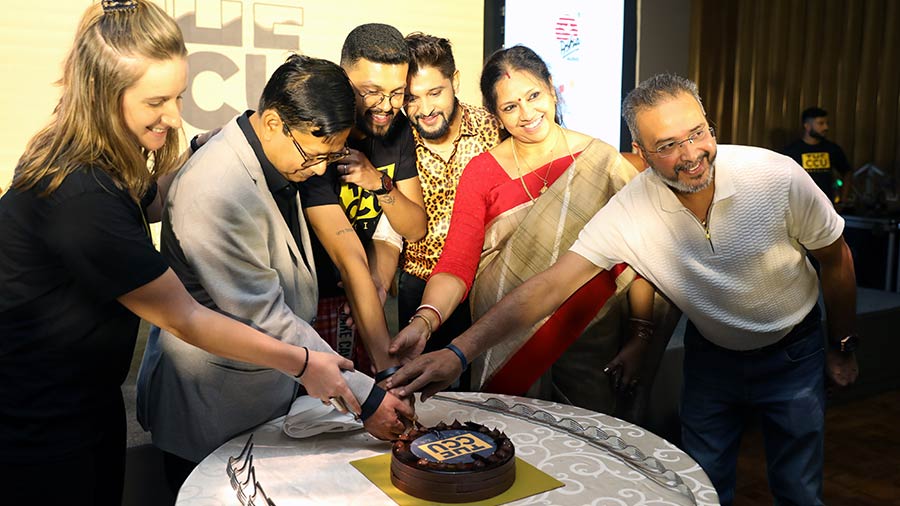 (L-R) Pauline Laravoire, Debasish Sen, Meghdut Roychowdhury, Neel Bhattacharya, Manoshi Roychowdhury and Joydeep Karmakar cut a cake to inaugurate the festival
Arijit Sen
The CCU Festival was officially inaugurated in the presence of Debasish Sen, chairman, NKDA and managing director, WBHIDCO; Manoshi Roychowdhury, co-chairperson, Techno India Group; Neel Bhattacharya, actor and influencer; Joydeep Karmakar, sports shooter; Pauline Laravoire, co-founder and CEO, Y-East and sustainability director, Techno India Group; and Meghdut Roychowdhury founder, Make Calcutta Relevant Again and chief innovation officer, Techno India Group.
Speaking at the inauguration, Sen said, "I thank this festival for bringing people from all over Calcutta and beyond. Come and see for yourself the changes that are happening. We are planning a virtual reality event in the meta world of very prominent Durga Puja pandals in Kolkata this year. I am very happy to see the fitness program in the morning session. I believe New Town is becoming a Mecca for fitness enthusiasts in and around Kolkata. We are planning to have a green walk in New Town soon."
Health and fitness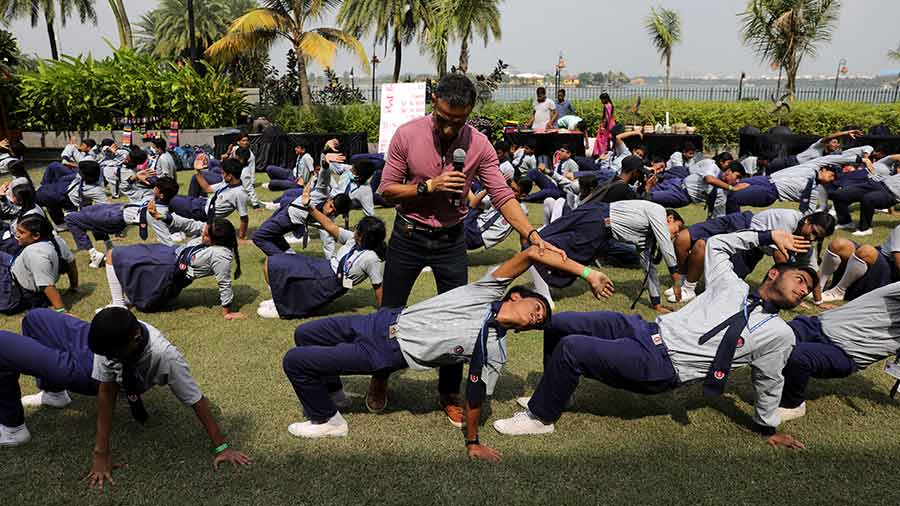 A yoga session was conducted as part of FLOW, the fitness convention
Arijit Sen
Health and fitness are an important part of every individual's lifestyle. The CCU Festival began with FLOW, a session curated for health and fitness enthusiasts. The morning began with a round of yoga and some warm-up exercises for students and audience before moving to a short panel discussion, where experts broke the myths about health. The panellists included Ranadeep Moitra, fitness expert and founder Endorphins; Parikshit Bhattacharya, lifestyle and functioning medicare specialist; Nabin Das, neuro-physiotherapist; Sweta Chowdhury, counselling psychologist and clinical hypnotherapist.
Start-up secrets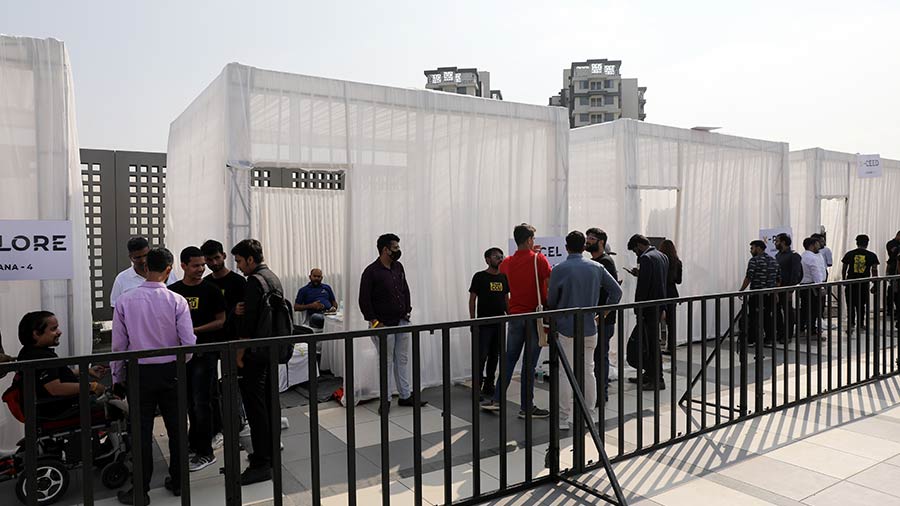 FLO-PTCH was specially curated for all the enthusiastic home-grown businesses seeking funding from investors
Arijit Sen
With entrepreneurship gaining paramount importance now, pitching and getting investments is also an essential part of the process. The FLO-PTCH was specially curated for all the enthusiastic home-grown businesses seeking funding from investors. The session was divided into the actual pitches in front of the many local and national investors, as well as short panels where entrepreneurship, investment seeking, pitch formulation, presentation and more were discussed.
Mind matters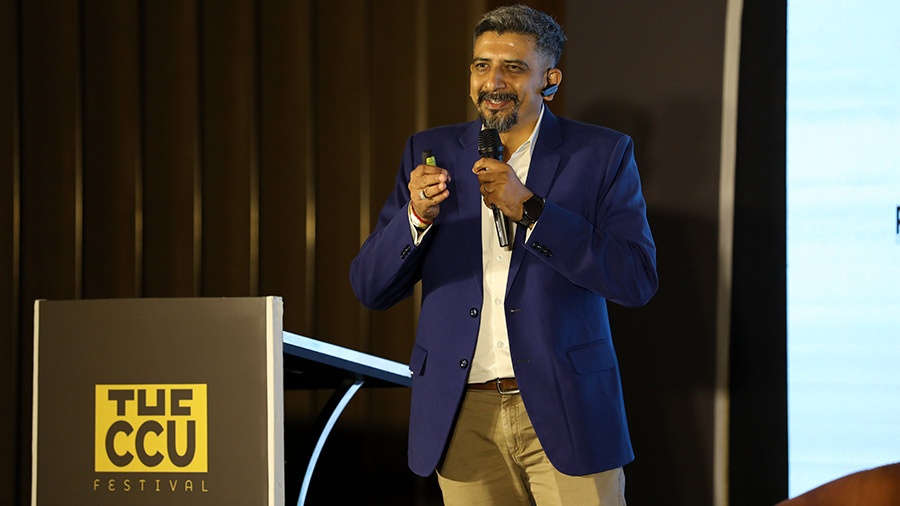 Bhaskar Bhatt, associate professor and director, school of design; Anant National University, speaks at the event
Arijit Sen
BLPRNT catered to the innovative minds that are solving problems with the help of practical designs. Start-up Embrace, which makes products like baby warmers, gave short presentations on product design and how it has benefited customers. A panel discussion took place with Ranadeep Das, managing director and CEO, Ingreens; Angad Daryani, founder and CEO, Praan; and Richa Srivastava, director, Maker's Asylum.
Tech talks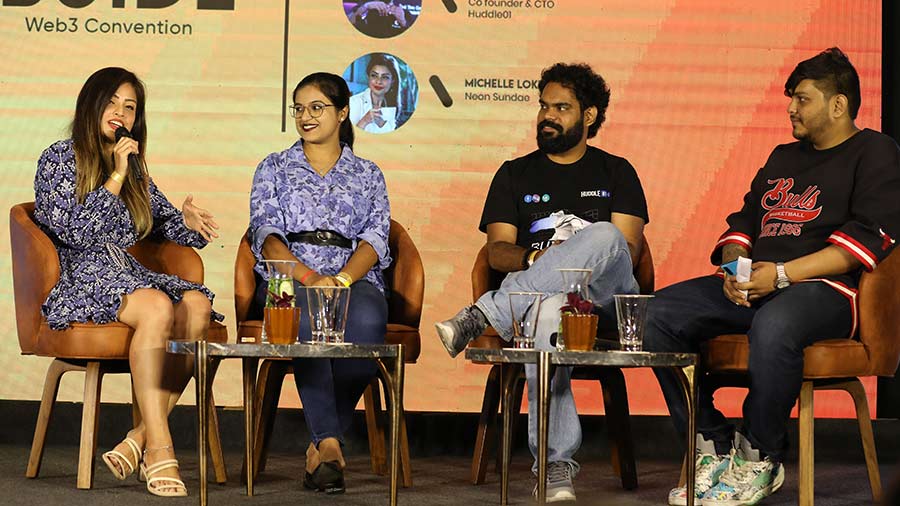 Panellists at the Web3 Convention, BUIDL
Arijit Sen
The Web3 Convention, BUIDL, was designed keeping in mind the need to be aware of the emerging technologies in the world wide web. Along with blockchain, decentralisation, token-based technologies and more, the convention panels also discussed the significance of Web3 in the contemporary world. Speakers included Sweta Shaw, full stack blockchain engineer at Questbook, tech mentor at The Phoenix Guild; Sushmit Lavania, co-founder Huddle01; Michelle Lok from Neon Sundae; and Akash Shukla, developer relations, Polygon.
Kolkata moving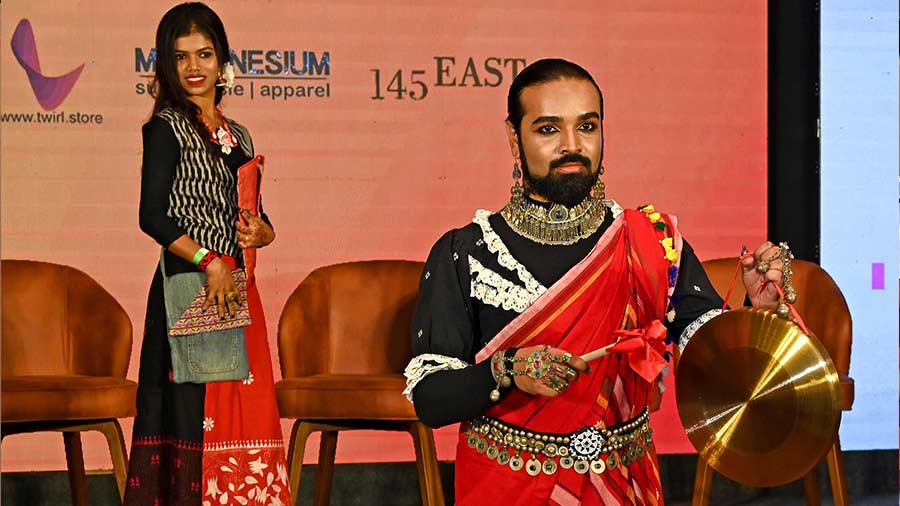 The sustainable Fashion March with model and influencer Pushpak Sen (front) as the showstopper, showcasing apparel from The House of Noorie
Amit Datta
The sustainability convention, MKKM, not only spoke at length about the recently concluded Towards a Better Tomorrow in partnership with Goethe Institut, but also highlighted on other community partnerships — including PUBLIC by Bonani and Pradip Kakkar; Nirit Dutta, environment activist and founder Buttrush and others. The Sustainability Convention highlighted not only the environment, but also social sustainability focusing on inclusivity. The session ended with a sustainable Fashion March.
The Moving Kolkata, Kolkata Moving Project is a unique collaborative effort to make the community more sustainable and conscious of the surroundings. Speaking earlier at the inauguration, Pauline said, "I'm really happy about what's happening today. This is the result of non-stop preparation. It grew into a beautiful festival celebrating the City of Joy. What is beautiful about it is that so many partners have come on board to collaboratively work on it. Each and every session that you are going to witness today has been organised by a different partner. I have never seen such a community-led event emerging like this before."
Content is king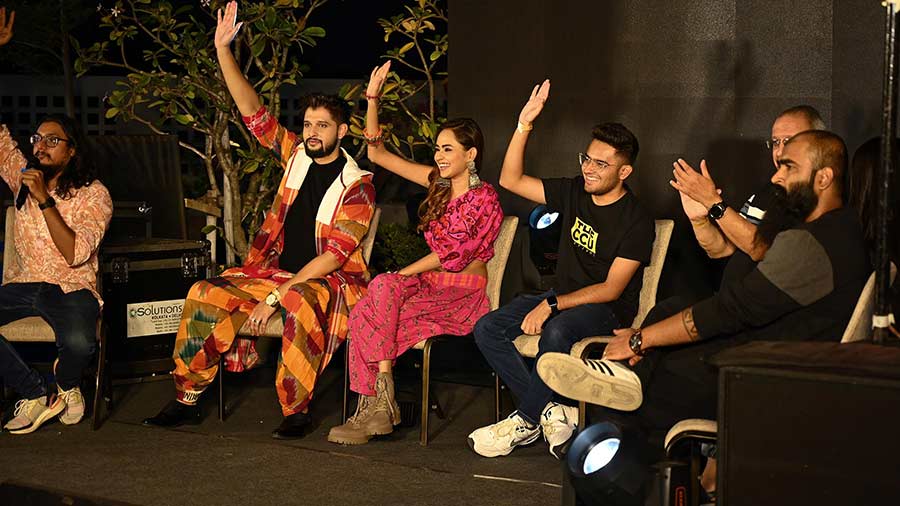 CLOUT was aimed at bringing all content creators under one roof and offering them valuable tips to grow their game
Amit Datta
One of the most-awaited sessions of the day, CLOUT, was aimed at bringing all content creators, in any form, under one roof and offering them valuable tips to grow their game. Not only did the panel have useful tips from personal experience, but also launched Creatory, a one-of-its-kind incubation facility for content creators and India's first male meta influencer. The panellists included Manish Pandey, content creation coach; Prerona Das Roy from The Kolkata Buzz; Neel Bhattacharya, actor and influencer; Priyam Ghose, content creator; Jimmy Tangree, radio jockey; Suraj Juneja, founder, Freeflow Ventures; Nirit Dutta, wildlife photographer and influencer; and Mishmi, actor.
CCU Icon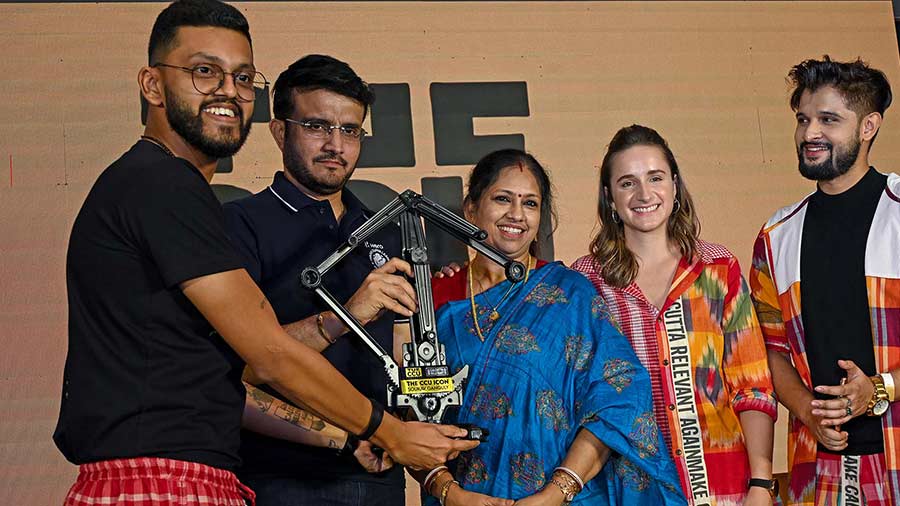 Sourav Ganguly was awarded the CCU Icon award, a unique award made out of recycled scraps
Amit Datta
Sourav Ganguly made a special appearance at The CCU Festival in the evening. He was awarded the CCU Icon Award, a unique award made out of recycled scraps. The 'Dada' of Bengal commented, "I think there is enough to make Calcutta relevant. The endeavour is to make the city as viable and as important as it can be. The reason I have come here is I have seen a young boy and girl trying their best to make this event successful. I travel around the world, and when I go I see people's investment, businesses etc. and always feel that the same should happen in my city. In terms of sports, the city is quite relevant. It's important to see that the youth of the city are trying to make things happen."
Talking heads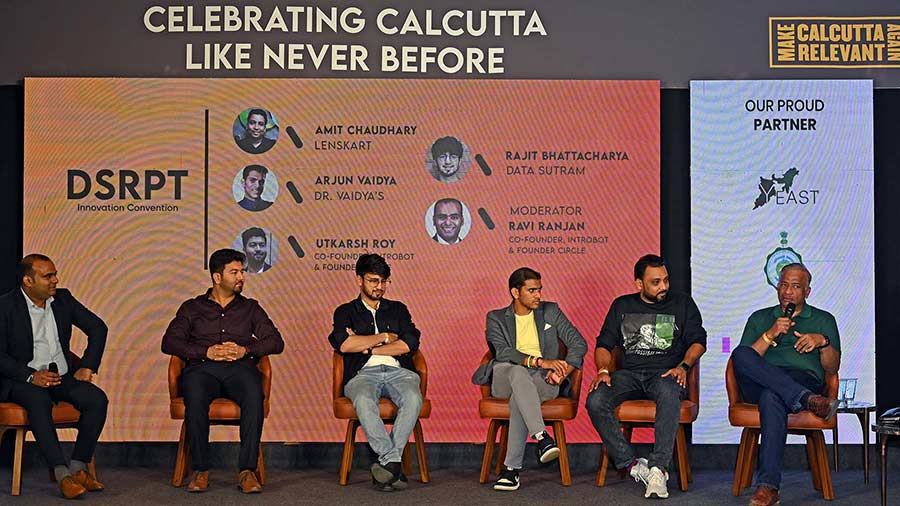 Speakers from the DSRPT panel shared their experiences with a room full of budding entrepreneurs
Amit Datta
The DSRPT panels had everything you needed to know about business, innovation and the way forward. The concluding convention for the evening had big names who shared their experiences with a room full of budding entrepreneurs. Some of the speakers included Llyod Mathias, angel investor and business leader; Amit Chaudhury, co-founder, Lenskart; Arjun Vaidya, founder, Dr Vaidya's; Kaushik Mukherjee, co-founder, SUGAR cosmetics; Vargab Bakshi, vice president and country head, Wix.com and others.
Shop & shop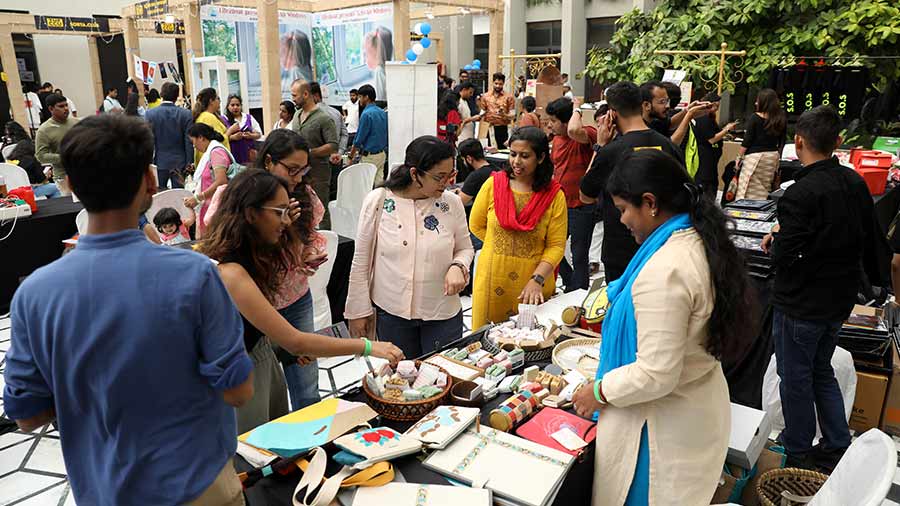 The all-day flea market, MRKT, had over 40+ brands
Arijit Sen
An all-day flea market, MRKT, curated with over 40+ brands gave an impetus to the growing entrepreneurship culture in the city. On offer were food, jewellery, clothes, art, wellness and lifestyle products that attracted huge attention from attendees. Some of the brands present included Karma Kettle, 145 East, Abeo, Auli, Micronesium and more.
Heritage showcase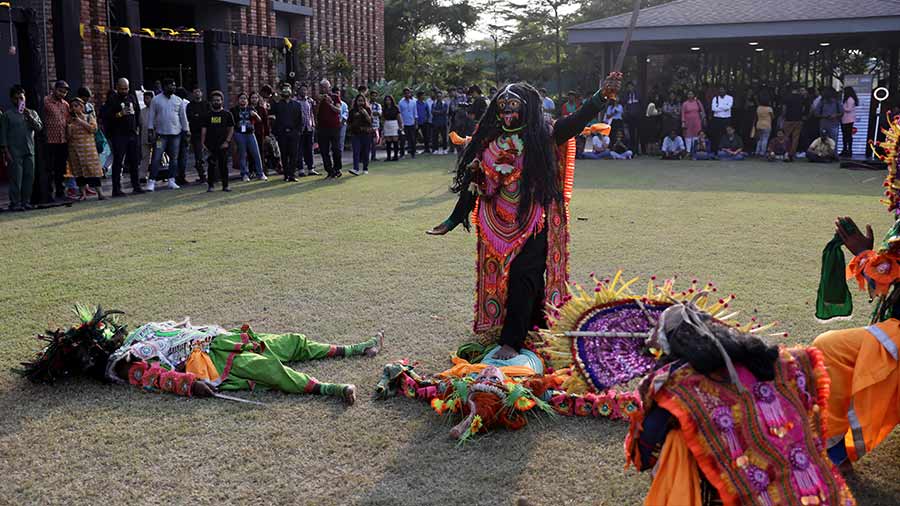 A Chhau performance
Arijit Sen
A session curated for lovers of traditional Bengali art and culture, a Chhau performance was held at the lawns where the performers donned traditional and colourful costumes, and staged short skits based on Bengali mythological tales. Performances were accompanied by traditional music during BENGL.
Stage for creativity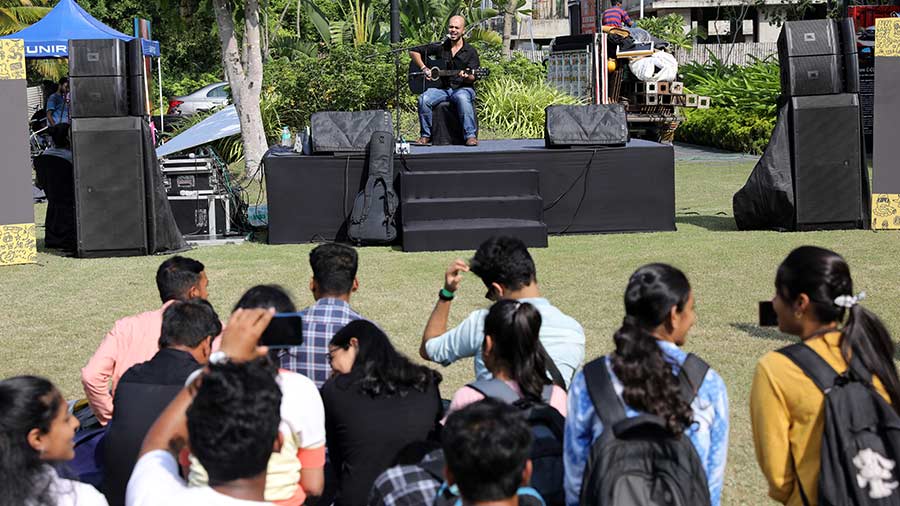 A performance during CCU GOT SOUL
Arijit Sen
CCU GOT SOUL and CYPHER were stages for open-mic performances, musicians, graffiti artists, beat boxers and more to showcase their talents. Performers included Anubhav Sengupta, Sukanya Majumder, Oculus, Rohit Mishra and other city talents.
Jam it up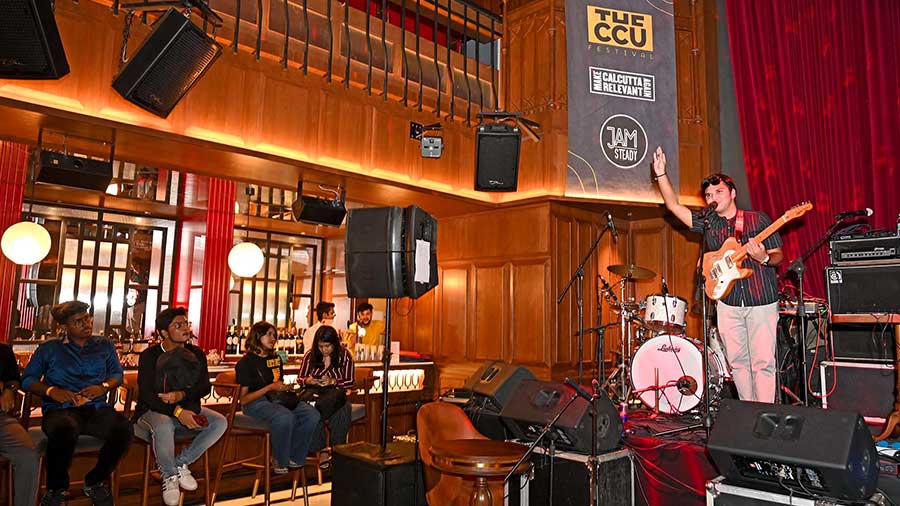 Aamir Rizvi performs during JAMSTEADY
Amit Datta
JAMSTEADY gave an opportunity to city musicians to come up and present their original music. The line-up for the day included the legend Amyt Datta, Kendraka, Whale in the Pond, Streetfood Music and more. A jam-packed audience showed the support and enthusiasm the people of Kolkata have for its musicians.
Techno music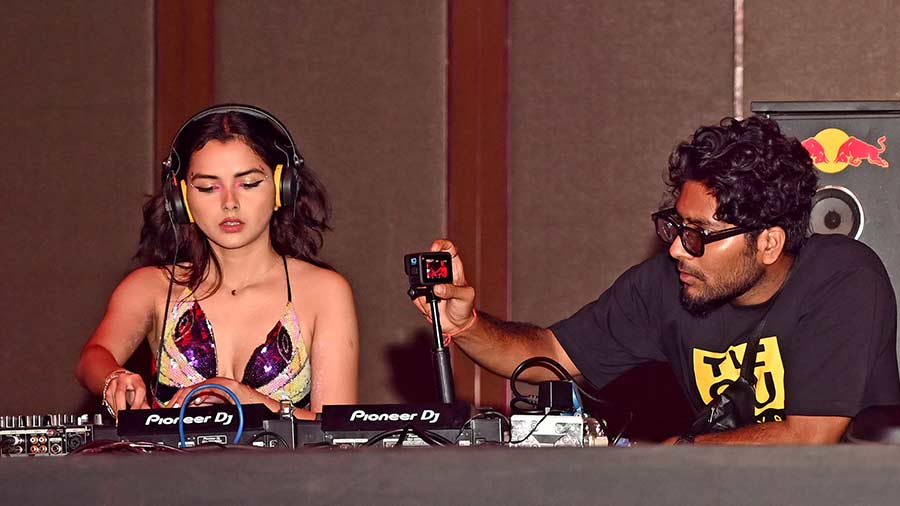 MOTOR CORTEX catered to the lovers of electronic and techno music
Amit Datta
For all the party and music lovers, MOTOR CORTEX catered to the lovers of electronic and techno music. A stage was set for grooving to the beats and the session had a lineup including 8 Bit Culprit, Kohra, Nida, Rudra, Tech Panda X Kenzani and more.