There was palpable excitement outside the gates of Princeton Club on Friday (July 15) night as the audience waited for Amyt Datta's latest musical project to take the stage. Any new project the celebrated guitarist undertakes always draws music lovers and musicians because they know they are in for a treat. And Friday night's debut of the Amyt Datta Electric Power Quartet was no different.
From the first ambient note of the song Ironic Bironic, the band, with Akash Ganguly on bass, Sambit Chatterjee on drums and Samrat Mukherjee on keyboards, was off to an electric start and for over 90 minutes kept the audience in a trance.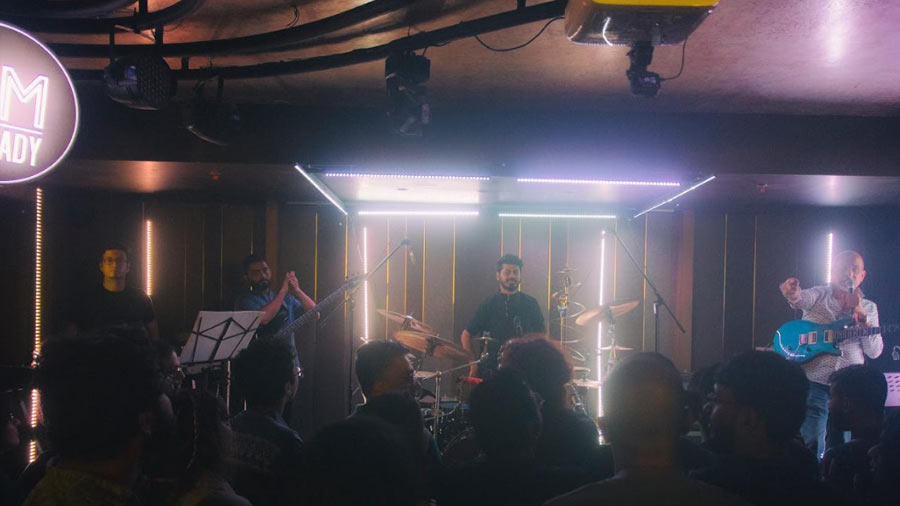 The Amyt Datta Electric Power Quartet with (right to left) Amyt Datta, Sambit Chatterjee, Akash Ganguly and Samrat Mukherjee
Proshanto Mahato @jamsteadytime
"Amyt Datta's gig has been sealed as one of our best gigs in a very long time. He brought his electric power quartet and the atmosphere was totally electric. We all got so charged up after this gig that I did not get sleep till very late at night!" said Nishit Arora, the director of Smoke Inc, which organised the Jamsteady concert at the club on Prince Anwar Shah Road.
A lot of the material played by the band are Datta's acoustic compositions rearranged to give it a progressive jazz fusion sound. Songs like Pulse and Stain are from his 2016 album Amino Acid. Songs like Red Planet, about Nature's anger at the destruction caused by humans, was conceptualised pre-Covid but rang even more true post-pandemic.
The material is very complicated: Amyt Datta
"Sambit has been saying for years that he wanted to play with me. Akash I have been collaborating for a long time and I have also played with Samrat before. It took us almost a month of practice to put this show together. It was wonderful to be part of the kind of dedication and effort all of them put in," said Datta. 
The electric velocity of the songs complements the complexity of the compositions which weave in open and free improvisations within a tightly structured framework. "The material is very complicated and came together through lots of discussions and debates. I always try to rearrange my music according to the skills and expertise of the musicians I am working with," said Datta, who prefers playing his acoustic set in more intimate venues.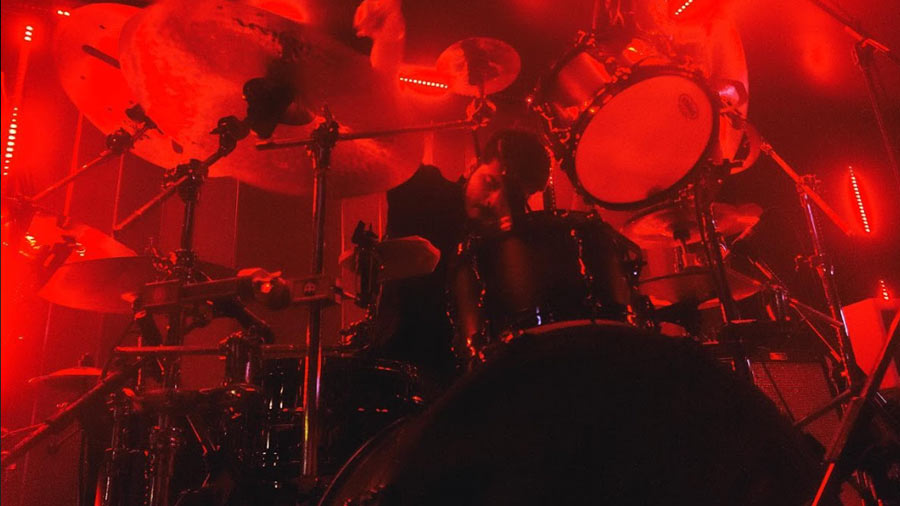 Sambit Chatterjee on the drums
Proshanto Mahato @jamsteadytime
Datta's sublime guitar playing was complemented by Akash's intricate bass playing and the ambience created by Samrat's keyboard and Sambit's explosive energy on the drums just elevated the whole experience.
"It was extremely challenging to enhance the constant flux of micro details, but so satisfying when you are able to match it," said Sayan Ghosh, the quartet's sound engineer for the show.
It is like living on the edge: Amyt Datta
The show was more than just playing songs. It was an experience. Sort of like going on a ride in an amusement park that never hits the brake. The sheer effort and hard work that goes into weaving music like this in a presentable format was something to behold in an era where making music has become as simple as just dragging and dropping sounds from libraries.
Samrat Mukherjee on keyboards and Akash Ganguly on bass
Proshanto Mahato @jamsteadytime
"All of us on stage are constantly testing ourselves. Firstly, presenting the music physically and  then opening ourselves up to audience review. It is like living on the edge" said Datta, who is "happy" with the audience reaction to the show and hopes there will be more gigs for this new quartet in the future.
The Amyt Datta Electric Power Quartet was the second Jamsteady gig at Princeton Club, a revival of sorts for the Jamsteady-Princeton connection. "Princeton is where it all started for us and it holds a special place for us, the musicians and the audience. When we announced Princeton I got so many personal messages from people about how excited they were and how they have such good memories of Jamsteady-Princeton," said Arora.
The golden days of live bands are back after the pandemic: Princeton Club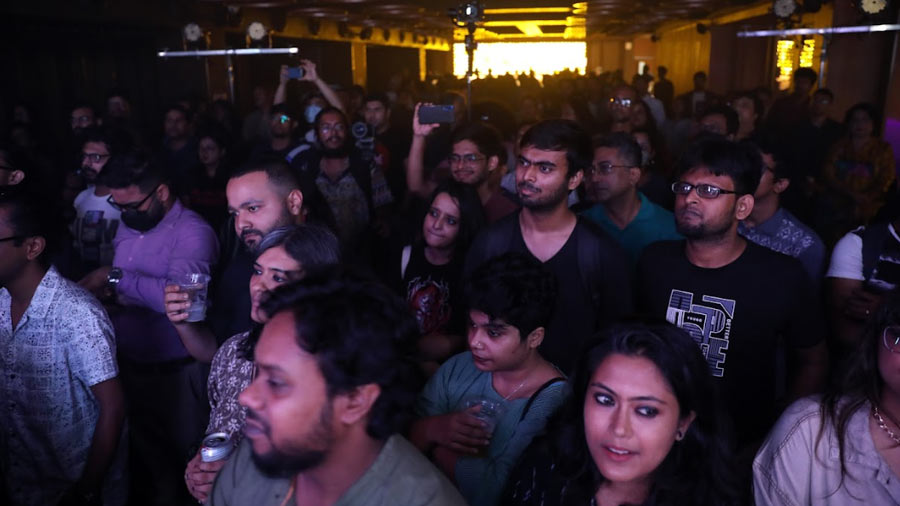 The crowd at Princeton Club
Arijit Sen
And the July 15 show struck just the right chord with the hosts. "Guitar maestro Amyt Datta and his magic on six strings have been an integral part of our growing years. We feel privileged to have hosted the live concert by the legend at Princeton Club. This has always been a happening place for live music concerts. With this electrifying concert, we have brought back the golden days of live bands in Kolkata after the pandemic. We are all set to recreate many memorable experiences in the coming days," said Sanjay Karmakar, operations manager, Princeton Club.
Next up for Jamsteady X Princeton Club is The Bodhisattwa Trio 10th anniversary concert on August 12.