Back in 2005, Sreoshy Banerjea was a fresher who had just enrolled to study architecture at the Rensselaer Polytechnic Institute in New York. Roni Mazumdar was in his final year at the time, a student of information technology and the founder of the Rensselaer Bengali Community. "That's how we first met, when I decided to join the Bengali Community on campus," recollects Sreoshy. "She wanted to join it because of me," chuckles Roni. 
Some 17 years later, Sreoshy and Roni are married with two kids — four-year-old Riyan and one-and-a-half-year-old Arjun — and stay in the up-and-coming business borough of The Bronx in New York City. Sreoshy, 35, is the executive director of the NYC Public Design Commission, while Roni, 39, is a restaurateur and the CEO of Unapologetic Foods, the man behind many of the top Indian restaurants in the city. For NYC Commissioner Shampa Chanda as well as several others based in the US, Sreoshy and Roni are NYC's Bengali power couple.
"It feels good when people call us that, although we don't really think of ourselves as a power couple. We're just two people supporting each other as we try to impact lives in our own ways," says Sreoshy, before adding, "As it is, Roni's a celebrity, whereas people hardly know me outside my field." Roni responds instantly: "But she has a lot more power than I do!"
Service to the City award for her contributions towards making NYC a better place to live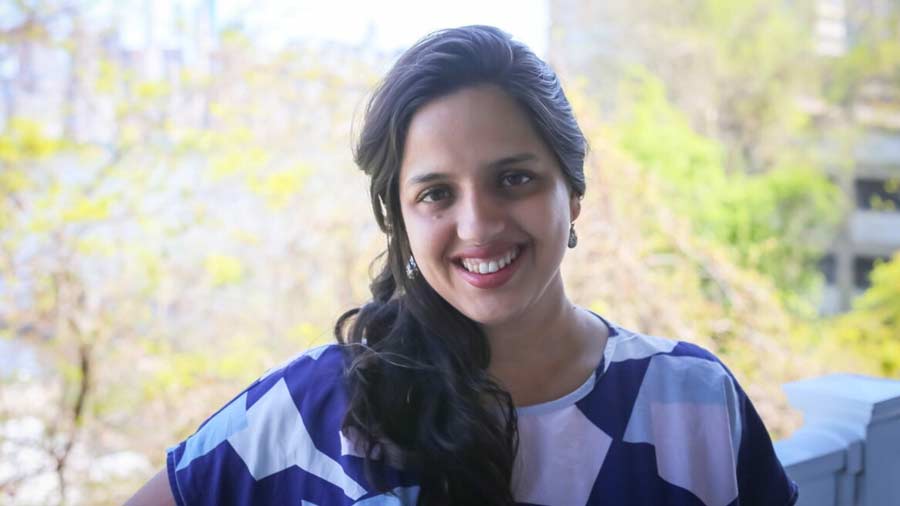 Sreoshy's interest in urban design stemmed from her grandfather, who was an important part of her formative years
Image courtesy Sreoshy Banerjea
Born in Durgapur, Sreoshy shifted between Delhi and Kolkata during her formative years before moving with her family to Fairfax, Virginia, in the US. Her favourite childhood memories in Kolkata include "strolling around Lake Gardens and Golf Green, shopping at the Dakshinapan Market and spending time with my grandparents, especially my grandfather, who was a civil engineer and town planner, the chief inspiration behind my eventual career".
Before taking over at the NYC Public Design Commission, Sreoshy, having completed her architectural education at the Massachusetts Institute of Technology (MIT), was in charge of various portfolios across six years at the New York City Economic Development Commission. Her expertise, analyses and insights have been instrumental in shaping the look and feel of numerous parts of New York, including Sunnyside Yard, Broadway Junction and the Manhattan Waterfront Greenway. At the height of Covid-19 in NYC, Sreoshy founded Design Corps, which in turn created a network of 100 volunteer architects that assisted over 70 restaurants with design-related needs in relation to the pandemic. Last year, Sreoshy received the American Institute of Architects New York (AIANY) chapter's "Service to the City" award for her contributions towards making "NYC a better place to live".
Five restaurants in NYC, with a Michelin star for his south Indian restaurant Semma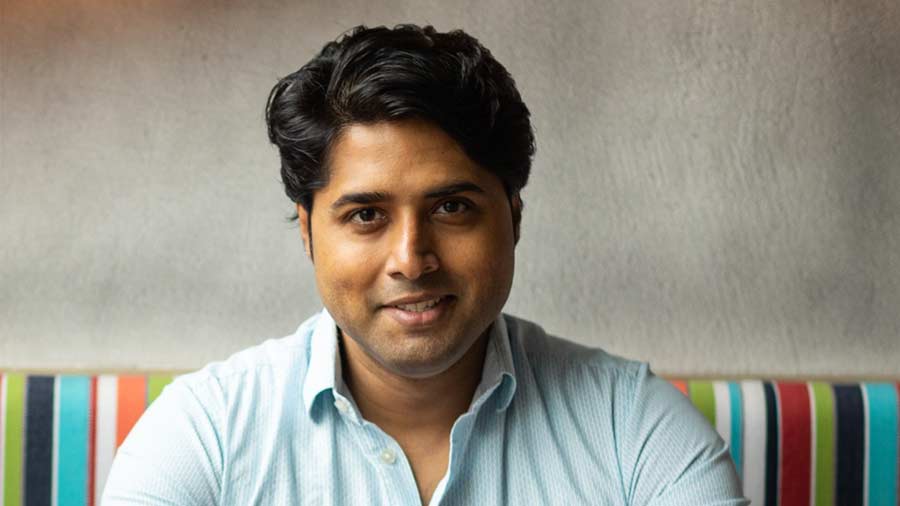 The turning point for Roni came when he helped open Masalawala, an Indian restaurant in Brooklyn, for his dad
Image courtesy Roni Mazumdar
A Kolkata boy who believes he is still in his formative years, Roni moved to the US with his family when he was 13, and reflects on the "simple joys of riding a bicycle, splashing colours during Holi and eating on kala pata back in Kolkata". Tired of living the life of a "typical Indian immigrant" working for a Fortune 500 company in the US, the turning point for Roni came when he helped open Masalawala, an Indian restaurant in Brooklyn, for his dad, Satyen Mazumdar, in 2011. "After his retirement, the restaurant became my dad's livelihood. In the process of helping him find his purpose, I found my own," reveals Roni.
The engineering student who did not want to be "another perfect employee who creates nothing of their own", Roni soon plunged wholeheartedly into his passion to reposition Indian cuisine in NYC. "Around one-eighth of the world eats Indian food regularly, and yet, our cuisine remains sidelined, cheap, even 'exotic'. We're still apologising for our food being too spicy or too oily and altering it to suit the palates of non-Indians. Can you imagine going to a Japanese restaurant and complaining that their sushi isn't spicy enough?! You'll get thrown out. So why make so many compromises with Indian food?" asks Roni, who currently has five different restaurants (with a sixth to open soon) operating in NYC — from kebabs to Indian street food to South Indian delicacies, name it and one (or more) of Roni's restaurants will serve it.
Recently, Roni's south Indian restaurant on NYC's Greenwich Avenue, Semma, earned a Michelin star, making it the only Indian restaurant here with the food crown. Co-managed (alongside Roni) by Chintan Pandya and with a rustic menu curated by head chef Vijay Kumar, Semma (which means 'fantastic' in Tamil) celebrates Tamil Nadu's heritage cuisine with "heart, soul and pride", reliving food nostalgia from south India with "explosive flavours and regional ingredients". Signature dishes at Semma, which opened last autumn, include Gunpowder Dosas (containing a special potato masala for $19), Attu Kari Sukka (lamb with black cardamom, tellicherry peppers and mace for $25) and Nathai Pirattal (stir-fried snail for $25).
Besides running his restaurants, Roni is also the founder and CEO of Aerobanquets RMX, in partnership with artist Mattia Casalegno, where he explores "virtual reality dining and immersive gastronomy".
'Two normal people becoming one scary person together'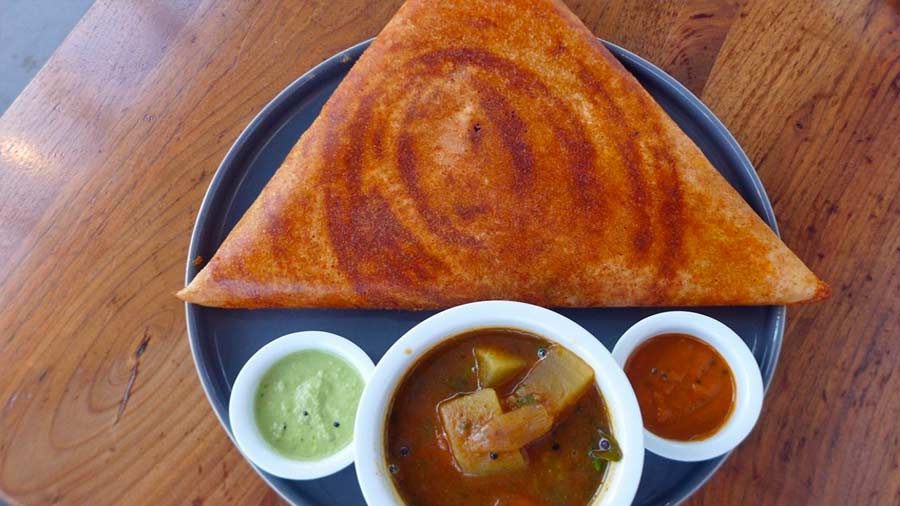 The Gunpowder Dosa at Semma, which recently earned a Michelin star
Image courtesy Semma
Sreoshy's pick of Roni's restaurants is Dhamaka, open since February 2021 in Manhattan. "I'm always craving the paneer at Dhamaka. They also make amazing beguni," says Sreoshy. "Her tastes represent those of the masses," jokes Roni. "That's true, I'm glad I didn't say my favourite dish was a preparation of goat testicles," quips Sreoshy.
The constant banter between the two has lasted across their courtship, which began in 2009, and into their marriage. "After being married for eight years (their wedding took place at the P.C. Chandra Garden on the EM Bypass in Kolkata), ours has been a case of two normal people becoming one scary person together," observes Roni, who can never get Sreoshy to stop using his chargers. For Sreoshy, what annoys her most about Roni is how "he's always right. He finds the right places to poke holes, and I think he actually knows me better than I know myself".
Shortly after they had become good friends, Sreoshy went away for six months to travel across rural India for a project, and it seemed as if the two would struggle to stay in touch. "But we still found a way to talk every day. Or rather, Sreoshy found a way. She'd walk for miles everyday just to get connectivity. After a point, we knew that there was something special, just because of how much we were talking to each other," says Roni. "We were still quite careful, though. We didn't want to ruin our friendship at any cost. But things worked out in the end because of the immense respect we had for each other. We knew we couldn't let each other down," adds Sreoshy.
'For her, pasta and cheese make a great dish. I can't accept that, since there's no sauce!'
When they are not busy changing NYC in their own ways. Sreoshy and Roni enjoy taking naps, going on walks and, more recently, bingeing on House of the Dragon. "We actually need to find more time to spend and relax with each other, which is difficult given our respective schedules," admits Roni, who, unsurprisingly, is in charge of the household menu. "Unless, it's continental. Pasta, in particular," clarifies Sreoshy. "For her, pasta and cheese make a great dish. I can't accept that, since there's no sauce!" is Roni's characteristic intervention. He proceeds to say: "It's the opposite when it comes to buildings. I see a structure with golden rims and I'm impressed. And then, Sreoshy does her thing of explaining to me what's wrong with the design and the aesthetics."
'She has unwavering faith and determination'; 'I love his sense of adventure'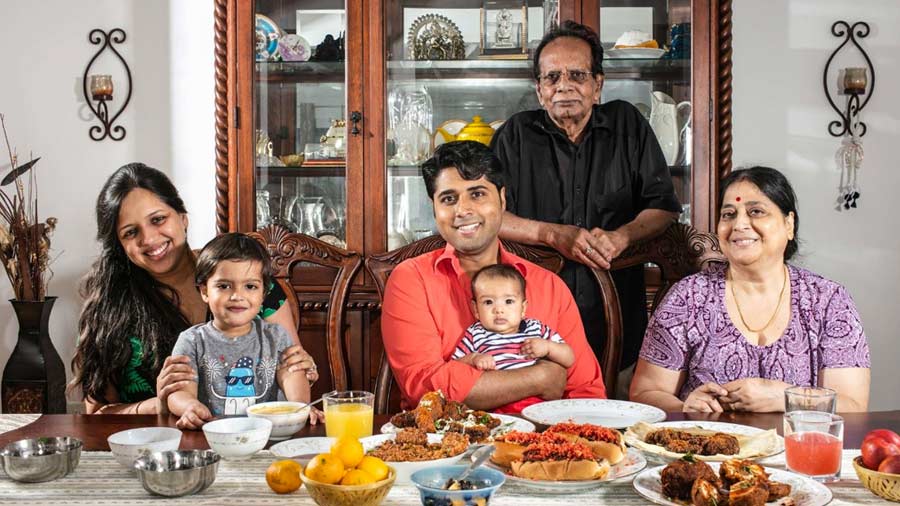 Roni and Sreoshy with their kids and Roni's parents, Satyen and Keya Mazumdar
Image courtesy Roni Mazumdar
Even on Zoom, it is clear how the two complement each other. Sreoshy, the quieter of the two, gesticulates frequently. It does not take much to make her smile or roll her eyes (mostly at Roni's jokes). She is not a night owl, unlike her husband, who seems to find more and more energy as the conversation gets closer to midnight in New York. For his part, Roni has mastered a deadpan delivery, which occasionally gives way to a snigger.
Nobody appreciates what makes them different more than the couple themselves. "Without her, I won't be able to do what I'm doing. Her unwavering faith and determination are what I admire the most about her," says Roni. Sreoshy promptly returns the favour: "I love his sense of adventure, his ability to take a risk and make things work out."
'My mission is to affect how New Yorkers perceive Indian food'
In the long run, Sreoshy wants to use her platform to "drive social impact and innovation in NYC, with a greater focus on diversity and affordability. I also see myself returning to India at some point to help out with more equitable development back home". For Roni, "there's little to no precedent in what I'm doing, which is why I prefer missions to goals. My mission over the next few years is to affect how New Yorkers perceive Indian food, to ensure that Indian food doesn't become monolithic".
In the short run, Sreoshy and Roni want to discover more water parks in NYC, where they can lounge in each other's presence on a pleasant autumn afternoon. Without headlines and flashbulbs, just like any other couple.