UP man to demonstrate his invention in Jharkhand
Dinesh Kumar's invention ensures a motorbike will only start of the rider is wearing a helmet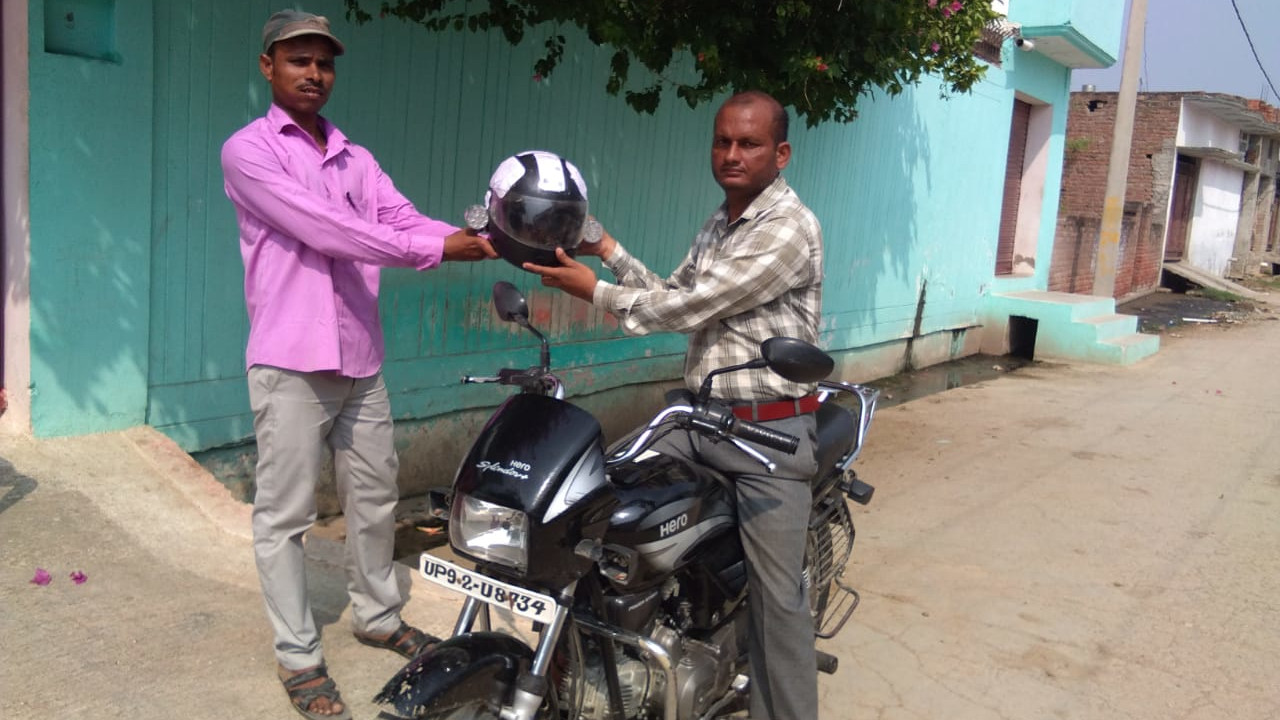 Dinesh Kumar takes the devise-fitted helmet from his friend before starting his bike in Jalaun, Uttar Pradesh on Wednesday.
Bhola Prasad
---
Jamshedpur
|
Published 17.09.20, 04:29 AM
|
---
A government sanitation worker from Jalaun in Uttar Pradesh has invented a mechanism which ensures a motorbike only starts if the rider is wearing a helmet. He will be live demonstrating his invention in Jharkhand later this month or in October.
Dinesh Kumar has recently been made a member of the Youngistan Warriors of Martial Art, an NGO based out of the Gamharia block of Seraikela-Kharsawan.
With branches in different parts of India, including Bengal, the organisation works for the promotion of martial arts among government school students, and also recognising inventions of people in different fields.
Dinesh has already presented his invention to senior government functionaries, including the district magistrate, in Jalaun but is yet to commercialise it. 
"I don't have money to patent my device. Though I have won accolades for my invention, nobody is coming up to help me financially. I thought of looking at Jharkhand where an NGO has promised to help me in getting the patent. Amit Modak, who is the president of the NGO, is a friend of mine and has assured all support," 39 year old Dinesh said.
Dinesh, who is a postgraduate in sociology and has also completed ITI, explained, "There are two components to my invention, once which is put on the helmet, and the other on the bike. The bike will not start unless one wears the helmet. I think my device will save people from getting killed in road mishaps."
"The demonstration will take place in front of politicians and senior government officials in Ranchi and Jamshedpur. The demonstration will also be uploaded on social media so that it reaches the central government," Amit Modak told The Telegraph Online..
Dinesh has also invented a broom which can clean roads measuring 40 km in an hour.