Underground fire erupts for second time in a month in BCCL area
Production work affected, workers gherao officials demanding safety measures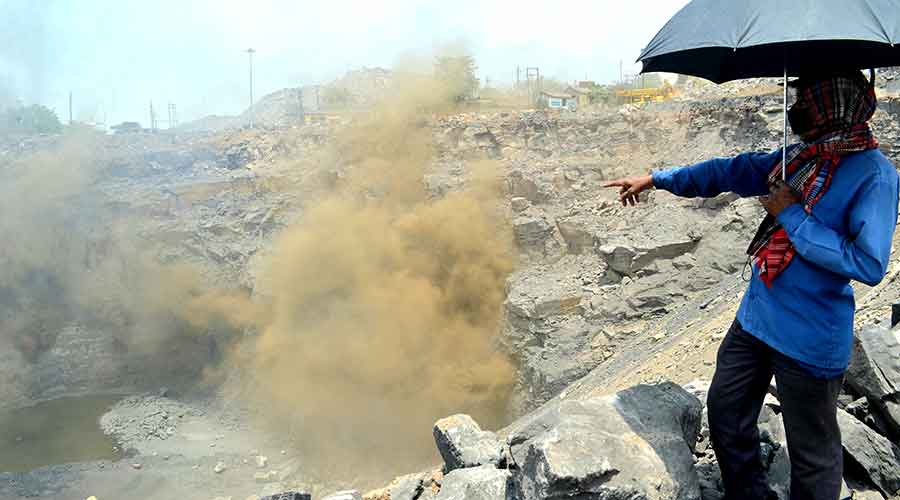 A worker showing the smoke out from a mine of Bharat Coking Coal Limited at North Tisra in Jharia on Friday.
Shabbir Hussain
---
Dhanbad
|
Published 23.04.21, 05:29 PM
|
---
A fire at the underground seams, first seen on April 7, at North Tisra Colliery of Lodna Area of BCCL about 15 km from Dhanbad district headquarters aggravated on Friday leading to huge amounts of smoke and gas billowing out and hampering the production work.
Residents of several surrounding localities like Golden Pahari, MOCP, Jag Dhaura, Bandh Dhaura, Tisra, Bangali Kothi and Gokuldham Park were panic stricken and informed the BCCL management about the development.
A team of senior officials of the company led by Assistant General Manager of Lodna Area P.K. Mishra and others including, the project officer, Pankaj Kumar and Colliery Manager D.K. Maji inspected the site. An operation was launched to tackle the fire by dumping earth, soil and boulders on it.
Enraged over the incident, the colliery workers gheraoed the BCCL officers team demanding fool proof measures to douse the fire. The team assured the local residents and workers that gas coming out at the site was not methane and rather Carbon Monoxide and Carbon Dioxide.
Uma Shankar Singh, a worker at the colliery and the secretary of Jharkhand Colliery Mazdoor Union said, "The fire situation aggravated during the early morning today leading to huge amounts of smoke and gas creating difficulties in production work."
"Similar situation was witnessed in colliery on April 7 after which fire fighting measures were initiated by dumping mixture of soil, earth and boulders over the fire but the operation was discontinued after only three days and consequently the fire again erupted in the colliery affecting production and endangering the life of common people," said Singh.
Fagu Napit, a trade union leader and local resident said, "If effective steps are not taken to completely douse the fire the entire coal seam of around 52 feet will be burnt to ashes"
AGM, P.K. Mishra said,"We are also concerned about the fire and will carry out borehole in the area to douse fire and simultaneously also excavate out the burning coal from the colliery as a long term solution of the fire problem."