Soren e-inaugurates Covid-19 testing lab in Palamau Medical College, alleged CRPF excess in Singhbhum
STATE DIGEST: Covid lab to start testing after two weeks; Pregnant woman dies in the hands of quack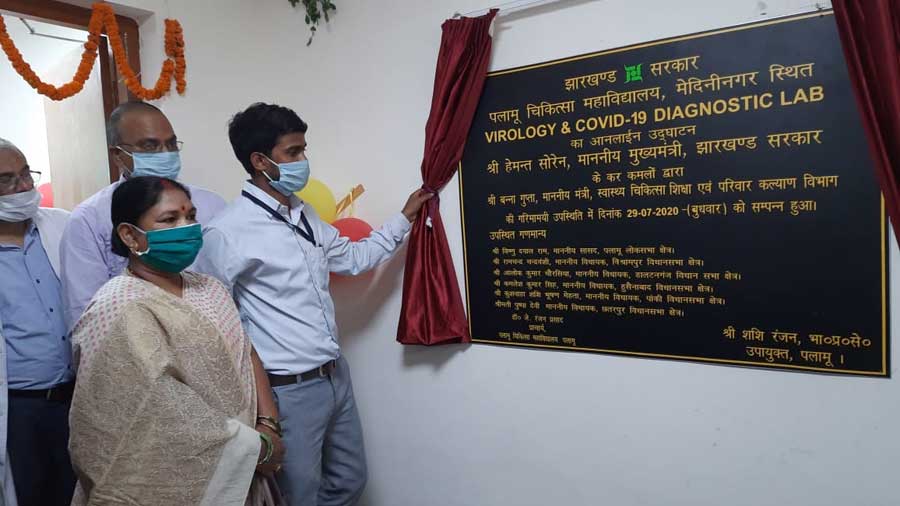 ---
---
Chief minister Hemant Soren on Wednesday afternoon e-inaugurated a Rs 2.50 crore worth virology and Covid-19 diagnostic lab in the Palamau Medical College at Pokhraha.
Although the lab has been inaugurated and CM Soren has e inspected it, too, it will take around two weeks for Covid-19 sample testing to begin here. A clearance for testing has to be obtained from the first mentor of this lab, AIIMS Raipur, and then from the secondary mentor, RIMS Ranchi.
A Viral Lab Committee has been set up with Dr Kamender Prasad (HoD pathology) as its chairman. Anjana Kumari (department of pathology), Yerum Yasin (department of preventive social medicine), Suruti Sharadha (department of microbiology) and Khalid Anjum (department of microbiology) are the members of this committee.
Sources, however, told The Telegraph Online, "The service bond of the three doctors - Yerum Yasin, Suruti Sharadha and Khalid Anjum is going to expire in August, and then the three of them may not be in this college anymore."
If such a situation arises, the Lab Committee will be left with only Dr Kamender Prasad and one tutor - Anjana Kumari, who is doing her career's first job. Principal of Palamau Medical College J R Prasad was not too eager to comment on this manpower crisis.
Prasad said, "We will ask Prejha Foundation, which has set up this lab to carry on the task till posts are filled up here." He added that the Covid crisis has put a brake on many things, and filling of the posts is one among them.
CM Hemant Soren, laying emphasis on quick collection of samples and fast test reports, said this will ease the fight against this pandemic and the state government is doing everything it takes to accelerate the sample collection, testing and faster pronouncement of test reports.
DC Palamau Shashi Ranjan said the e-inauguration was attended by a lone sitting BJP MLA from Chhaterpur Assembly constituency, Pushpa Kumari while MP Palamau was represented by Vijay Ojha. DC Ranjan said this lab has been asked to improve its test tally from 1,000 and above at the earliest to take off the pressure for Covid testing.
Pregnant woman dies in the hands of quack
A 25-year-old pregnant woman died on Tuesday after being treated by quacks in a private hospital at Ramana block headquarter, around 25 km from the district headquarters. The health department has filed a complaint with state police, seeking action against the quacks.
The woman went to a private hospital operated by a quack for an abortion on Monday. She was three-months pregnant. At the hospital she was treated by Dr Mohammad Sahabudin Hasrat Ansari, a quack. She suffered excessive bleeding. Though Ansari gave her medicines, she died on Tuesday evening.
Lilavati Devi, the mother of the deceased, a native of Babhni village under Sonbhadra Untari police station, Uttar Pradesh, said that she had brought her daughter to Ansari's hospital for an abortion. The doctor gave her medicines for miscarriage. Eventually, due to excessive bleeding, the situation started deteriorating. Ansari sent the patient home by a private vehicle, where she died.
Nagar Untari police Inspector Ashok Kumar Singh said, "On the complaint of the deceased's mother, Ramana police registered a case under section of 304 IPC. Investigation is underway."
Activists allege CRPF excess in Singhbhum village, demand action
A group of CRPF personnel, who went to Chiriabera village under Khuntpani block of West Singhbhum district in search of naxals, allegedly beat up the villagers mercilessly on June 15.
Jharkhand Janadhikar Mahasabha (JJM), an umbrella organisation of activists and civil society groups that sent a fact-finding team to the village, has alleged this.
The team also met the deputy commissioner and superintendent of police of the district and apprised them of their findings, the Mahasabha said in a release issued on Wednesday, adding they both gave assurance of looking into the matter.
Eleven of the villagers were found to be severely beaten while three sustained grievous injuries, the release said, adding that the house of Ram Surin, one of the victims, was completely ransacked by CRPF personnel.
"Trunks were broken and bags were torn and essential ration supplies stored in the house – paddy, rice, pulses, peas – were thrown around and destroyed," the release further said, adding even Rs 35,000 that they had saved after selling goats went missing.
A large group of over a hundred CRPF personnel reached the village around noon on June 15, when about 20 villagers were helping Bonj Surin, a villager, to repair his hut, the Mahasabha said, narrating the incident. They surrounded the hut and asked the villagers in Hindi to come down from the roof. The villagers here do not speak Hindi, and most of them do not even understand Hindi, the Mahasabha further said, adding they came down following their gesture. The CRPF personnel then asked them about naxals.
On not getting a reply to their satisfaction, the CRPF personnel beat them mercilessly with sticks, rifle butts and boots, the Mahasabha release further said.
Though the villagers later went to the local police station and an FIR was also lodged, it did not mention the CRPF personnel as the offenders. The Mahasabha has now demanded that the FIR be corrected, a proper investigation done and those guilty punished.