Security beefed up in Naxalite areas of Kolhan before R-Day
Special arrangements made at strategic locations in Ghatshila, Patadma, Bodam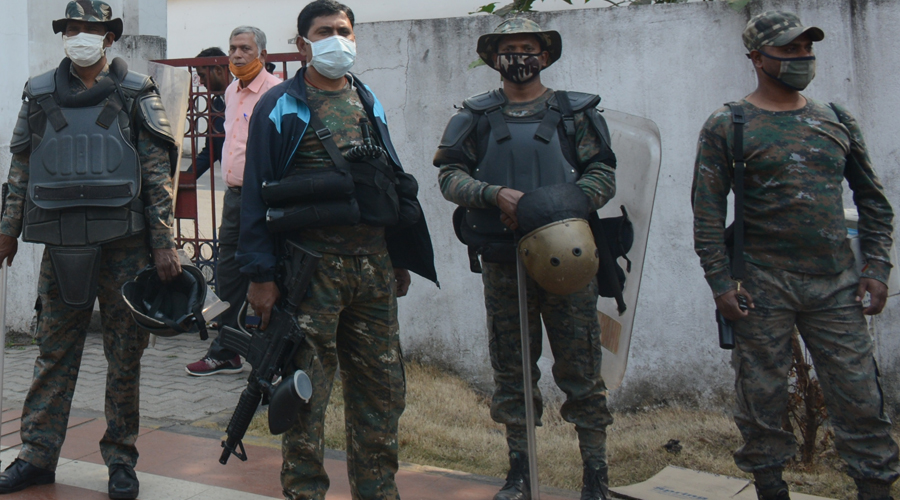 ---
---
Police and paramilitary forces across Kolhan comprising the twin districts of Singhbhum and Seraikela-Kharsawan district have been put on high alert on Monday in view of celebrating an incident-free Republic Day here on Tuesday.
In the naxal-infested Ghatsila subdivision, police have started long-range patrolling (LRP) from Monday besides making deployment of paramilitary forces at strategic locations there. In the West Singhbhum district and adjoining Seraikela-Kharsawan district adequate security measures have been taken up to prevent the naxals from coming overground anywhere during Republic Day.
Revealing about the preparations on the security front, East Singhbhum district superintendent of police (Rural) Subhash Chandra Jat said the security arrangement in view of Republic Day was made in accordance with the instructions given by the deputy inspector general (Kolhan) Rajiv Ranjan Singh following a review meeting held at Jamshedpur on Thursday.
"Accordingly, we have deployed security personnel at the strategic locations under Ghatsila subdivision and also in the Patamda as well as Bodam thana areas which are considered as naxal-infested areas. We have deployed security forces in certain points in the steel city also," said Jat, who is also City SP, while talking to The Telegraph Online.
The SP (Rural) stated that they have also begun LRPs in these areas so as to ensure that no subversive activity can take place during Republic Day.
Similarly, the West Singhbhum district superintendent of police, Ajay Linda also informed that more than one LRPs are being conducted in the rebel-infested areas like Sonua, Goelkera, Bandhgaon and also in Saranda.
"The government institutions, including schools where Republic Day celebrations are held, have been provided with adequate security forces from Monday. At the same time, we have begun LRPs in the rebel-infested areas across the district," said Linda while talking to this website. He stated that the areas where naxal-sponsored violence and subversive acts like the planting of IEDs had taken place recently are being given special attention.
The Seraikela-Kharsawan district superintendent of police, Mohammed Arshi also spoke about beefing up the security measures in the district.
"We are focusing on all the rebel-infested areas, especially areas bordering West Singhbhum for making the Republic Day celebration incident-free. We have also intensified LRPs in the district bordering West Singhbhum district as dreaded rebels like Maharaj Pramanic are active here in Ichagarh, Chowka and Kuchai area," said Arshi while talking to The Telegraph Online.
Meanwhile, the state police on Monday have released a list of 17 hardcore rebels on which bounties ranging from Rs 5 lakhs to Rs 1 crore have been declared. Of the 17 rebels, two are from Kolhan – one is Maharaj Pramanik who carries a reward of Rs 15 lakh on his head and the other one is Sachin Mardi. Whereas Pramanik is active at Seraikela-Kharsawan district, Sachin who is active in Patamda and Ghatsila area of East Singhbhum district also carries a reward of Rs 15 lakh on his head.
The police have also flashed the photographs of most of the wanted rebels, informing that the identity of those reveals the whereabouts of these naxals will be kept secret.