Scrap art steals flower show thunder
Creative showpieces draw praise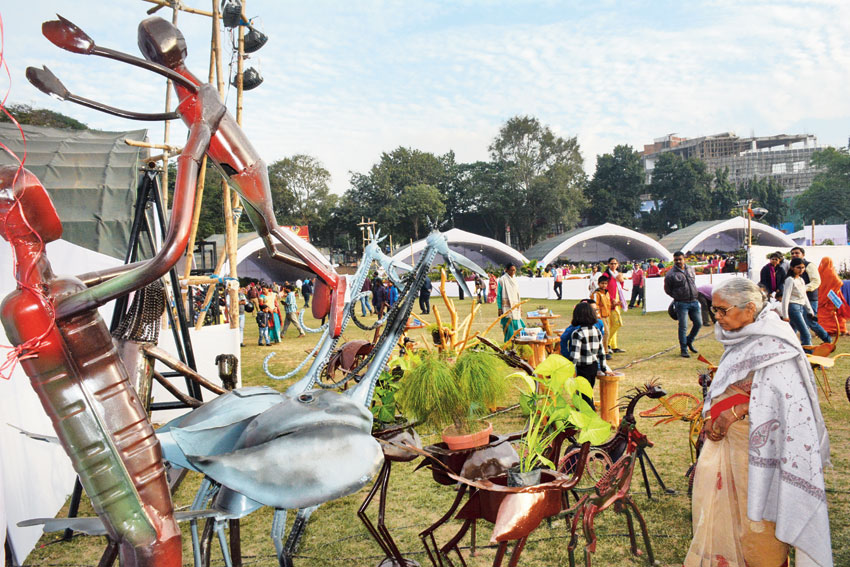 A visitor admires birds made of scrap metal at the flower show in Jamshedpur on Sunday
(Bhola Prasad)
---
Jamshedpur
|
Published 22.12.19, 08:55 PM
|
---
The steel city's annual date with flowers is not just about blooms and bonsais.
Art creations crafted out of scrap metal attracted eyeballs on the opening day of the 31st Annual Flower Show organised by the Horticultural Society at Gopal Maidan in Bistupur on Sunday.
At the four-day show inaugurated by Indranil Chattoraj, director of National Metallurgical Laboratory in Burmamines, the scrap art and furniture stall set up by sculptor Suvendu Biswas was a hit.
Garden chairs, swings, animals and birds made of scrap metals are being showcased for the first time at the flower show to promote artwork made from recyclable waste.
Artistic items from truck silencers and dining table sets made of bearings generated a lot of interest among visitors.
Biswas's stall also features wood art in the form of coffee tables and flower pots.
"This is the first time that we have put up a kiosk that exhibits items that are entirely made of scrap materials. We have received a lot of queries and sold a couple of pieces," said Biswas, who is the person behind the installations that currently beautify the roundabouts in the city .
Biswas has not painted most of his scrap metal showpieces to keep the rustic feel intact. He said every art piece had been chemically treated to increase their durability.
"We mainly use bearings, chain, silencer pipes, iron angles and flywheel. Sometimes the showpieces become bulky, but there is nothing we can do about it," Biswas added.
The price the art items ranges from Rs 1,000 to Rs 55,000.
Hotelier Smita Parikh has already booked two art works. "I loved the concept. Who would have thought that scrap can be turned into such decorative items," she said.