Ready for yoga for & from the heart
All eyes on capital for date with Prime Minister Narenra Modi
---
|
Ranchi
|
Published 20.06.19, 07:23 PM
---
A very brief spell of rain in the evening failed to dampen the enthusiasm building up across the capital on Thursday for the International Yoga Day celebrations on Friday in which Prime Minister Narendra Modi will perform asanas along with tens of thousands of participants — from dignitaries to common people — at the Prabahat Tara ground in Dhurwa.
The theme for this year's celebrations is Yoga for the Heart.
Yoga-related programmes started right from Thursday morning and continued till late in the afternoon.
At 9am, state health minister Ramchandra Chandravanshi inaugurated a four-day Yoga Exhibition on the Assembly grounds. Among those browsing the exhibition, organised by the Union information and broadcasting ministry, was Heavy Engineering Corporation Ltd CMD M.K. Saxena. At the exhibition, people were advised for free on yoga for specific ailments.
After the exhibition was inaugurated, Chandravanshi a flagged off a yoga awareness rally. Around 200 students of government schools participated in the rally, which travelled 2km to Birsa Chowk. As the rally participants returned, a cultural programme got underway, featuring Chhau and other dances to patriotic songs.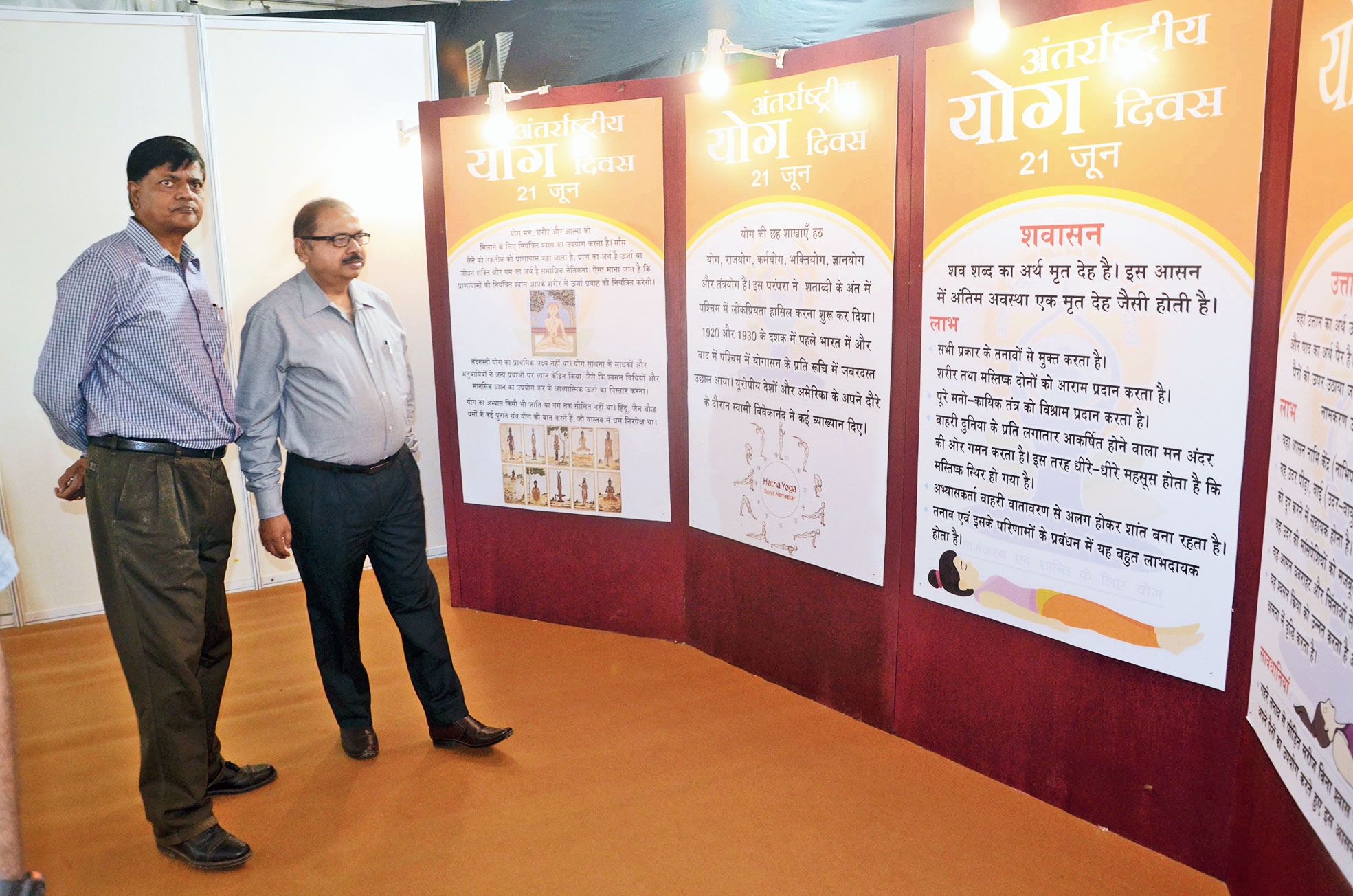 At St Mary's School in Doranda, students of classes I to IV performed asanas including vajrasana and bhujangasana. Principal Rashmi Dewan explained to children the benefits of yoga and advised them to do it routinely early in the morning to keep fit and healthy. Similar programmes were organised at other schools.
At around 11am, Ranchi deputy commissioner Rai Mahimapat Ray and senior superintendent of police Anish Gupta briefed the media about the preparations for Friday at the Prabhat Tara ground.
"Over 40,000 people will perform yoga with Prime Minister Narendra Modi," Ray said. "All preparations have been made. Governor Draupadi Murmu, chief minister Raghubar Das, Union Ayush minister Shripad Naik and state health minister Ramchandra Chandravanshi will also be present. Entry at the venue for common people will start at 3am and continue till 5am. Free bus service will be provided from tonight (Thursday night) to reach the venue. Over 100 CCTV cameras have been installed for surveillance. For the convenience of people, 400 temporary toilets, 2,000 water points, 100 water tankers, eight medical response teams and 21 ambulances have been provided."
It rained in the evening, but there was no water accumulation at the ground.
"Unlike other parts of the city, there was a drizzle that lasted hardly half a minute. I don't think yoga performers will face any problem on Friday," said Prabhat Kumar, a local resident.
SP (city) Sujata Veenapani, who is overseeing the more than 5,000 security personnel deployed at Prabhat Tara ground, supported Kumar. "There was very light rain and the ground has been prepared in such a way that there is no scope of waterlogging," the SP said.
The steel city, meanwhile, has kept a second venue on standby for yoga day celebrations there in case it rains heavily on Friday morning.