Police bust gang of robbers, arrest four in Bodam
Cops also recover weapons, motorcycles, mobile phones and Rs 44,000 cash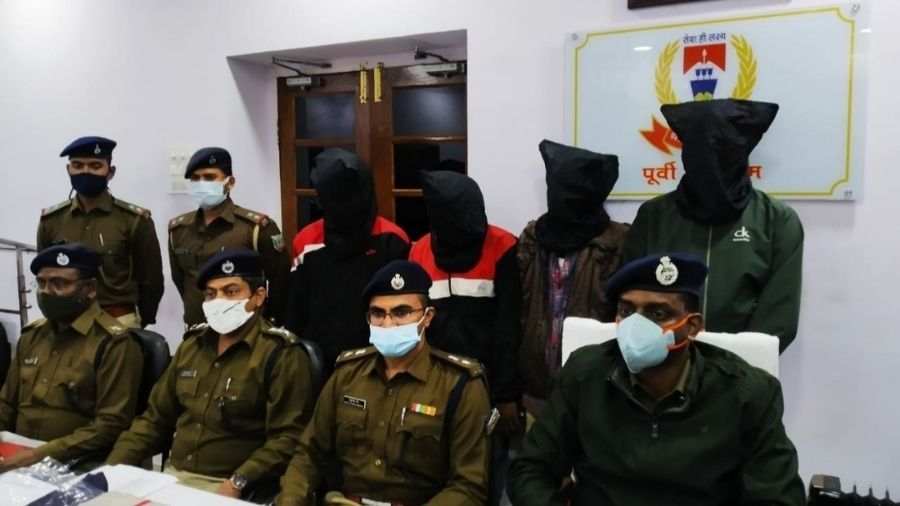 Senior SP, M Tamil Vanan (extreme right) with the four arrested robbers standing behind cops on Thursday
Animesh Sengupta
---
Jamshedpur
|
Published 10.02.22, 05:35 PM
|
---
In a major breakthrough, the police on Thursday busted a robbers' gang by arresting four members in connection with the serial robbery cases in Bodam thana area. While making the arrests, the police recovered weapons, motorcycles, mobile phones and Rs 44,000 cash. 
Revealing about the breakthrough, senior SP, M Tamil Vanan said that a gang of seven dacoits had stormed into the house of a brick kiln owner at Somadih village under Bodam thana area about 20 kms away from the heart of the city in the night of January 14.
"In the robbery, the criminals had decamped with Rs 2.5 lakh cash from the brick kiln owner, Manik Chandra Mahto at daggers point, leading the victim to lodge an FIR against unidentified persons the next morning. As a police team had started investigation into the case, the robbers struck at another house near Hatikhda temple in the night of January 23," said Vanan while addressing a press conference here on Thursday. 
The senior SP said it was after the second case of robbery in an interval of nine days that they set up an special investigation team (SIT) for looking into the twin robberies taken place in the same police station area. He stated that the SIT led by DSP (Patamda) Sumit Kumar got a clue to the robbers' gang active in the area and succeeded to nab one of the members. 
"The SIT first arrested a 30-year-old man Parimal Singh Sardar. On being interrogated, Parimal confessed his involvement in the both the robberies and divulged the names of others involved in the crime. Then only the SIT successfully arrested three others," said the senior SP. 
He said all those arrested except Parimal had no police record. He said during thei nterrogation, it came to fore that all the dacoits had no source of income and that they had teamed up with Parimal to earn money by committing the robberies in wealthy people's houses in the area. 
Vanan pointed out that there were about a dozen robbers involved in both the robberies, adding that search for rest of the gang members is on.