Play dates with furry cuddle buddies
IIM Ranchi Start-up wins XLRI award & dog lovers' hearts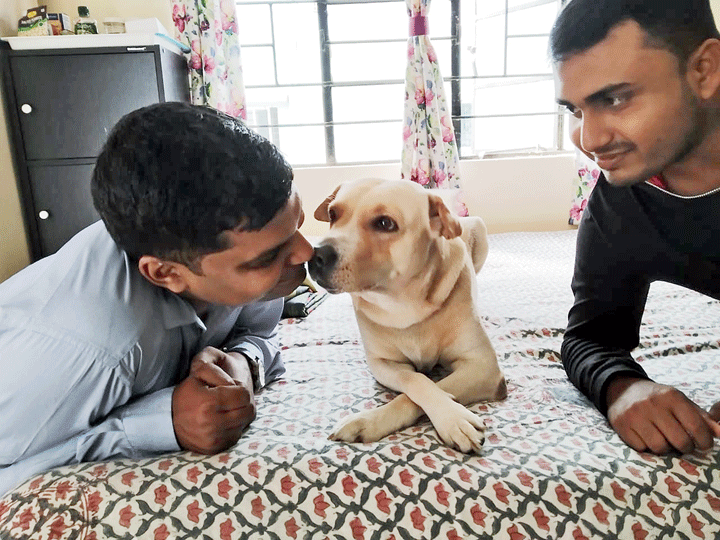 ---
---
The feeling of desperately wanting a dog and not being able to own one can be painful. However, that doesn't mean you can't enjoy the slobbering kisses and cuddles.
IIM Ranchi's start-up Shvan will enable you to enjoy quality time with a furry friend whenever you want.
The idea of a platform that connects dog lovers and owners won the Disrupt B plan competition at Entrepreneurs Cafe organised by the entrepreneurship cell of XLRI and its incubation centre XCEED on November 9-10. The three-member team of IIM Ranchi — Mahantesh Goudar, Manjusha Shrimandil and Megha Saxena — was awarded Rs 40,000 and a trip to Singapore.
Shvan also aims to address a common problem among owners of finding a suitable mating partner for their dogs.
The venture is ready to be launched within a month.
"There are many dog lovers but not all can keep one due to issues ranging from high maintenance costs and lack of dog creches to family problems. This is where we step in. We plan to create a community of dog lovers and owners and connect them. Also, owners face a lot of problems in finding a mating partner for their dogs. We will address that issue as well. Our website is ready and we will launch it within a month," Mahantesh said.
Dog owners can register at the website for free and create a profile of their pets with their name, sex, age and vaccination details.
"Before registration, Shvan will screen the dogs to ensure they are people and child-friendly and properly vaccinated," said Mahantesh.
Dog seekers can choose from the profiles following which a request notification will be sent to both the company and the owner.
The owner can decline or accept the request. If the request is accepted, the dog seeker will have to select the meeting date, time, and place and make the payment online.
Shvan will hire people, to be called "domigos", to collect the dog from its owner's place, take it to the dog seeker and bring it back.
The start-up is looking for dog-friendly people who would love to earn through the service. A meeting that lasts an hour will cost around Rs 100. The rate will vary depending on the time and the breed of the dog.
While a major share will go to the dog owner, Shvan and domigos will share 20 per cent each. For mating, the dog owners will have to be pay a subscription fee to access the profiles.
"We have plans to extend the services to other kind of pets such as cats and birds. We are also planning to build a community for rescued dogs to find a forever home," Mahantesh added.