Pause button on cold wave in Jharkhand
visibility continues to be poor in various parts of the state, including Jamshedpur and Daltonganj , due to dense fog , mist and cloudy conditions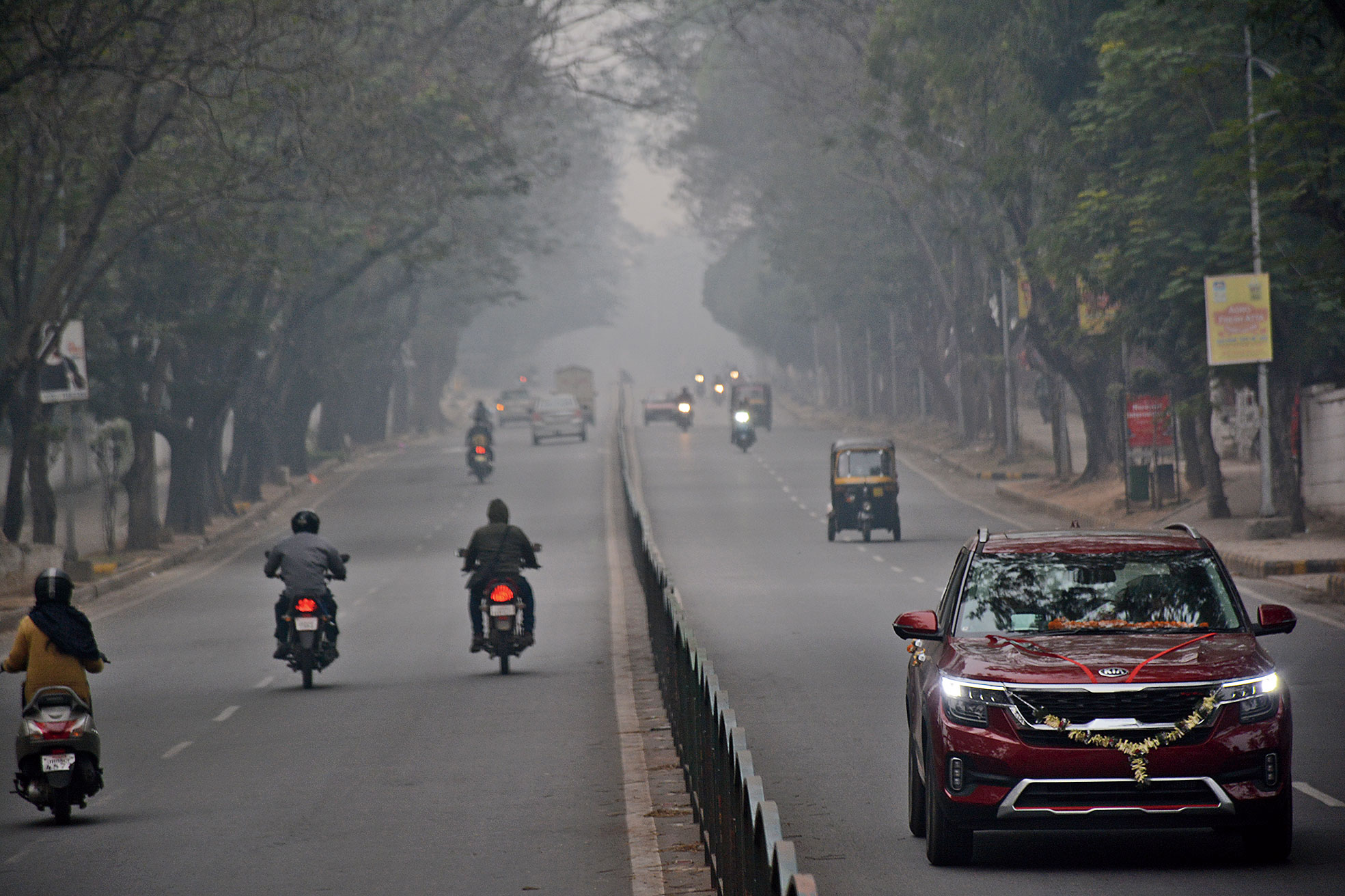 Vehicles negotiate a foggy Staight Mile Road in Bistupur, Jamshedpur, on Monday.
Picture by Bhola Prasad
---
Jamshedpur
|
Published 23.12.19, 07:26 PM
|
---
The brr is likely to give way in the next 48 hours as the Met office on Monday withdrew its cold wave warning, almost as if keeping pace with the change in the political climate.
However, visibility continues to be poor in various parts of the state, including Jamshedpur and Daltonganj , due to dense fog , mist and cloudy conditions.
Weathermen said the fog and mist was due to the impact of a Western Disturbance and an associated cyclonic circulation hovering about a kilometre above sea level.
"The cyclonic circulation was due to the impact of a Western Disturbance. It is helping the incursion of moisture into the atmosphere and restricting the flow of westerly winds," explained S.D. Kotal, director of Ranchi Meteorological Centre.
He said the minimum temperature (night readings) would see an abrupt rise. It will again come to normal after four days.
In Jamshedpur, a blanket of fog descended soon after sunrise at around 6.20am and cleared only after 8am. Those manning the local IMD observatory said visibility in Jamshedpur and its adjoining areas was reduced to around 1,000 metres. Visibility in Jamshedpur returned to normal, around 2,500 metres, as late as 10.30am.
If the skies in Ranchi were relatively clear, the outskirts of the capital saw early morning mist and shallow fog on Monday. The sun played hide and seek in several places.
Early morning fog was also reported in Daltonganj, Simdega, Khunti, Gumla and Seraikela-Kharsawan districts.
Minimum temperatures rose in most parts of the state. Ranchi recorded a minimum temperature of 12.8 °C against Sunday's 11.2°C. Monday's minimum reading was two notches above normal. Forecasts said that minimum temperatures would continue to rise in the next 48 hours while the day's temperature would see an abrupt fall due to the cloud cover.
Daltonganj recorded a rise of minimum of 13.7°C on Monday, four notches above normal and over two notches above Sunday's 11.2°C. In Jamshedpur, the minimum reading saw an abrupt rise to 14.8°C on Monday against Sunday's 11.6°C. Monday's temperature was three points above normal.
Minimum readings also saw a rise in Bokaro, Dumka, Pakur, Hazaribagh, Dhanbad and many other places.
In its forecast, Ranchi Met Centre predicted generally cloudy sky with the possibility of light to moderate rain or thundershowers in northwestern, central and southwestern Jharkhand on December 25. A forecast of rain was issued for December 26.