Official whip on hospital delay
Jharkhand gets its second artificial limb centre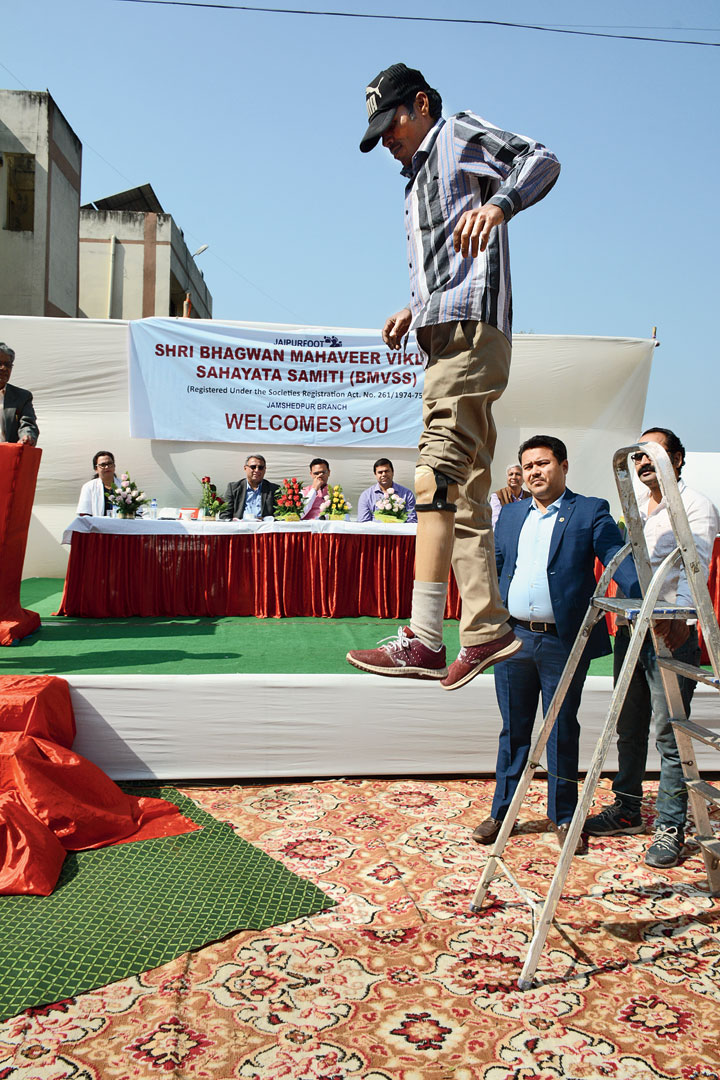 A person with an artificial limb jumps at the inauguration of the Jaipur Foot centre in Jamshedpur on Saturday.
(Bhola Prasad)
---
Jamshedpur
|
Published 11.01.20, 07:10 PM
|
---
 Principal secretary health Nitin Madan Kulkarni on Saturday set a deadline of February end for completion of infrastructure work at the state-owned MGM Medical College and Hospital in Sakchi here.
After an hour-long review meeting held on Saturday evening at the MGM Hospital which was attended by officials of building construction and drinking water & sanitation departments and the electricity wing of the health department, Kulkarni expressed displeasure at the delay in completion of infrastructure work at the three interlinked ground-plus-four-storey structures.
"The principal secretary health after the meeting expressed displeasure over the delay in construction work at the new block which is hampering functioning of several units," said Dr Sanjay Kumar, superintendent MGM Hospital. "Different deadlines were given to different departments so that everything is completed by February end, paving way for shifting to the new units."
However, so far only the paediatric emergency and few portions of the gynaecology wing have been shifted to the new units on the MGM campus. According to the deadlines set earlier, by the end of 2018 medicine, paediatric neonatal intensive care and paediatric intensive care unit and different postgraduate units should have been shifted to the new units.
The principal health secretary also pulled up the building construction officials for poor quality of work at several portions of the new units.
"Several tiles had developed cracks though the units have not yet been handed over," said East Singhbhum deputi collector Ravi Shankar Shukla. "There were several other loopholes in the civil work and Kulkarni ji asked the officials to improve everything before handover to the hospital authorities. Kulkarni ji also asked the hospital authorities to ensure cleanliness on the campus."
Earlier in the day, Kulkarni along with chief executive officer and managing director Tata Steel T.V. Ravindran jointly inaugurated the second Bhagwan Mahaveer Viklang Sahayata Samiti's (BMVSS) Jaipur-foot rehabilitation centre in the state — the 26th such centre in the country — at the Sadar Hospital in Khasmahal.
The centre is equipped to provide artificial feet, hands and other aids and appliances to the diferently-abled.
The other such centre is at Kokar in Ranchi, which was inaugurated in 2017. The centre will help disabled get artificial limbs and other aids in Jharkhand instead of having to go to Jaipur and other states.
The inaugural function was also attended by BMVSS executive president Veerendra Raj Mehta and BMVSS chairman Jharkhand Lalit Kedia.