Sons will follow in their father's footsteps, says Pulwama widow
CRPF head constable Vijay Soreng, killed in the Pulwama attack, was due home for a holiday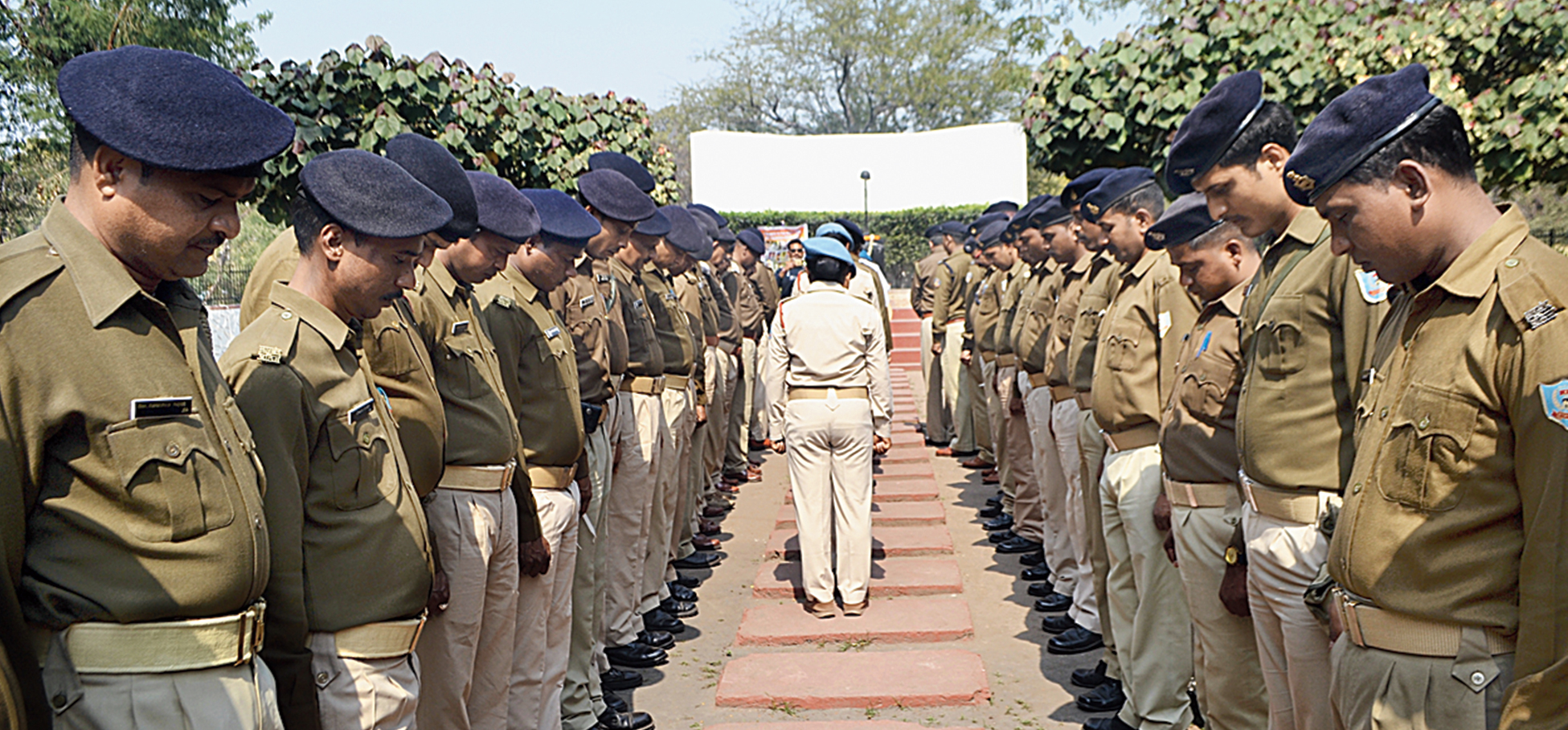 East Singhbhum district police pay tribute to slain CRPF jawans at Shaheed Sthal in Golmuri, Jamshedpur, on Friday.
Picture by Animesh Sengupta
---
Ranchi
|
Published 15.02.19, 06:58 PM
|
---
When Carmella Soreng last spoke to her husband in Jammu two days ago, he had promised to come home soon on a month-long visit. Vijay Soreng won't be able to keep his word though.
The 45-year-old head constable of CRPF's 82nd Battalion was among the 37 killed on the most protected highway in the country when a suicide car bomber rammed a convoy of over 2,500 troopers at Lethpora in Pulwama, south Kashmir, on Thursday.
Being a policewoman herself, Carmella is manifestly proud of her husband. Being a doting wife and mother of three, her composure in the face of an irreversible mishap is interspersed with moments of gut-wrenching grief and bouts of vocal anger.
"The suicide bomber killed my husband and other brave men like him. These terrorists have no courage to face valiant men. It was an act of cowardice. My husband was an intrepid solider who could have sent him (the bomber) to hell in a straight fight. I am proud to be his widow," the 42-year-old Jharkhand Police constable said.
Carmella, posted at Nepal House, said Vijay who had joined the CRPF in 1992 was transferred to Jammu only a year ago. He had earlier served the paramilitary force in Khunti and Simdega.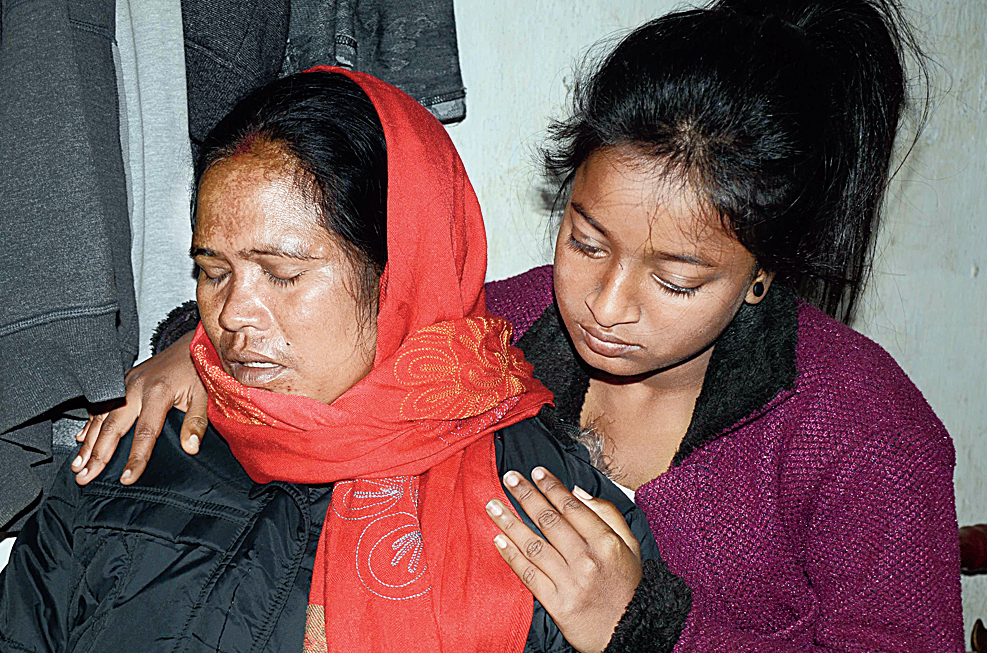 "We spoke over phone for some five minutes on Wednesday. He had said he would make a video call the next day (Thursday). He never did. That was the first time I had a bad feeling inside," she recalled.
The bomber struck when as many as 2,574 personnel were being ferried in a convoy of vehicles from a Jammu transit camp to Srinagar, much more than the usual 1,000 because bad weather had forced the Jammu-Srinagar highway to be shut for the past two days.
Carmella had no idea that Vijay was shifting base. "He never shared strategic details. He just told me he would soon visit for a month and plan renovation of our ancestral home at Kumhari Farsawan village in Basia, Gumla district. I anticipated something was not right around (Thursday) afternoon. By late evening, we knew he was no more. I fainted."
At their rented Sarnatoli home in Kokar, Ranchi, the family — elder son Arun (26) who studies in a Khunti college, daughter Barkha (15) who goes to a Chhattisgarh school and younger son Rahul (9), a student of the same cradle — are hoping to see Vijay (his body) one last time.
"We don't know if we will. He was probably blown to pieces. But, at this moment, I want to see his face one more time," Carmella said between sobs and sniffles.
She said Vijay had upheld his family's tradition of serving the nation. His father, Birish Soreng, is a retired army man who lives in Gumla. "My father-in-law sacrificed his son for the country. My sons will follow in the footsteps of their father," she said.
Neighbours made a beeline to express their solidarity with the bereaved family.
"We are deeply pained, but proud at the same time. He (Vijay) was like family. He was a good man who made a supreme sacrifice. My daughter has been crying since she heard the heart-rending news," said Ruby, a next door neighbour of the Sorengs.
Chief minister Raghubar Das has announced a compensation of Rs 10 lakh for the bereaved family and a government job for an adult member.
Vijay Soreng's body will reach the city by an Air India flight from Delhi at 12.50pm on Saturday, deputy commissioner Rai Mahimapat Ray said.
Carmella wants more than just money and tributes.
"We have given too much freedom to rogues who conspire against the army and the nation. Eliminate these people. Teach Pakistan and the terrorists it sponsors a lesson so that India's brave sons can rest in peace," she said.