Jharkhand stares at food shortage as traders stop procurements
Traders under the banner of Federation of Jharkhand Chamber of Commerce and Industries has been protesting against the proposed market fee since April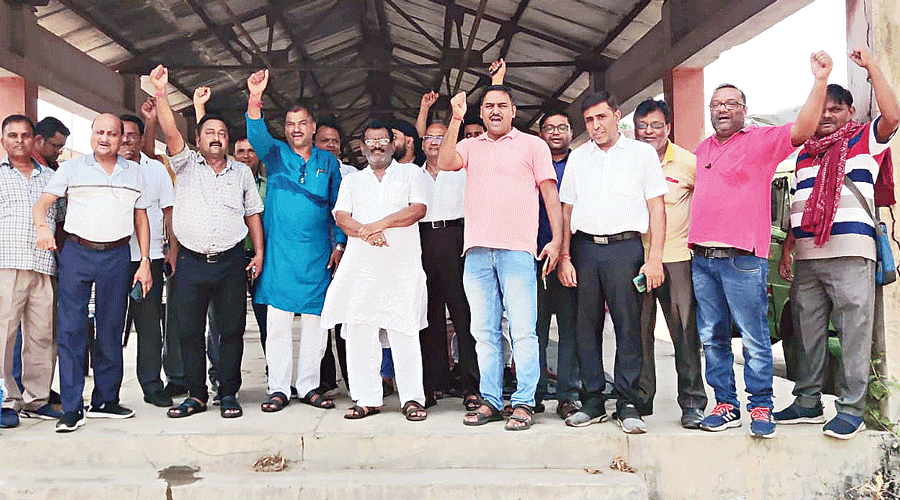 Traders protest against the new bill at Bazar Samity in Dhanbad on Sunday.
Shabbir Hussain
---
Jamshedpur
|
Published 17.05.22, 12:34 AM
|
---
Jharkhand is heading to a food crisis as traders have stopped procuring edible items from other states to lodge a protest against Jharkhand State Agriculture Produce and Livestock Marketing Bill 2022 which introduces market fee on perishable food commodities.
Traders under the banner of Federation of Jharkhand Chamber of Commerce and Industries (FJCCI) had been protesting against the proposed market fee since April.
"We had tried to communicate our grievances to the government through various ways since April. But the government is in no mood to listen. Finally, we decided to stop importing food items, both perishable and non-perishable items, from other states from Monday. No trader will go for fresh orders until the government revokes the proposed market fee," said FJCCI president Dheeraj Taneja.
The traders claimed that the proposed fee will lead to price rise of consumable products, thus adding to the burden of common people. "If those dealing in food grains have to pay two per cent tax for buying those, they have to sell those at a higher price for maintaining a margin which will be very difficult in competitive markets outside the state," Taneja said.
The decision to introduce the fee, under the Jharkhand State Agriculture Produce and Livestock Marketing Bill 2022, had received Assembly nod in March. It is currently awaiting governor's approval.
"Jharkhand has simply adopted the Central government rule. Once the new rule comes into force, two per cent market fee will be realised on non-perishable items and one per cent on perishable items. Different states have different market fee slabs. The fee is aimed at modernising and improving the infrastructure of agriculture mandis (market yards) in the state," reasoned Jharkhand State Agriculture Market Board (JSAMB) managing director Manoj Kumar.
Kumar said that the decision to withdraw the Bill has to be taken at the government level.
Jharkhand has agriculture market yards at Ranchi, Jamshedpur, Dhanbad, Bokaro, Ramgarh and Deoghar.
FJCCI former president and executive member of Pandra Bazar Samity, Praveen Chhabra, said that the impact would be felt in a week.
"Jharkhand depends on other states for supply of food items such as rice, pulses, edible oil, potato and onion. With traders not ordering for fresh stocks, the existing stocks will last at the most till a week and by then prices will start rising due to the crisis. Traders will accept those stocks which are in transit and had been ordered before May 15," said Chhabra.
Food grains are imported from Haryana, Punjab, MP, UP, West Bengal in the state.
"On the basis of a market survey 3500 tonnes of rice is consumed per day in Jharkhand. Similarly, the consumption of wheat is 2500 tonnes, edible oil varies between 800 and one thousand tonnes, pulses from 700 to 800 tonnes, onion from 800 to 1000 tonnes, potato consumption is up to 1500 tonnes per day.
"Rice is grown in the state up to 75 percent. 25 per cent is imported from outside," said Chhabra.