JFC live action a little dearer, except if you're a VIP
Team members & ticket prices unveiled, fans can buy online on Paytm & more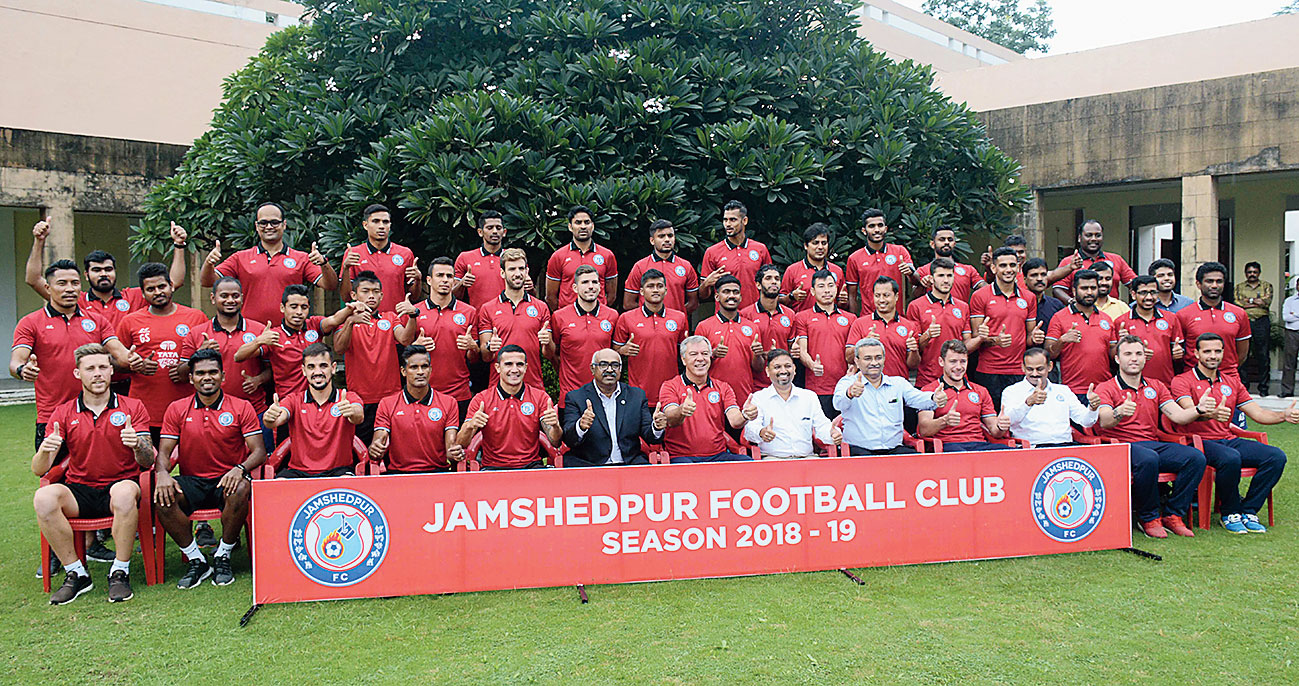 THUMBS UP: JFC players and officials pose for a picture at Centre for Excellence in Bistupur, Jamshedpur, on Thursday.
Bhola Prasad
---
Jamshedpur
|
Published 20.09.18, 06:42 PM
|
---
JFC fans will have to shell out a little more to watch Indian Super League (ISL) matches at JRD Tata Sports Complex in Jamshedpur this coming season, starting with the first match versus ATK on October 21.
Host Jamshedpur FC has marginally increased the price of tickets for ISL 2018-19 in all categories except two, the JFC management announced on Thursday at the Centre for Excellence in Bistupur during the players' introduction.
The new ticket prices announced by JFC management are Rs 50 (north stand, same as last season), Rs 100 (south stand, Rs 50 hike), Rs 200 (southwest, northwest upper stand, Rs 50 hike), Rs 250 (east upper stand, Rs 100 hike), Rs 350 (east lower stand, Rs 90 hike), Rs 499 (VIP, west lower stand, Rs 101 slash) and Rs 3,000 (hospitality section, Rs 500 hike).
Paytm and `insider.in` are JFC ticketing partners. Online tickets went on sale from Thursday on Paytm, `insider.in` and fcjamshedpur.com. Offline tickets will be sold from October 8 at JRD Tata Sports Complex. Some other outlets are likely but have not been decided yet.
JFC director Sunil Bhaskaran said fans could look forward to nine JFC home matches.
The JFC outfit, which returned to Jamshedpur on Wednesday night after a month-long training in Spain, got a rousing welcome from fans both at Tatanagar station and their flats in Kadma.
Players are Subrata Paul, Sanjay Balmuchu, Raju Gaekwad, Pratik Chowdhary, Vishal Das, Jerry Mawhmingthanga, Farukh Choudhary, Sumeet Passi, Mobashir Rahman, Rafique Ali Sardar, Gourav Mukhi, Robin Gurung, Bikash Jairu, Michael Soosairaj, Yumnam Raju, Dhanachandra Singh, Subhashish Roy Chowdhury, Karan Amin, Jose Luis Espinosa Arroyo, Mario Arques,Pablo Morgado, Carlos Calvo, Sergio Cidoncha (all from Spain), Tim Cahill (Australia) and Emerson Gomes de Moura.
Introducing players before the media on Thursday, JFC director Sunil Bhaskaran said the idea was to make the club the best in the world. "We are in the process to make sure this season we give the maximum joy to our fans and other stakeholders. I welcome the team to Jamshedpur," added Bhaskaran, also Tata Steel vice-president (corporate services).
Bhaskaran said they had a good rapport with Atlético Madrid, the Spanish soccer club. "They helped us form our JFC team," he said.
JFC CEO Mukul Chaudhari said they were highly positive about the upcoming season.
Head coach Cesar Ferrando said JFC pre-season matches in Spain were good. "We played against good teams in Spain and are now looking forward to our first (ISL) match. The team has a good camaraderie."
Asked about the changed ticket prices, Sidhgora resident and diehard JFC fan Mukesh Singh said, "I wish they stuck to the old rates."