Jayant Sinha promises to develop Hazaribagh's latest archeological site
ASI has unearthed a Buddhist monastery at Bahoranpur village, now MP talks tourism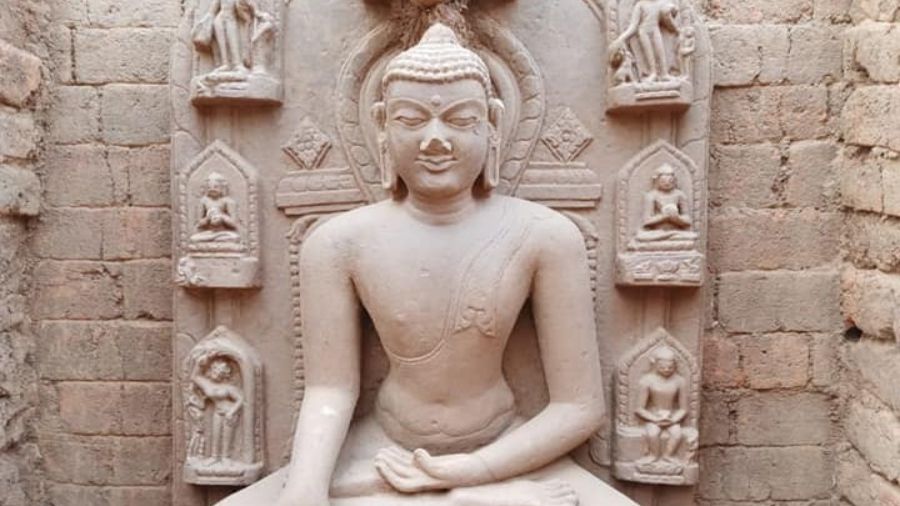 A Gautam Buddha statue unearthed by the Archaeological Survey of India during an excavation at Bahoranpur in Hazaribagh on Sunday.
Picture by Vishvendu Jaipuriar
---
Hazaribagh
|
Published 14.03.21, 05:44 PM
|
---
Former union minister of state for civil aviation and Hazaribagh MP Jayant Sinha on Sunday termed the Archaeological Survey of India's findings in Bahoranpur village of the district a unique and  historic discovery, announcing to turn the place into a cultural and religious spot.
"The ASI's excavation has so far confirmed that this place was a
big spot for followers of Buddhism, where an important monastery and shrine stood during the ninth century," he said.
Sinha added that he has spoken to culture and tourism minister of state Prahlad Patel regarding the development of the site, who asked him to make a report regarding the requirements. 
"I will leave no stone unturned for bringing this place on the tourism map of the country. But I am
surprised how this place was away from the eyes of all for so long and no effort was taken before," Sinha added.
Delhi-based Buddhist priest Bhante Tiswarro told the Telegraph Online that he will visit the site soon. Tiswarro was the first one who had initiated the discovery, informing the ASI about the possibility of finding something.
Meanwhile, residents have demanded that the ASI should make a state-of-the-art facility at the village itself, instead of shifting it to some other museum. 
Tiswarro had the same queries. I want to know what the ASI is planning to do with the recoveries while there are no museums in Bahoranpur. If they take the decision to remove structures from here, I will start a satyagraha in the village," he said.
"I can assure you that this place will have a big museum here so as to attract tourists from the country as well as abroad," Sinha commented on the issue.