Jamshedpur gives vote the cold shoulder
Half of Jamshedpur East stays home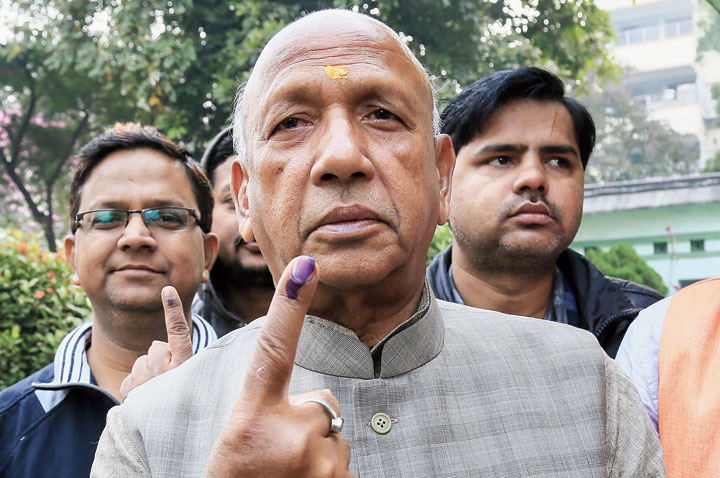 ---
Jamshedpdur
|
Published 07.12.19, 06:35 PM
|
---
Blame it on the chill — the steel city recorded a minimum temperature of 13°C on Saturday — or on the stay-at-home appeal of the weekend, Jamshedpur East recorded the second-lowest polling percentage among the 20 Assembly constituencies that voted in the second phase of the state elections.
According to the chart provided by the chief electoral officer of the state Vinay Choubey after voting ended at 5pm, the polling percentage of Jamshedpur East was 50.67 per cent, and it was beaten only by Jamshedpur West (47.42 per cent) in voter apathy.
In the last Assembly elections, Jamshedpur East had recorded 60.9 per cent voting.
This despite the Jamshedpur East battle being as big as it gets this time: chief minister Raghubar Das versus cabinet colleague-turned-Independent challenger Saryu Roy.
Das, his wife Rukmini, son Lalit and daughter in-law Purnima exercised their franchise at Bhalubasa Rajkiya Uchh Vidyalaya around 9.30am.
Roy had his finger inked at KMPM Vocational College on Bistupur Main Road, a stones throw from his residence in Bistupur, even earlier, around 7.30am.
The voters were clearly not as enthusiastic, though voting did pick up a bit after 2 pm and conversations inevitably veered around to what the outcome of the high-voltage fight would be.
The CM rushed to Ranchi after casting his vote, but Roy spent time touring the constituency with vigour.
The voting continued well after 5 pm deadline.
Das told reporters that BJP was forming the government and would also get good number of seats in Santhal Pargana. "Abki baar 70 par (this time, more than 70 seats)," he said.
The gleaming Toyota of Roy moved across the constituency, including Agrico, Sitaramdera, Sidhgora, Baridih, Golmuri and Birsanagar. He spent a considerable time in Birsanagar and Mohurda.
At Birsanagar around 1pm he asked The Telegraph about the turnout. He seemed a bit worried when told that it was around 30 per cent.
"Why such a low turnout? Are voters not coming out of their homes?" Roy asked one of his supporters before taking rest under a shamiana.
"It was a bit cold in the morning, so I thought I will cast my vote in the afternoon," said homemaker Rajni Singh while coming out of SDSM School for Excellence in Sidhgora.
Baikunt Singh, a retired Tata Steel employee, said he reached the AIWC Academy of Excellence School polling booth in Baridih at 7.30am to vote.
"The queue was not long and It took me less than 15 minutes to vote. I am an early riser. The cold didn't bother me that much," he said.
Beauty Das, a student of Graduate School College for Women, said she had some urgent work in the morning."I reached the booth after 12 noon to vote," she added.
Most of the voters blamed the cold and also household chores for delay in voting.
The excitement was palpably missing in the morning but voters started lining up at the booths later in the afternoon and towards the evening.
Who will win will be known on counting day on December 23, but people as well as supporters of Das and Roy in Jamshedpur have already started working on the poll mathematics.