Batons and tear gas to beat para-teacher rage
The protesters have planned a school boycott from Friday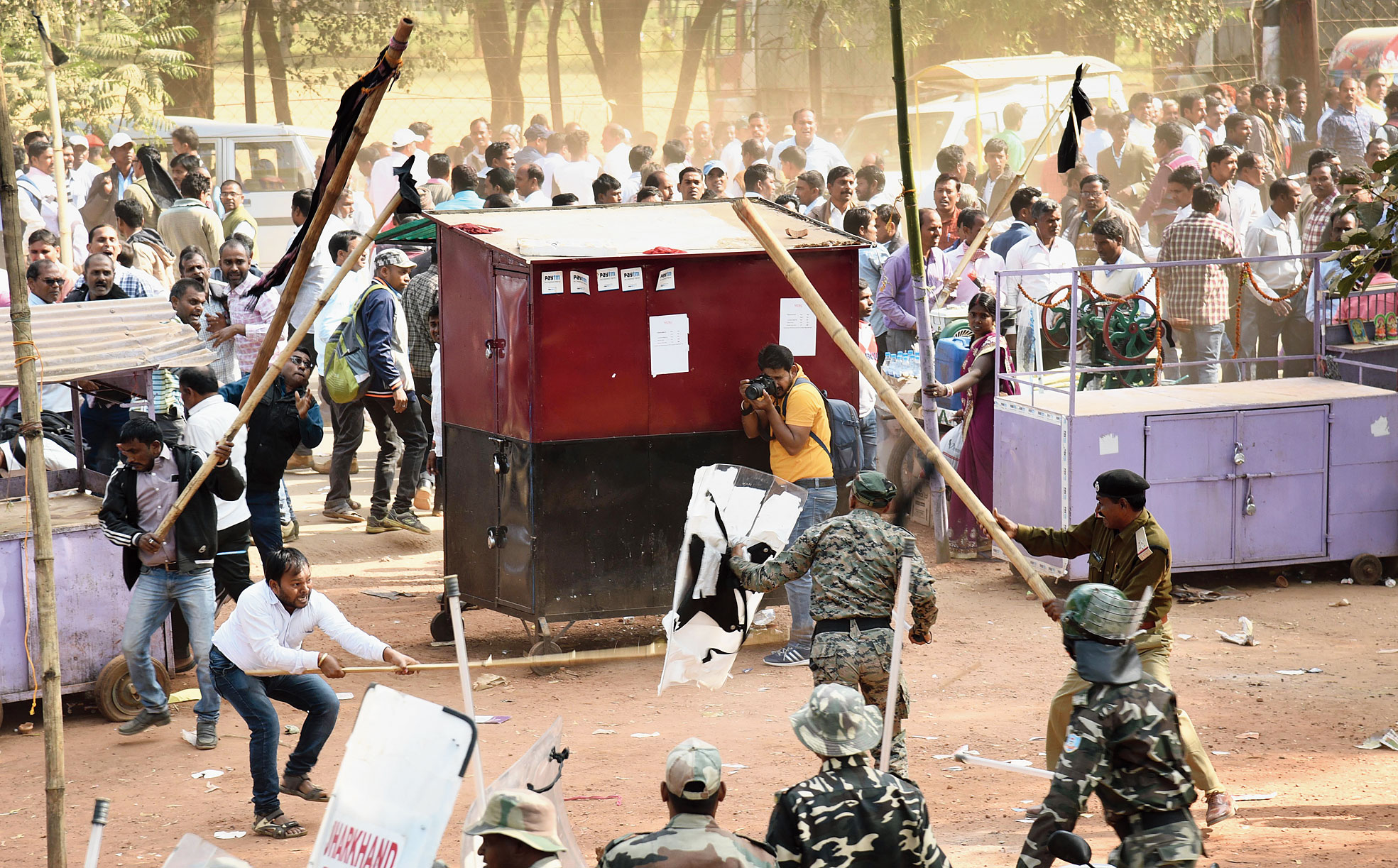 ---
|
Ranchi
|
Published 15.11.18, 06:56 PM
---
Morabadi grounds, the venue for the BJP-led government's marquee programme, witnessed an ugly clash between para-teachers and security forces on Statehood Thursday, leaving at least a dozen wounded and Jharkhand's coming-of-age pride badly bruised.
That the long-simmering resentment against alleged government apathy towards para-teachers snowballed into violent rage within a matter of minutes on the state's most noteworthy day and despite preventive arrests a day before underlines gross manhandling of a situation, which should and could have been managed with empathy instead of force.
Angry para-teachers, under the aegis of Ekakrit Para-Shikshak Sangharsh Morcha, now plan to boycott schools indefinitely from Friday. There are over 67,000 such teachers in the state who form the backbone of school education in remote areas.
Eyewitnesses said the function venue was peaceful and teeming with sanguine faces of 10,000-odd para-teachers, including 5,000 among the 20,000-strong crowd in the audience hangar when the official programme commenced at 12.30pm. But, patience began wearing thin minutes into chief minister Raghubar Das's speech past 1pm.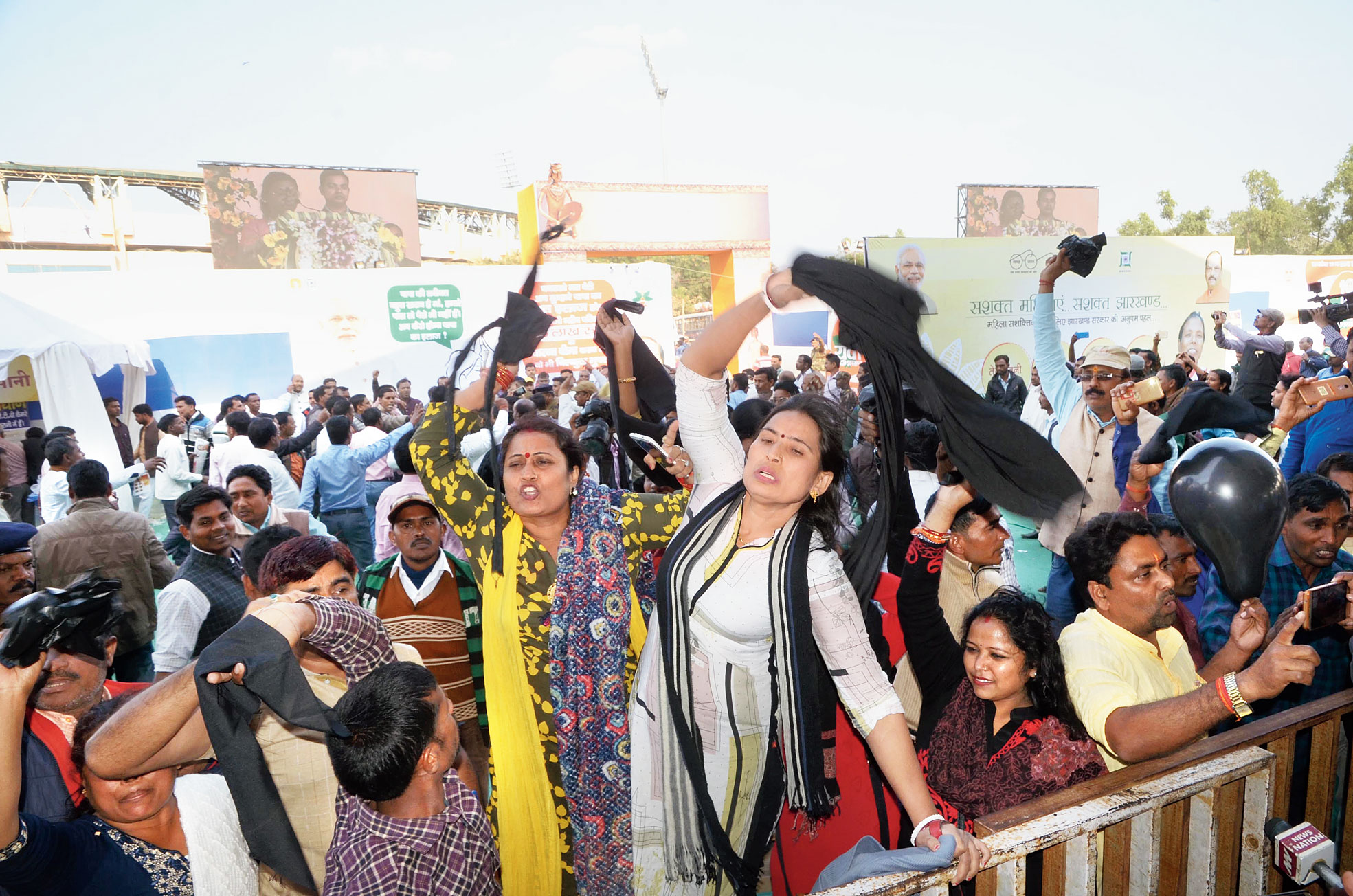 What began as intermittent slogans intensified into heckling by the time Das finished his 25-minute speech and the disgruntled teachers realised that none of their demands, primarily regularisation of jobs, had been addressed. They waved black scarves and shoes.
Outside the guarded grounds, another 5,000 para-teachers watched, on LED screens, the CM ignoring their long-pending pleas. They tried to enter the venue, but were stopped by security forces. Their pent-up frustration and anger broke barriers. A pitched battle ensued.
The protesters hurled stones, shoes and whatever they could lay their hands on at security personnel. The latter retaliated with baton charge and tear gas shells. As news of lathi-charge reached those inside the venue, they turned violent, damaging chairs and breaking barricades.
The clashes continued for more than 20 minutes, as the 3,000-odd JAP, district police and CRPF (Rapid Action Force unit) were easily outnumbered.
Sanjay Dubey, one of the conveners of the Ekakrit Para-Shikshak Sangharsh Morcha, claimed at least 10-15 protesters were injured in police lathi-charge. No one was hospitalised though.
"We have been demanding regularisation of jobs and recruitment of teachers through counselling for the last many years. The government has been dilly-dallying since. We had hoped that the chief minister would announce something for para-teachers, but in vain. On top of that, police atrocities have left over a dozen colleagues injured. We have lost faith in the government. We will embark on an indefinite strike from tomorrow (Friday)," Dubey said.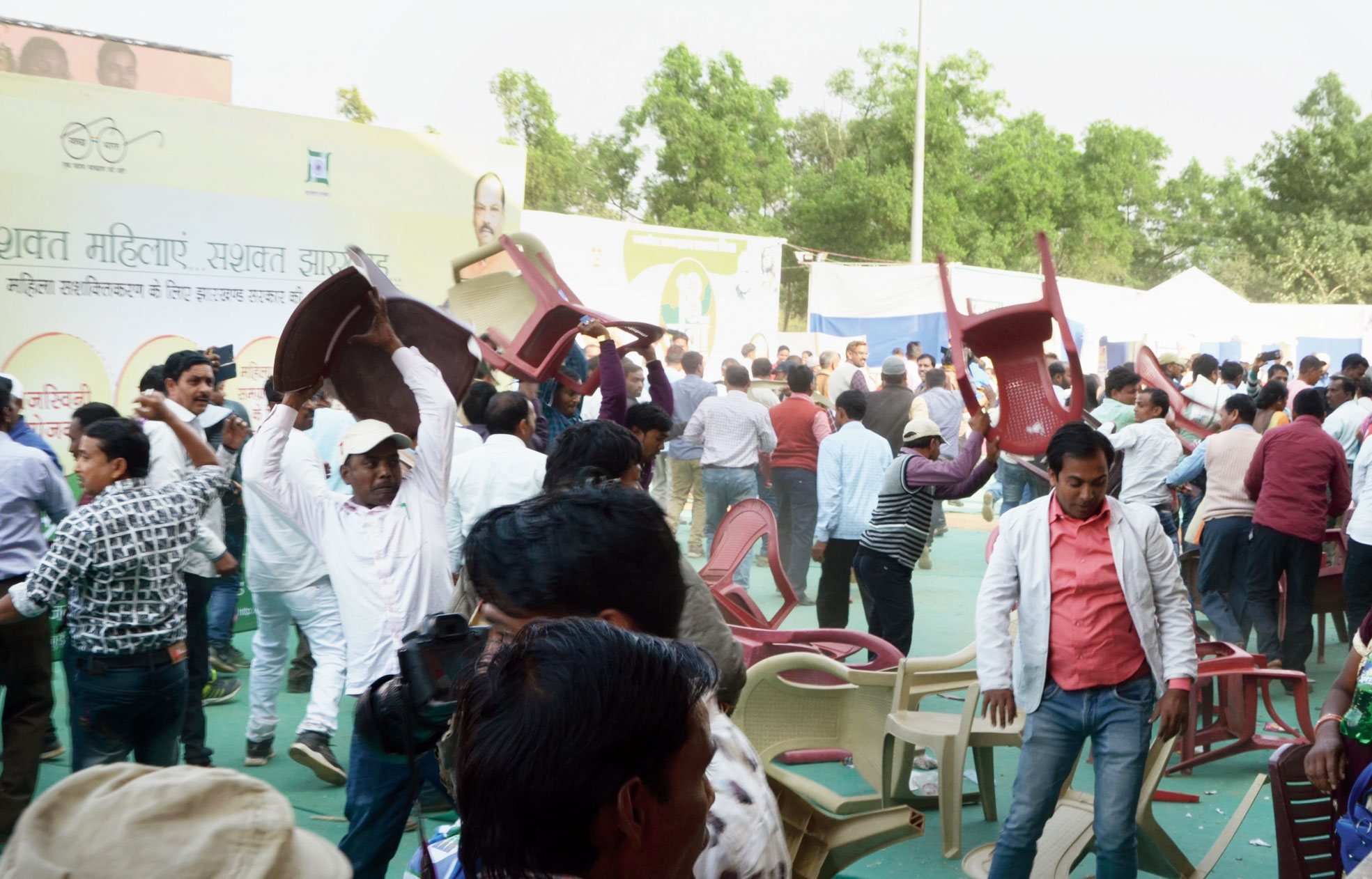 Ranchi deputy commissioner Rai Mahimapat Ray said the authorities and police were forced to take "drastic action" against para-teachers as they were "growing violent" during the statehood function.
"SSP Anish Gupta and several other policemen were hurt in stone-pelting by the agitators. We had to order lathi-charge and fire tear gas to rein them in. Trouble-mongers are being arrested," Ray said.
The government, he added, planned to dismiss over 200 para-teachers who spearheaded the protests.