How Calcutta entrepreneur cobbled together Jharkhand SHGs
Arjun Bahri Dhawan makes footwear parts near Dhanbad, then gets self-help groups to assemble product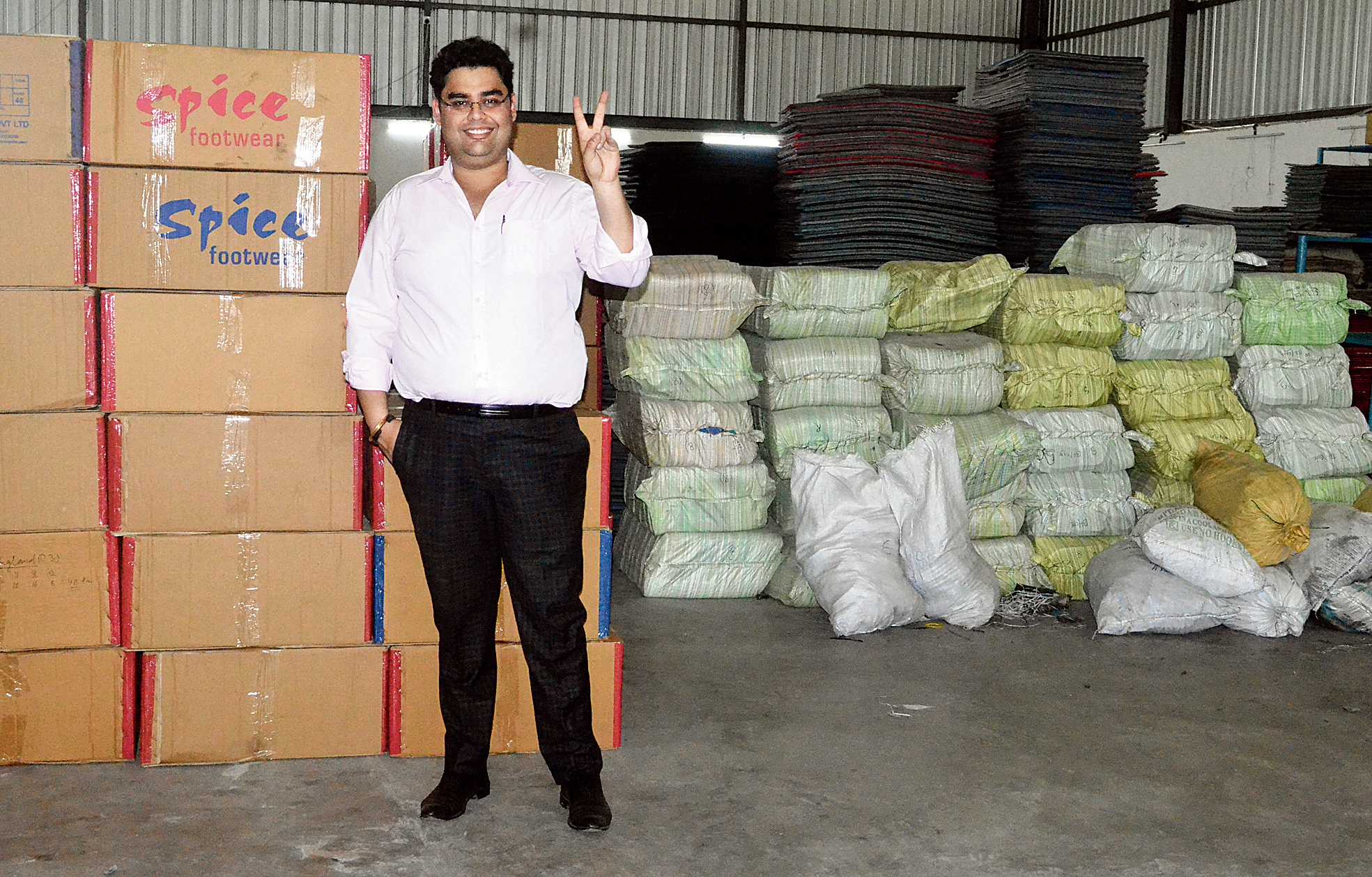 Spicing it up: Arjun Bahri Dhawan at his factory in Govindpur near Dhanbad.
Shabbir Hussain
---
Dhanbad
|
Published 31.12.18, 07:17 PM
|
---
When one reaches a certain height, one must give back to society, feels young Calcutta entrepreneur Arjun Bahri Dhawan, 32, the prime mover behind Prem Footwear at Bhitia in Govindpur, 8km from Dhanbad town.
The factory, an outcome of the state's Momentum Jharkhand initiative to invite investors, became operational in February, giving jobs to 70 people directly besides 240 women in eight assembling units. The factory's hawai chappals are assembled by women of self-help groups at units in Dhanbad (Jangalpur), Pakur, Dumka, Sahebganj, Simdega, Chaibasa, Ranchi and Hazaribagh, and sold under the brand Spice.
Dhawan's inspiration is his grandfather Prem Bahri, 94, who migrated to Calcutta from Pakistan after the Partition and started his footwear business from scratch.
"Our grandfather believes in business with a heart," Dhawan said. "That's why we wanted this venture to help economically backward women," said the young entrepreneur whose footwear unit on one acre along NH-2 in Bhitia cost Rs 5 crore to set up but who approached women's self-help groups to assemble chappals.
He added that chappal manufacturing was done at the factory — "our anchor unit" — after which the women at the eight assembly units take over. They not only assemble chappals but print the brand name and package them to sell each pair for Rs 100 at rural markets or fairs or large government-organised fairs such as Saras Mela under Deendayal Antyodaya Yojana-National Rural Livelihood Mission.
Dhawan's father, chairman of Prem Footwear Akshay Bahri, 60, said they manufacture soles and straps at the factory and supply each sole at Rs 30 and strap at Rs 10 to the women. "Now, these women invest Rs 30 on each pair for assembling, colouring, printing, finishing and packaging at their respective centres. When they sell a pair for Rs 100, they make a neat profit of Rs 30. On an average, they earn Rs 150 a day," he said.
He added that the Raghubar Das state government had been "most supportive". "We applied for land for the footwear unit at the Global Investors' Summit in February 2017. Not only did we get land in April 2017 and electricity connection in December 2017, the government surpassed our expectations by providing e-rickshaws to the rural women to take the finished products to rural markets from assembling units," he said.
Right now, the company produces only hawai chappals but wants to diversify to children's floaters, men's sandals and clogs for women.
At the Jangalpur unit in Dhanbad, trainer Babita Kumari vouched for the changes the job had brought into the lives of women like Hamida Khatoon. "Hamida was a homemaker who rued it would be impossible to send her two daughters to college on the sole earnings of her electrician husband. Not any more," Babita said.