Hemant seeks time from Modi to press for caste based census
Jharkhand CM plans 9-member delegation to Delhi, but no word yet on who all will go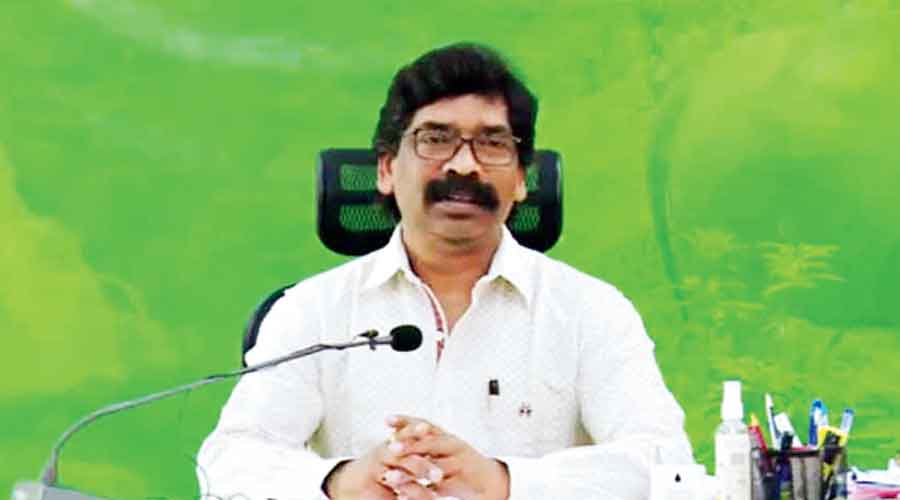 Hemant Soren.
File picture
---
Ranchi
|
Published 08.09.21, 05:55 PM
|
---
Jharkhand chief minister Hemant Soren has announced that he will meet Prime Minister Narendra Modi to press for a caste based census, throwing his weight behind his counterparts in several Opposition-ruled states that have voiced a similar demand.
Hemant has writtent to Modi seeking an appointment, his office said on Wednesday afternoon.
Chief minister of neighbouring Bihar  Nitish Kumar, who is heading a coalition government of the JDU and BJP, also favours caste based census and led an all-party delegation to meet the Prime Minister on August 23. Now weeks later, Hemant too is gearing up to lead a delegation to pressure the Union government even though the BJP has so far remained non-committal on the issue.
 In his brief letter dated September 7, Hemant wrote: "A nine-member delegation under me wants to meet you to demand and discuss caste based census. Requesting you to give your appointment at the earliest."
The chief minister's office has not elaborated on the composition of the delegation. But sources in the JMM, the party heading the ruling coalition government,  said the nature of the delegation would be announced soon but it waqs unlikely that representatives from all parties would join the team. 
"While AJSU-P, which is part of the NDA in the state, has supported caste based census in the past, the state unit of the BJP is yet to air its views. If any proposal comes from it to join the delegation, we will be happy to accommodate," said a JMM leader, adding that the JMM-Congress-RJD alliance government will certainly try to take everyone along to make a strong representation to the Prime Minister. 
The JMM leader said they would also press for inclusion of the Sarna code in the nationwide census to provide a distinct identity to tribals. "Last year, the state government had passed an Assembly resolution for inclusion of the Sarna code and sent a proposal to the Union government," he said.
Several rights and social outfits too have been demanding a caste based census. On August 27, Jharkhand Janadhikar Mahasabha (JJM), a conglomeration of civil and tribal rights organisations, appealed to the Union government to accept the growing demands from across different parts of the country for a caste based census.