Green warriors to join forces
Lady tarzans to chart save-forest plan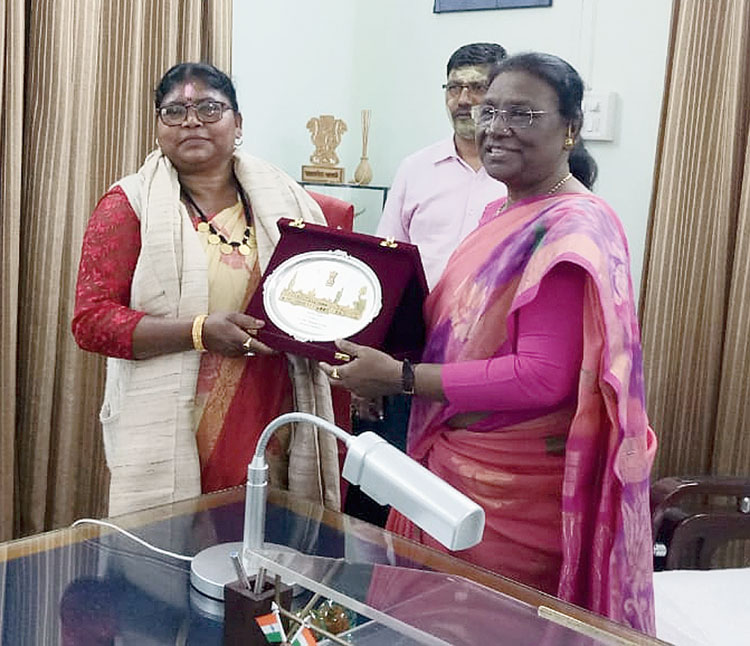 ---
---
Jharkhand's Lady Tarzans will be working in tandem for a common cause.
Green warriors Jamuna Tudu and Chami Devi Murmu will soon join hands to protect forests, a job they have been doing in their individual capacities for years now.
The feisty environmentalists have a solid base of women who are members of two separate outfits led by them.
Jamuna heads Van Suraksha Samity that has around 300 members, while Chami is the secretary of Sahayogi Mahila Bagraisai (SMB), which boasts 3,000 members.
"We know each other well and working together would be good for both of us. I am very keen to join hands with Chami," said Jamuna, who hails from Muturkham village in Chakulia block of East Singhbhum.
Chami is from Bagraisai village in Rajnagar block of Seraikela-Kharsawan.
Speaking over phone from Muturkham, Padma Shri awardee Jamuna said Van Suraksha Samity had spread its wings in Dumka, Giridih, Godda and Pakur by involving women to carry forward the job of protecting forests in their respective areas.
"Working with Chami would strengthen the base of both the outfits," the 33-year-old explained.
Forty seven-year-old Chami, who received Nari Shakti Puraskar from President Ram Nath Kovind on
International Women's Day on March 8, agreed that working with a fellow environmentalist would go a long way in furthering the cause they believed in.
"Both the outfits working together can put a stop to illegal tree felling more effectively. We will meet soon to chalk out the details," Chami said.
A veteran environmentalist, Chami has planted 25 lakh saplings in the past 24 years in her native village, thereby playing a key role in replenishing the forests that had been destroyed by timber mafia.
Apart of promoting water harvesting, she has been encouraging women to take up animal husbandry to earn a living. The green crusader has also started pisciculture in Ghatshila.
"One needs to understand the importance of nature. I am trying my best to make people understand about it," Chami, who has also been bestowed with the Indira Priyadarshini Vriksha Mitra award by the ministry of environment and forests in 1996, said.