Freed from shackles of child labour, activist goes on to win Diana Award
Neeraj Murmu of Giridih sets up school, spreads awareness against child labour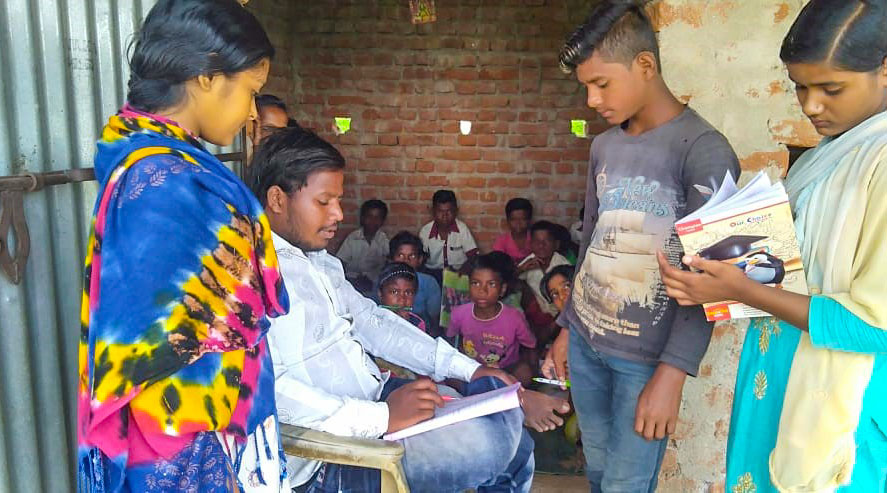 Neeraj at his school in Giridih
Telegraph picture
---
Ranchi
|
Published 02.07.20, 06:25 PM
|
---
Freed from the shackles of child labour in 2010, a tribal man from Jharkhand's Giridih went on to win the prestigious 2020 Diana Award in recognition of his efforts to bring positive and sustainable changes in his village by educating children and spreading awareness against child labour. 
Meet 22-year-old Neeraj Murmu, hailing from a nondescript village in Jharkhand, whose story is an inspiration for thousands children falling prey to child labour not only in Jharkhand but across the country. 
Neeraj was rescued by Nobel laureate Kailash Satyarthi's Bachpan Bachao Andolan (BBA) from a mica mine in 2010. His parents could not afford to send him to school and he had no choice but to work in hazardous conditions to meet ends for his family, Neeraj told The Telegraph Online a day after winning the prestigious award. 
"Kailash Satyarthi sir convinced my parents to let me study for a better future. I did not know how education can change lives, but now I realise how the decision taken 10 years ago has changed my life. Now I can afford to imagine a bright future," he said. 
The 2020 Diana Award is instituted in the memory of the late Princess of Wales. The award is conferred by a charity and has the support of the late princess' two sons, the Duke of Cambridge and the Duke of Sussex.
After his rescue, Neeraj attended school and pledged to end child labour in his village. He went on to establish a local school to ensure that all children were able to access the right to education. Neeraj has enabled 200 underprivileged children in his village to get education and has rescued 20 child labourers from mica mines and enrolled them in his school.
By sharing his own experience of child labour in his classes, Neeraj encouraged children to think about their aspirations and motivated them to continue to pursue their education in Jharkhand where the school dropout rate is high.
Under his leadership, many socio-economic issues related to his village have been addressed. These include rescuing or withdrawing children involved in work and enrolling them in school, hand pump installation and repair, facilitating electricity in village households and providing cooking gas connections through linking with government schemes.
Three years after his rescue, Neeraj travelled to Tamil Nadu to persuade four under-aged boys who had migrated to that state in search of job opportunities to pursue education. He counselled them and successfully enrolled them in a local college. Neeraj also counsels parents of rescued children and seeks their support in making their villages safe space for all children.
Neeraj has led several rallies and campaigns aimed at highlighting the importance of education.
Congratulating Neeraj, P. Nagasayee Malathy, who is the executive director (Programmes), Bal Mitra Gram, a Kailash Satyarthi Children Foundation department of which he was part, said, "We are proud that he has taken up great initiatives such as promoting education among former child labourers. He is a role model for many children in our Bal Mitra Grams where each child is a strong leader and is empowered to assert his rights and fight for their village development alongside adults."
BMG is a grassroots initiative that promotes child-centric village development in which empowerment of children is the key. It aims to build safety nets around children by providing access to quality education to ensure that children are not employed, married or exploited, by empowering parents and communities.