Foresters issue high alert in Dalma villages as elephants return
Tuskers have already damaged a house, officers anticipate more such incidents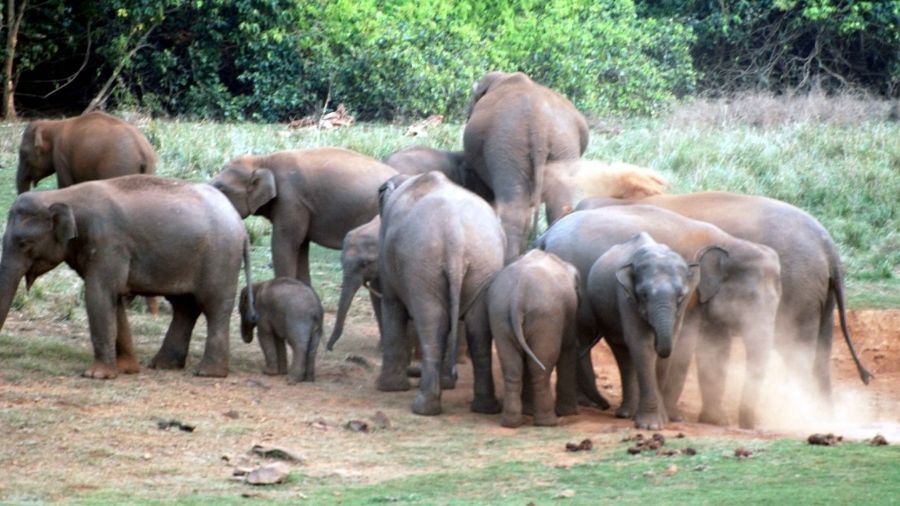 Elephants inside Dalma wildlife sanctuary, near Jamshedpur.
File picture
---
Jamshdepur
|
Published 30.03.21, 07:39 PM
|
---
The forest department has issued a high alert across 80 villages hamlets dotting the Dalma wildlife sanctuary, as most of the 155 elephants have returned to the jungle after their annual sojourn West Midnapore and Bankura in neighbouring Bengal.
The jumbos are presently scattered everywhere inside the sanctuary, located 30 km away from Jamshedpur, while some are positioned in the foothills.
A herd damaged a kutcha house at Gerua village on the foothills on Sunday night and foresters apprehend more such incidents. Gerua has been a favourite place for elephants. 
Day and night patrolling has been intensified across the jumbo abode and villagers have been handed over torches, kerosene and crackers. 
Dalma range officer (West) Dinesh Chandra said a high alert has been issued among villagers since most of the elephants have returned from Bengal.
"We are working hard to avert man-animal conflict. Elephants are present inside the sanctuary and it is our responsibility to alert villagers lest something untoward happens," he added.
"Most of the jumbos are anchored near Bota (the largest jungle inside the sanctuary) while some are located near Bhilaipahari, Gerua ,Nutandih, Konkadasa and other villages," a forest guard said on condition of anonymity.
A section of elephants are also anchored near the Badka Bandh, a watering hole not far from the Pinderbera forest guest house, he said.
According to him, villagers have been asked to not venture out of their homes at night. "Villagers should avoid coming out of their homes at night unnecessarily. You never know about the presence of elephants, who usually make movement in the dark," the forest guard said.
The elephants had migrated to Bengal in August-September last year. They usually come back to Dalma after harvesting season in Bengal. This year, some elephants had returned to the sanctuary early.
The elephants follow two designated corridors – one from Jhunjka and the other from Burudih. The first one leads to Nutandih while the second passes through Narsingpur (Ghatshila range), Dalapani, Suklara and Aamdapahari. Both the corridors merge at Mirjadih from where they cross Haludbani, Bhadodih, Bota and  Dimna to reach Dalma.
Foresters have also instructed trackers to keep a tab on the animals since it is peak tourist season.