Das 'free hand' in BJP choices
The decision was taken after a four-hour meeting of the state election committee held at Ranchi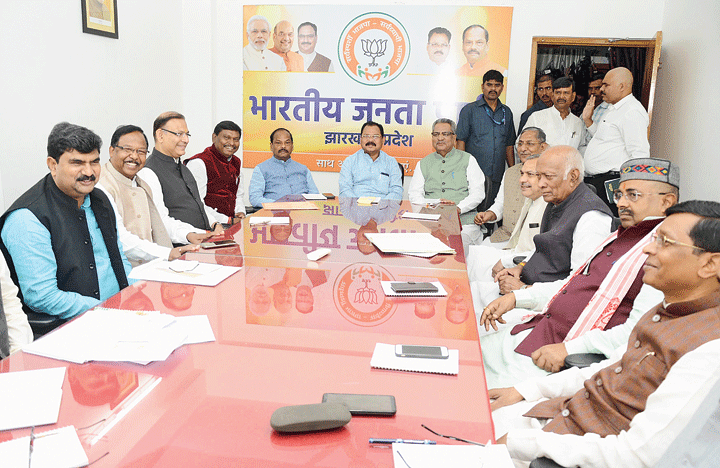 ---
|
Ranchi
|
Published 06.11.19, 07:30 PM
---
The state election committee of the BJP on Wednesday authorised a three-member committee to make a list of candidates that will be sent to the party's central election committee for finalising who would get tickets for the Jharkhand Assembly polls.
The decision was taken after a four-hour meeting of the state election committee held here.
The three-member panel will have chief minister Raghubar Das, Jharkhand BJP president Laxman Gilua and state organisational general secretary Dharmpal Singh, Jharkhand BJP general secretary Deepak Prakash told journalists.
Party insiders hinted that the exclusion of Union minister Arjun Munda from the three-member state committee was a big victory for Das as Gilua was expected to toe the CM's line while sending recommendations to the central committee.
"After projecting Raghubar Das as the CM candidate, the party has also given him virtually a free hand in selecting the names of prospective candidates that would be sent to the central committee," a BJP insider said. "A section in the party was hoping that Arjun Munda too would find place in the committee and his presence would work as a balancing act, but it didn't happen."
Prakash said names of prospective candidates had been invited from party mandal and district units and a select group of party workers too had been asked to send their recommendations.
"The state election committee had a detailed discussion on all the names of prospective candidates," added the BJP general secretary.
Prakash, however, didn't share the total number of candidates about whom recommendations had come and how many of these would be short-listed by the three-member committee.
"Our party follows a certain procedure for such work and the same would be done this time also," Prakash said when asked. "All things would be known to media once the final decision would be taken."
A senior BJP leader, who is well versed with the functioning of the party organisation, revealed that usually three names are sent for each seat and in some exceptional cases four names too could be sent.
"Once the list would be sent to the central election committee, the party top leadership would take feedback from the state leadership about the candidates and based on this feedback and those collected from the mandal and district units and also from agencies which are used for conducting surveys for the party, a final call would be taken," said the senior BJP leader.
The BJP state election committee was attended by the party's national joint organisational secretary Sudan Singh, state election in-charge O.P. Mathur, co-in charge Nand Kishore Yadav, chief minister Das, Union minister Munda and state unit president Gilua, among others.