Covid patients' kin snatch oxygen cylinders in Palamau
They were waiting with empty cylinders to be refilled since Thursday noon, and alleged inaction on part of authorities at Medinirai Medical College and Hospital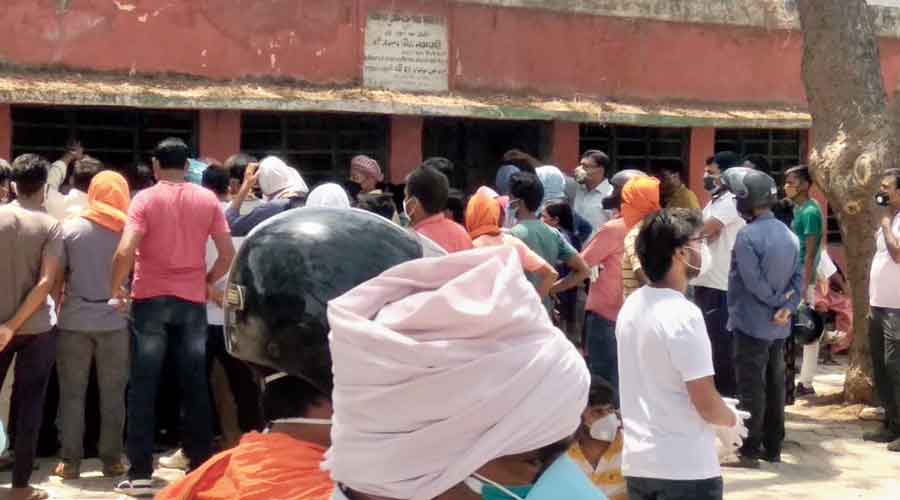 ---
---
Relatives of Covid patients admitted in a hospital in Palamau district of Jharkhand barged into the storeroom and forcibly took away oxygen cylinders frustrated over the delay in getting them refilled.
According to reports, over half a dozen relatives of Covid patients at the Medinirai Medical College and Hospital in Palamau had been waiting anxiously for the oxygen cylinders to be refilled since noon on Thursday.
However, their patience ran out by evening when despite several attempts no action was allegedly taken by the hospital authorities to refill the cylinders.
The patients' relatives then walked to the storeroom of the hospital and created a ruckus over the delay in giving new oxygen cylinders in exchange for old cylinders. After a while they forcibly barged into the room and took away nearly a dozen cylinders and brought it to the Covid ward of the hospital for the patients.
Hospital superintendent Dr K.N. Singh claimed the incident was a handiwork of some "mischievous" elements.
"We do not give oxygen cylinders to relatives of patients. The cylinders are handed over to the staff after they produce a slip given from the (Covid) ward. However, the relatives wanted to take the cylinders themselves and had gone to the storeroom. Despite our best efforts, some mischievous elements do indulge in such types of acts," said Dr Singh.
The hospital official rejected claims that there was any shortage of oxygen cylinders at the hospital.
Meanwhile, Palamau deputy commissioner Shashi Ranjan has constituted an oxygen task force with the additional collector as the nodal officer to ensure regular supply of oxygen and cylinders by coordinating with the firms supplying oxygen cylinders to the hospitals and in the district so that there is no oxygen crisis in any hospital.
The task force will also be monitoring the use and supply of oxygen cylinders at the Sadar Hospital which is the main storeroom.
On Thursday, Jharkhand registered 5,961 new Covid cases taking the total number of positive cases in the state to 55,877. The state also recorded 145 deaths due to the virus taking the total number of casualties to 2,540.
The state has a virus growth rate of 2.55 per cent, which is much higher than the national rate of 1.36 per cent.
The recovery rate of Jharkhand is 74.31 per cent, which is much lower than the national average of 82.10 per cent. The mortality rate is also higher (at 1.11 per cent) than the national average of 1.10 per cent.