PDS sops, help to farmers in Jharkhand
Finance minister Rameshwar Oraon informed about the ration push while Mithilesh Thakur outlined the sops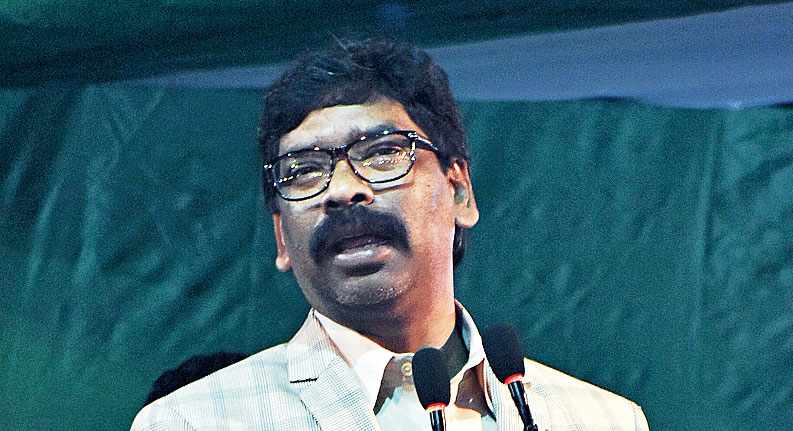 ---
|
Ranchi
|
Published 14.04.20, 06:48 PM
---
The Jharkhand government is contemplating measures to strengthen mechanisms to support farmers, labourers and marginalized section of the society and will provide 10kg of rice to "white card" holders who need help during the lockdown, two state ministers told The Telegraph separately on Tuesday.
Finance minister Rameshwar Oraon, who also holds the food and civil supplies portfolio, informed about the ration push while water resource and sanitation minister Mithilesh Thakur outlined the sops being mulled for farmers.
There are 57 lakh households identified under priority household and antyodaya categories and covered by the public distribution system (PDS). The government has already announced that around 7 lakh households that are not covered under the PDS but had applied for ration cards will also be given 10kg of rice for April and May.
Besides, there are around 8.4 lakh white card holders who get only kerosene from ration shops. "All white card holders are not below poverty line and are not entitled to ration under the PDS," Oraon said.
He said the government will give 10kg of rice to white card holders who are needy, provided they apply for it to the local authorities.
"They will be given 10kg of rice initially for two months (April and May) and will be considered if the benefit should continue further," Oraon clarified.
Former food minister Saryu Roy tweeted on Tuesday that he had urged the government on April 6 to give ration to white card holders too.
In view of the humanitarian crisis arising out of the lockdown, food activists have demanded the PDS be universalised by including all needy persons in rural areas and urban slums.
"It's nice to know (about the government decision on white card holders) though I take the news with a pinch of salt," said Siraj Dutta of the state chapter of the Right to Food Campaign. "The government had announced that 10kg of rice would be given to applicants (who had applied for ration cards but had not got) but they are yet to get it."
When what Dutta said was pointed out to Oraon, the Congress minister said: "It may have taken some time but they are being given rice."
The lockdown, which Prime Minister Narendra Modi extended till May 3 on Tuesday, has also set alarm bells ringing about the agriculture sector.
The state government has asked deputy commissioners of all 24 districts to submit reports on how far the lockdown has affected farmers, said water resource and sanitation minister Mithilesh Thakur.
"Just as the government decided to extend financial support to families of labourers and extended the ambit of social security schemes to provide food grains to families having no ration card, the government is contemplating similar measures for farmers," said Thakur, a JMM leader who is the MLA from Garhwa.
"We are soon going to release guidelines to start farming activities by ensuring social distancing," he said.
Thakur said the state government was set to launch some more additional helpline numbers to extend support to people of Jharkhand who are stranded in other parts of the country.
"These helpline numbers will be operational within a couple of days. In one helpline number we can attend to a maximum of 40 calls at the same time. It is nearly impossible to bring them (those stuck outside) back and this will not be advisable at this moment hence we are taking all measures to ensure support to them in the state where they are stranded," Thakur said.
"We remain constantly in touch with the chief minister and senior officials of the state concerned."
Thakur said the initial estimate of seven lakh Jharkhandi's being stuck outside the state had been revised to 4.75 lakh.