CAG takes wraps off Jharkhand blanket scam
Uncovered: fraudulent payment of Rs 18.41 crore by Jharcraft officials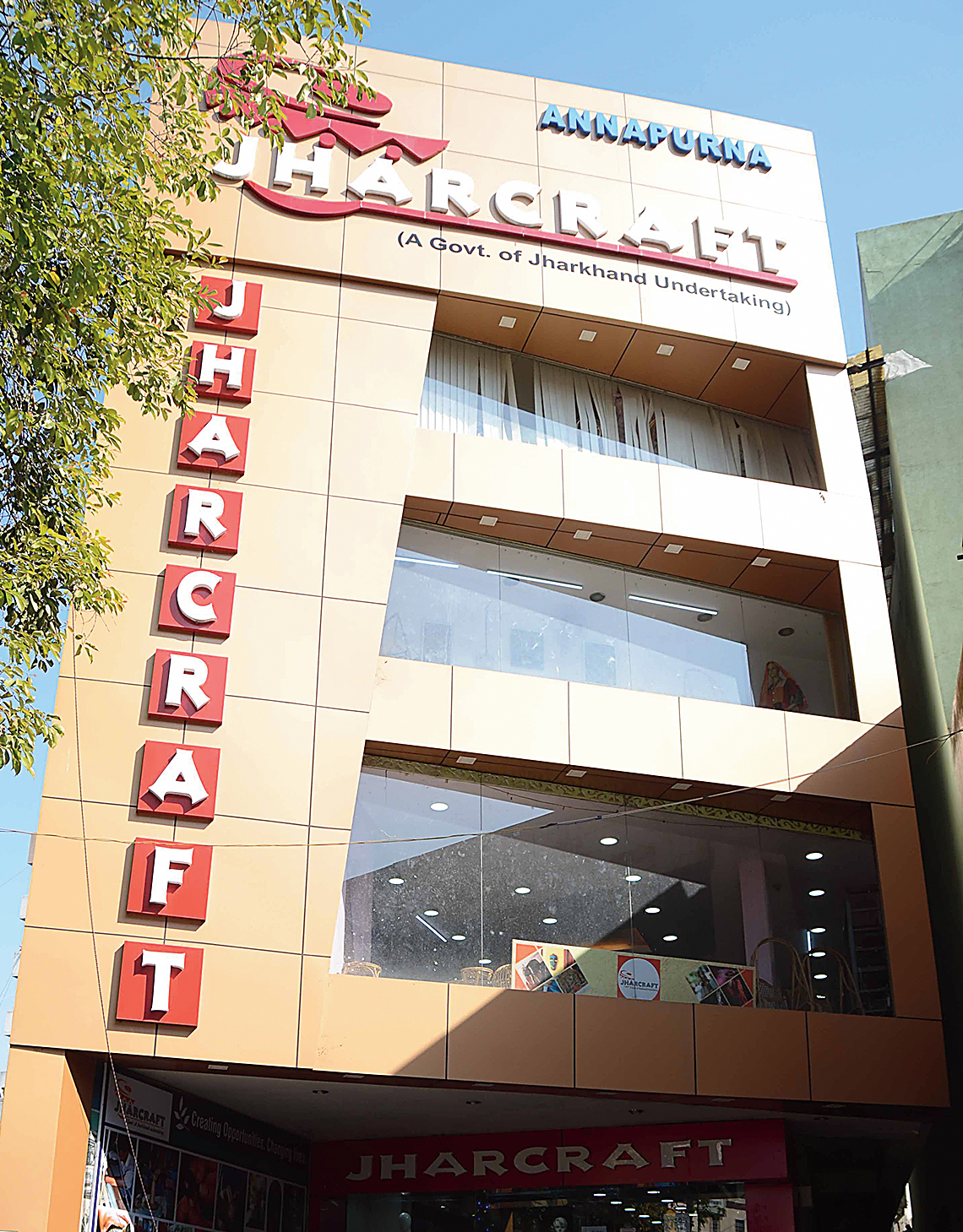 The Jharcraft store on Ratu Road in Ranchi.
The Telegraph picture
---
Ranchi
|
Published 28.12.18, 08:29 PM
|
---
The CAG report on public sector undertakings tabled in the Assembly on Thursday has exposed large-scale financial irregularities in Jharkhand Silk, Textile and Handicraft Development Corporation, popularly known as Jharcraft.
"Jharcraft officials made fraudulent payment of Rs 18.41 crore against fictitious records relating to cost of woollen yarn, wages, finishing and transportation of 8.89 lakh blankets," the report stated.
The roots of the scam can be traced back to November 2016 and May 2017 when the state labour department ordered Jharcraft to supply blankets worth Rs 29.48 crore for distribution among people below poverty line.
Accordingly, Jharcraft had placed orders with NAN Woollen Mills and Unnati International, both in Panipat (Haryana), for supply of 21.58 lakh kg of yarn for distribution among 62 self-help groups and primary weavers cooperative societies across eight districts.
After weaving, the blankets were supposed to be washed and transported to Nutan Industries, also in Panipat, for finishing touches and transported back to various districts for distribution.
Jharcraft incurred an expenditure of Rs 19.39 crore, including transportation cost, till January 2018.
"Audits indicated that the purported transactions were a fabric of fiction and Jharcraft officials purchased inferior blankets from elsewhere," the CAG report said.
Though the yarn was supposed to reach first at the Jharcraft central store at Irba near Ranchi for quality check, it was shown as supplied directly to 27 clusters of Jharcraft "for reasons not on record", the report said.
According to records available with the CAG team, 143 vehicles made 319 trips to transport 18.84 lakh kg of yarn from Panipat to 27 clusters, 105 vehicles made 264 trips to transport 8.50 lakh semi-finished blankets from those clusters to Panipat and 65 vehicles made 127 trips to carry 6.75 lakh finished blankets from Panipat to 24 districts of Jharkhand during 2017.
However, when the audit team attempted to corroborate this with transport challans, road permits and records of three toll plazas located on the shortest route, they found huge irregularities.
Cross-examination of the toll plaza records showed that a vehicle that left Panipat with yarn on September 17, 2017, for Latehar around 1,183km away, started another trip from Panipat the next day for Sahebganj.
Similarly, another vehicle travelled from Panipat to Sahebganj, 1,567km away, on September 28, 2017, and returned for another trip to Ranchi from Panipat the next day.
"This is highly suspicious," state accountant general (audit) C. Nedunchezhian said while sharing the audit findings with the media.
They even found that self-help groups and weavers cooperative societies couldn't have woven so many blankets within the stipulated time.
Based on audit observation, the state industry department constituted an enquiry committee in March this year, but its report is still awaited.