BJP offices to turn redress units
The grievances of common people will be addressed by BJP workers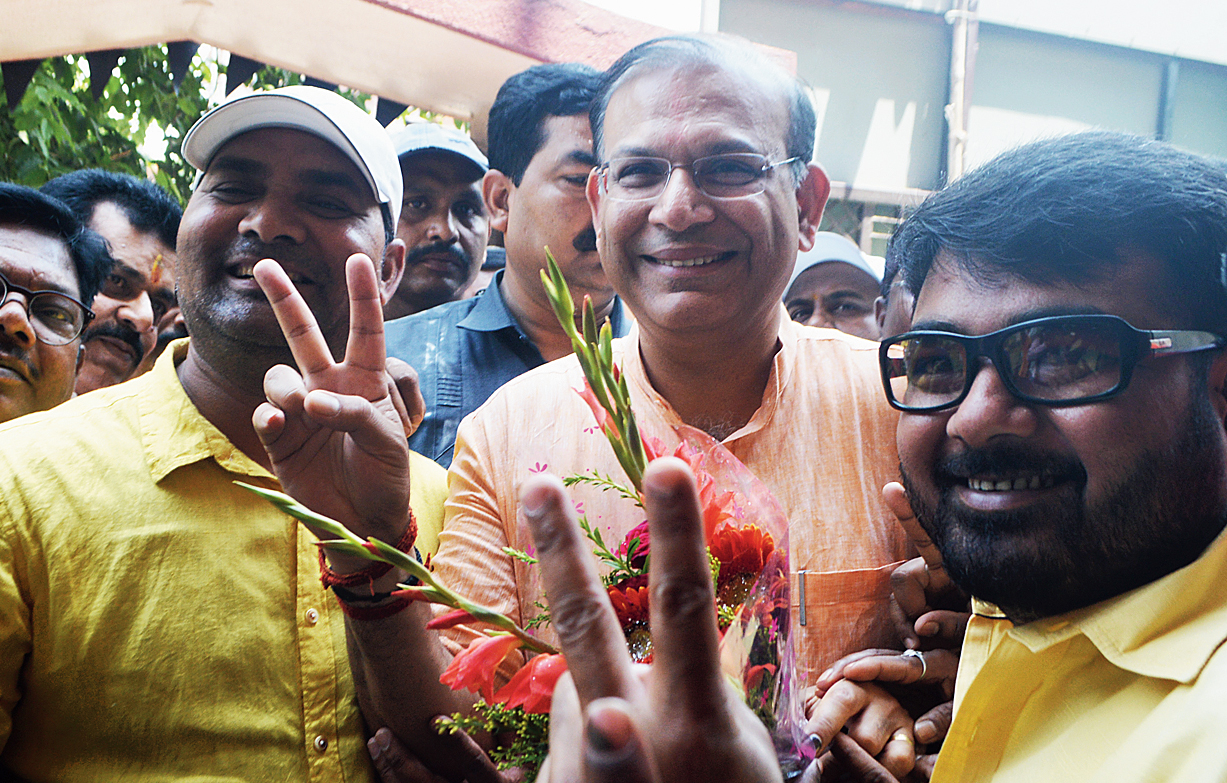 Jayant Sinha (centre) is all smiles at state BJP headquarters in Ranchi on Friday.
Picture by Manob Chowdhary
---
Ranchi
|
Published 24.05.19, 10:42 PM
|
---
Offices opened by the BJP in the wake of parliamentary election in different Assembly segments will be converted into samadhan kendras, where the grievances of common people will be addressed by party workers, Sanjay Seth, the newly elected parliamentarian from Ranchi told reporters at the state BJP headquarters in Harmu Housing Colony on Friday.
"The offices opened for the election purpose will not be closed. It will be converted into samadhan kendras. It will function daily except during festivals and I will make all efforts to ensure my presence at a regular interval of 10 days in each samadhan kendra to have a first-hand experience of grassroots issues. People can approach with problems pertaining to gas connection, old age pension, ration card, health cards and admission in schools," Seth said.
Seth also talked about his commitment to transparency and an honest public life.
"I as a parliamentarian will declare my income every year in April to let people know what I earned after I being elected. This practice will help people know whether I am working honestly or not. My team of advisers will not include my family members and relatives. I will work with my party workers who will not be any less than god to me," Seth said.
Seth said he would not behave like a backbencher in Parliament and become the voice of the people residing in his constituency.
"I will raise my voice for the people of Ranchi and never behave like backbencher," he added.
Seth said he was planning to develop Ranchi as a tourism destination and an education hub.
"There are many falls within the 30km periphery of Ranchi. I want to develop it as a tourism hub. I have also planned to develop Ranchi as an education hub, where people from different parts of country can come to join a number of academic programmes," Seth said.
Among the prominent figures who shared the dais with Seth him to express their solidarity with him were Rajya Sabha MP Sameer Oraon, urban development minister and local MLA C.P. Singh, Khijri MLA Ram Kumar Pahan, Ranchi mayor Asha Lakra, deputy mayor Sanjeev Vijayavargiya, Ajsu Party chief Sudesh Mahto, Hatia MLA Naveen Jaiswal and RRDA chairman Parma Singh.
Praising Seth, Sudesh Mahto said, "During the campaign, we observed that Sanjayji is a quiet, soft-spoken and simple man. His presence in Parliament will definitely help build the face of the state, which is giving as many as 12 parliamentarians to the NDA," Mahto said.