Big battle for BJP first-timer
Opposite Singh is seasoned politician and former state agriculture minister from the Congress, Banna Gupta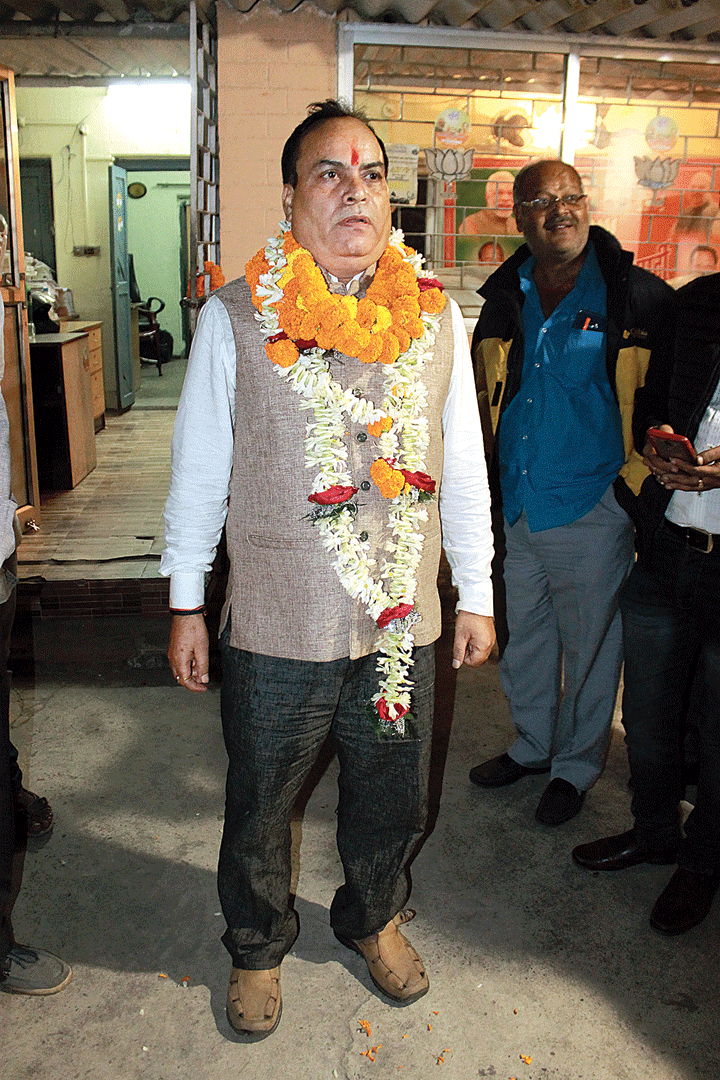 Devendra Singh in Sakchi Jamshedpur on Thursday.
Picture by Bhola Prasad
---
Jamshedpur
|
Published 23.11.19, 06:45 PM
|
---
He used to be a history professor at Bokaro's Ran Vijay Smarak Mahavidyalaya. Now a criminal lawyer based in Sonari, Devendra Singh, 59, is attempting to rewrite history as the BJP's Jamshedpur West candidate.
In his maiden plunge in electoral politics, Singh has become the man to watch out for because he was chosen over BJP veteran and cabinet minister Saryu Roy for the Jamshedpur West seat. Roy retaliated by pitting himself as an Independent against CM Raghubar Das's home turf, Jamshedpur East.
Opposite Singh is seasoned politician and former state agriculture minister from the Congress, Banna Gupta. But Singh has been a BJP worker for over a quarter of a century, he says modestly. "And I've also been the BJP rural wing in-charge," he added.
But, it was still a normal, low-profile life. Right now, Singh is spending 15-hour days campaigning in his constituency to ensure a win for the BJP. After Roy's rebellion, Jamshedpur West is more than an Assembly seat, it is a prestige issue for the BJP.
"I leave my Sonari home around 6.30am and spend the whole day meeting people of my constituency and brainstorming on our poll strategy at the (party's) central election office in Sakchi Aam Bagan. I return around midnight," he told The Telegraph.
What about food? "I have food whenever I can afford the time. It can be anywhere, in the car, at the office, on the road. Roti, subzi kha lete hain (I tuck in some roti-subzi)," the bespectacled Singh said.
But he is confident of pulling off a victory. "I met morning walkers in Sonari on Thursday. I grabbed the opportunity to chat with them since I myself am a morning walker. I am confident of wresting the Jamshedpur West seat," Singh said.
On the issues close to his heart, the BJP candidate said if elected he would work to facilitate clean drinking water in Mango, improve the functioning of MGM Medical College and Hospital, streamline traffic bottlenecks with wider roads, increase the number of government schools, ensure the admission of BPL students in private schools, set up more mohalla clinics and stop the retrenchment of labourers.
Singh lives with wife Geeta, a homemaker. Their daughters Preeti and Priya hold corporate jobs, with Kotak Mahindra and Accenture, respectively.
He added that he believed in clean politics. "I don't believe in using politics as business. There are politicians in this constituency who use politics as a tool for business," Singh said but without naming anyone.
Jamshedpur West votes on December 7