Bermo police conduct series of raids on illegal rat-hole mines and depots
Tonnes of coal stolen from Central Coalfield Limited mines recovered, drive to coal theft to continue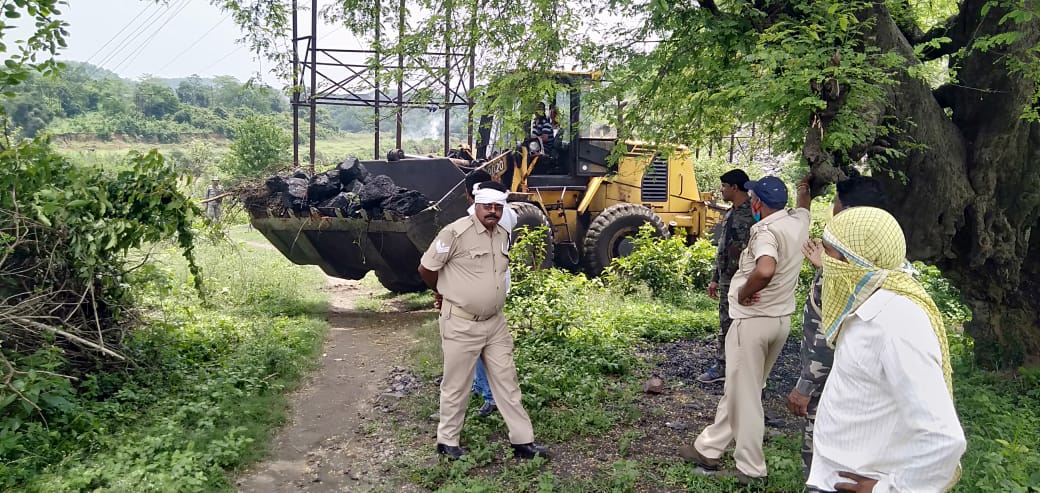 ---
|
Bokaro
|
Published 30.06.20, 06:22 PM
---
Police teams led by sub-divisional police officer (SDPO), Bermo, Anjani Anjan, conducted a series of raids in the past 72 hours during which they demolished several rat-hole mines, busted illegal coal depots and seized coal-laden vehicle in different areas of the subdivision.
Hundreds of tonnes of coal was seized from different spots.
Anjan said the coal was stolen from Central Coalfield Limited (CCL) mines and forest land by illegal traders and villagers in the area.
"On Saturday, the police raided and demolished several rat-hole mines at a spot in the forest area of Nawadih and demolished the rat holes with bulldozers," said Anjan.
The monsoon saw a rise in the number of mine-caving incidents as the walls of illegal rat holes give way easily when wet.
Several pilferers, mostly villagers, have lost their lives as a result of illegal coal mining in Bermo in the past decade.
The police aimed to demolish the rat holes, which are man-made tunnels to dig for coal. There are also few abandoned open mines targeted by illegal traders for coals.
Anjan said on Sunday, they conducted a raid at Barwabeda under Bokaro Thermal police station and seized nearly a hundred tonnes of coal stocked along the Damodar river, near the Jarangdih Coal project of CCL.
Preliminary investigation revealed that the coal had been stolen from CCL projects.
"An FIR has been lodged in this connection. Local police stations and CCL authorities have been directed to take the necessary steps to curb the theft from mines," said the sub-divisional police officer.
On Friday, a police team seized a coal-laden mini truck at Sompura under Kasmar block. An FIR was lodged against the vehicle owner. The SDPO said the raids would continue.
The move to conduct the raids was taken following the direction of deputy commissioner, Mukesh Kumar, who recently asked sub-divisional officers, district mining officers and police officials to curb the illegal mining of coal, sand and stone, among others.
The district was losing crores of revenue due to illegal mining.