Yediyurappa waits for 'message' on imminent departure as CM
The 78-year-old spoke nonchalantly about the possibility of his exit but BJP national president J.P. Nadda confounded all by lauding his performance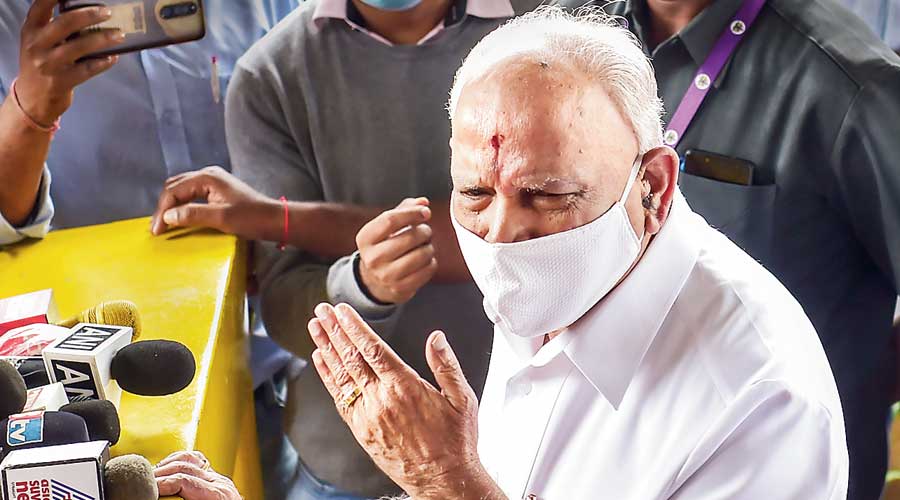 ---
Bangalore
|
Published 26.07.21, 01:33 AM
|
---
The Karnataka BJP remained on tenterhooks through Sunday amid expectations of B.S. Yediyurappa's imminent departure as chief minister, but the matter remained hazy even though the would-be successors stepped up their lobbying for the post.
Yediyurappa himself spoke nonchalantly about the possibility of his exit but BJP national president J.P. Nadda confounded all by lauding his performance.
The chief minister kept saying he was expecting a "message" from the party leadership.
"I will let you know if the message comes by this evening," he told reporters in Belgaum where he toured flood-ravaged areas on Sunday.
Hours later Nadda told reporters in Goa: "He (Yediyurappa) has done good work. The Karnataka government is running properly and Yediyurappa is handling everything in his own way."
Asked about the much-speculated change of leadership in the state, Nadda shot back: "That is what you feel; we don't feel so."
On his way back to Bangalore, Yediyurappa was asked again whether the party leadership had conveyed a decision and whether he might resign on Monday. "I don't know anything yet," he said.
Told that his supporters were anxious about his likely removal, Yediyurappa said: "I will abide by the party's decision. No one should create any issues."
Soon after reaching Bangalore, Yediyurappa said he had received "no information so far" from the party leadership.
"I hope I'll get the message tonight or by tomorrow morning," he said, adding he would "take a call tomorrow" if the party doesn't say anything.
He sidestepped a question on Nadda's statement. "Nadda is our party leader and it's my duty to work as he says," he said.
Yediyurappa had on Wednesday dropped the first clear hint that he might resign and switch to party work. He had then said he was expecting a "message" from the party leadership on Sunday and would take a decision based on that on Monday after attending a meeting of party lawmakers to mark the second anniversary of his current tenure.
His statement was followed by a flood of visitors, including more than a hundred pontiffs from Lingayat mutts, to his home. The seers were among those who wanted the BJP to allow Yediyurappa to stay in office until the 2023 state elections.
In a show of strength, the pontiffs held a conclave in Bangalore on Sunday expressing solidarity with Yediyurappa, who belongs to the politically influential community.
But Yediyurappa said: "There was no need for the pontiffs to hold such a conclave. I have complete confidence in Prime Minister Narendra Modi, (home minister) Amit Shah and Nadda."
Asked whether a Dalit politician might take over from him, Yediyurappa had said it was not for him to say anything. "It's up to the party."
Leader of the Opposition and former Congress chief minister P.C. Siddaramaiah had challenged the BJP to pick a Dalit chief minister.
Among the aspirants are mines and geology minister Murugesh Nirani, who recently travelled to Delhi to apparently lobby with the party bosses.
The rest have been meeting party lawmakers in Karnataka. They are Union parliamentary affairs minister Pralhad Joshi, the three deputy chief ministers — C.N. Ashwath Narayan, Laxman Savadi and Govind Karjol — BJP national general secretary C.T. Ravi and MLA Aravind Bellad. Karjol is the lone Dalit among them.