Sushma Swaraj drops out of 2019 elections, timing surprises BJP
The senior minister underlined that her decision was taken on health grounds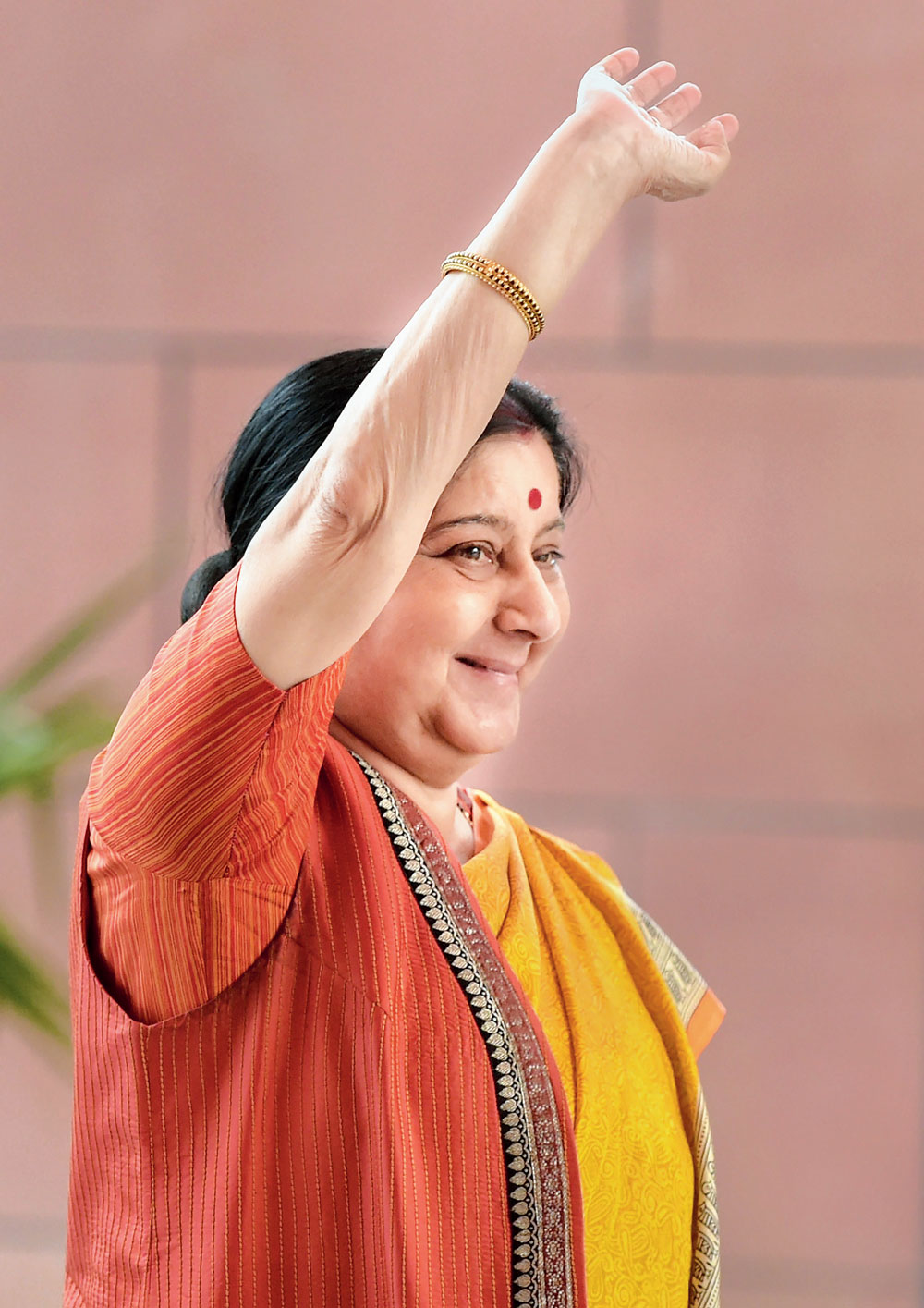 ---
---
Sushma Swaraj declared on Tuesday that she had made up her mind not to contest the 2019 general election, leaving many in the party wondering if there was a political meaning to the external affairs minister's announcement in the middle of the Madhya Pradesh poll campaign.
Sushma, 66, a seven-term Lok Sabha MP from Rural Vidisha in Madhya Pradesh, made the announcement in Indore where she had gone to campaign for the November 28 Assembly election.
"It is the party that decides, but I have made up my mind not to contest the next elections," Sushma said, in reply to a question.
The senior minister underlined that her decision was taken on health grounds and that she had already informed the party. She did not clarify whether she would opt for a Rajya Sabha berth or had decided to give up politics.
Later, at night, Sushma tweeted: "…I am not retiring from politics. It is just that I am not contesting the next Lok Sabha election due to my health issues."
The disclosure, however, embarrassed the BJP with many terming it "totally unnecessary" in the middle of a difficult Assembly election in Madhya Pradesh. Party leaders in Delhi wondered why Sushma had chosen to speak now, almost six months ahead of the general election.
"Internally, people in the party were aware that Sushmaji and some other senior leaders may not contest the next election. But what was the need for her to disclose it now?" one BJP leader wondered, fearing a negative impact on the Madhya Pradesh polls.
"Since she (Sushma) is a Lok Sabha MP from Madhya Pradesh, the disclosure not to contest doesn't send an encouraging message among the voters. It was totally unnecessary," the leader added.
At the news conference, Sushma praised chief minister Shivraj Singh Chouhan and expressed confidence that he would retain the state.
The BJP is believed to be facing a tough fight in Madhya Pradesh to retain power because of anti-incumbency after three terms in office.
Elections are being held in three BJP-ruled states — Madhya Pradesh, Rajasthan and Chhattisgarh. The outcome of these polls is expected to impact the 2019 Lok Sabha elections. If the BJP loses, the Narendra Modi-Amit Shah duo's sheen of invincibility would be threatened.
Party managers in Delhi tried to play down Sushma's announcement, arguing that not contesting the 2019 polls does not mean she is hanging up her boots. "There is no conspiracy theory. Her health condition is genuinely bad and the party will reward her with a Rajya Sabha nomination," a senior leader claimed. Asked whether she would be made a minister again if the BJP under Modi returns to power in 2019, the leader said: "Why not?"
Sushma underwent a kidney transplant in 2016. Known for her oratorical skills, she has hardly been seen campaigning in these polls. At the news conference, she said doctors had advised her to keep off dust.
But many in the party believe that Sushma's absence from the campaign has more to do with the dominance of the Modi-Shah duo, seen as the only faces of the party.
Political meanings were attached to Sushma's announcement not to contest, given her past position. Sushma is known to be close to BJP veteran L.K. Advani, who stands totally sidelined since Modi took over in 2014. Advani had opposed the selection of Modi as the party's prime ministerial face before the 2014 general election. Then, Sushma was believed to be firmly with Advani's position.
Party sources felt Sushma was then herself hoping to be the prime ministerial face of the party. In the previous Lok Sabha, she had been the leader of the Opposition and given her oratorical skills she felt she deserved to be the party's candidate for Prime Minister.
Sushma, however, chose peace with Modi after the party swept to power under his leadership. She was rewarded with the important external affairs ministry. But over time, she came to be known as "Twitter minister", appearing active only on social media with secondary affairs of her ministry while Prime Minister Modi stole the limelight, chartering foreign policy decisions and travelling the world.
Old timers in the party felt Sushma's decision might have been driven by the way many senior leaders have been pushed to the margins under Modi and Shah. One leader pointed out that they repeatedly hear talk that seniors such as Advani and Murli Manohar Joshi would not be offered party tickets in 2019 and would be asked to retire.
"In such an atmosphere, Sushma may have decided to opt out on her own before she is asked to do so. This could be her way of protesting against the take-over of both, party and government, by Modi-Shah," one leader said, hoping that soon some other seniors would announce their decisions not to contest in 2019 follow suit.