US Apache choppers for IAF
The entire fleet will be in service by March 2020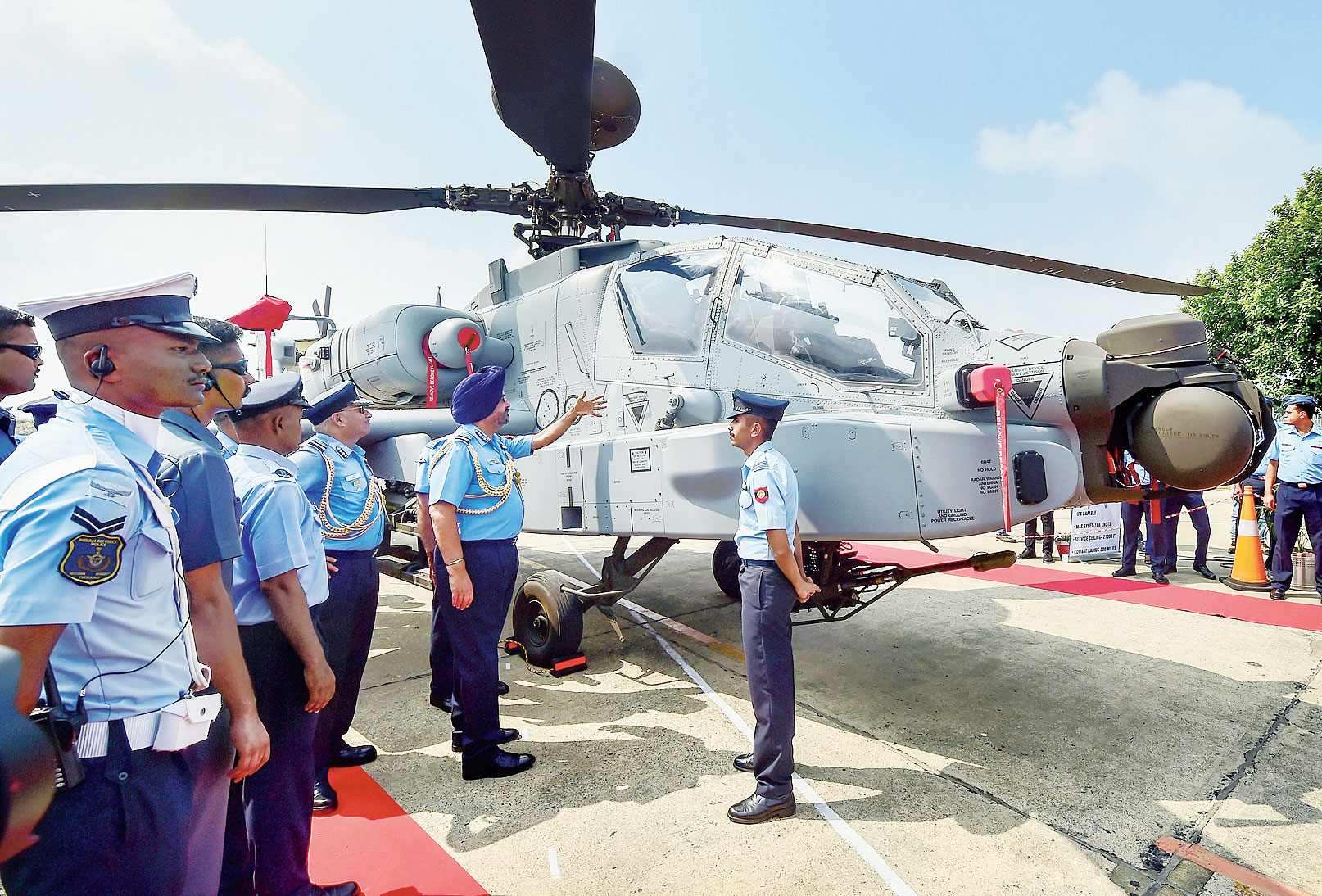 ---
---
The Indian Air Force on Tuesday inducted eight US-made Apache AH-64Es, considered one of the most advanced multi-role combat helicopters in the world.
The helicopters are part of the $1.4-billion (Rs 8,500-crore) deal struck in September 2015 by India with the US for the supply of 22 Apache choppers. The entire fleet will be in service by March 2020.
The government has also cleared the acquisition of six additional Apaches for the Indian Army, which has been approved by the US.
During the induction ceremony at the Pathankot air base, Air Chief Marshal B.S. Dhanoa said the Apache AH-64Es were one of the most fierce combat helicopters in the world.
"The Apache helicopters will enhance the operational capabilities of the IAF and is a significant step towards modernisation of the IAF. The fleet will be deployed in India's western region," he said.
A priest performed a puja in front of a helicopter at the Pathankot base during the induction ceremony.
Air Chief Marshal Dhanoa said the Apache attack helicopters were being purchased to replace the ageing Soviet-origin Mi-35 fleet.
"The (Apache) helicopter is capable of delivering a variety of weapons which include air-to-ground Hellfire missiles, 70mm Hydra rockets and air-to-air Stinger missiles. The Apache also carries one 30mm chain gun with 1,200 rounds as part of the area weapon sub-system," the IAF said in a statement.
"To add to the lethality of the helicopter, it carries a fire-control radar… and nose-mounted sensor suite for target acquisition and night-vision systems."
The addition of the Apache attack helicopters, the statement said, is a significant step towards the modernisation of the IAF's chopper fleet.
"This procurement will enhance the capability of the IAF in providing integrated combat aviation cover to the army strike corps. These tandem seating helicopters are day/night, all-weather capable and have high agility and survivability against battle damage.
"These are easily maintainable even in field conditions and are capable of prolonged operations in tropical and desert regions," the statement said.
The Apache attack choppers have been used extensively in Iraq and Afghanistan.