Unnao: Asha Singh's plea to Mayawati to withdraw candidate
Kuldeep Singh Sengar is serving jail sentences after being convicted of raping her then minor daughter in 2017 and of murdering her husband in 2018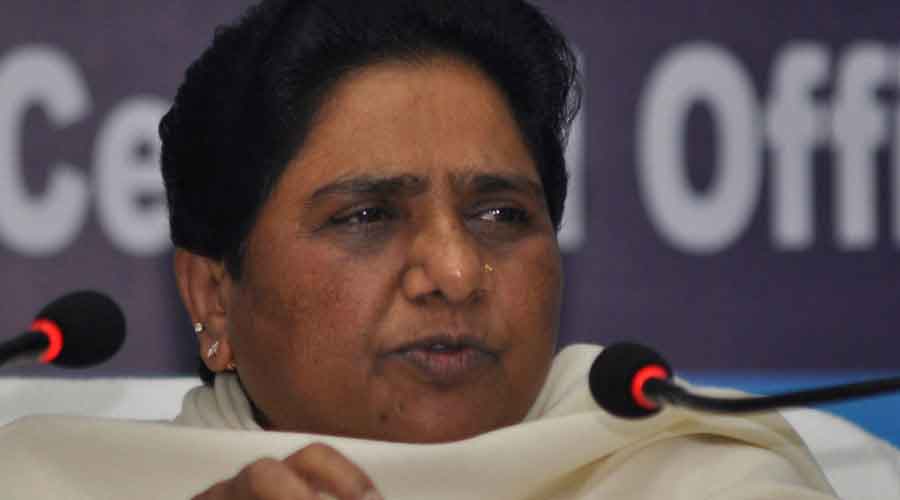 ---
Lucknow
|
Published 18.01.22, 03:03 AM
|
---
Asha Singh, Congress candidate from Unnao Sadar and mother of a rape survivor, has appealed to Mayawati to drop the Bahujan Samaj Party nominee from the constituency saying he was close to her daughter's tormentor and was trying to intimidate her.
"Devendra Singh, the BSP candidate from Unnao, faces about a dozen criminal cases, including those of attempt to murder and extortion. He is also a close associate of Kuldeep Singh Sengar. He is trying to intimidate me with the help of the security provided to him by the government," Asha told reporters in Unnao on Monday.
"I have written to Mayawati to cancel the candidature of such a bad person."
Sengar, a resident of Asha's village, is serving jail sentences after being convicted of raping her then minor daughter in 2017 and of murdering Asha's husband in 2018. Sengar was BJP MLA from Bangarmau constituency in Unnao district when the crimes were committed.
While there are legal restrictions on publishing information that might reveal the identity of a complainant of sexual assault, Asha's decision to contest the election and her daughter's participation in media interactions has rendered such confidentially practically redundant.
Asha's daughter said on Monday: "Devendra is conspiring against us. There was a stage in my case when he tried to play a trick by approaching the court claiming to be a witness and trying to weaken our case.
"He had hatched a conspiracy to save Sengar. He falsely claims to be our relative. We appeal to Mayawati to cancel his nomination as he can harm us. We want the BSP president to help us campaign without fear."
On Saturday, Asha had told The Telegraph that Sengar, his family and the BJP were still "active against us" and that she and her family members "might be killed if we are careless".
BSP candidate Devendra, a former block pramukh and resident of Asha's village, said: "I am campaigning for myself and it's incorrect to say that I am intimidating anybody. The cases against me are politically motivated."
The rape survivor said that although Sengar was in jail, serving a life term for rape and a 10-year sentence for murder, he had "activated his henchmen".
"Sengar is still very powerful. The BJP and the government still sympathise with him and consider me their enemy. Leaders of some other parties are on Sengar's payroll too. They are trying to sneak into our campaign team and damage us," she said.
"We have come to know that Sengar's agents are hanging around us with hidden cameras. Their motive is to malign us somehow. We fear they might cook up some videos against us."
The Yogi Adityanath government had tried to protect Sengar, who was arrested by the CBI only after the Supreme Court took cognisance of the rape survivors' complaints on its own and ordered a probe by the central agency. The BJP expelled Sengar several months after his arrest.
Samajwadi Party sources said Akhilesh Yadav had told his associates at a recent meeting that he wouldn't field a candidate against Asha, but there has been no official word from the party.
"I have come to know that the Samajwadi Party wouldn't field a candidate against my mother," the rape survivor said.
"There is no understanding between the Samajwadi Party and the Congress but maybe Akhilesh wants to help victims of the BJP to reach the Assembly."