'Ready to resign as Sena Chief too'
If rebels want I will quit, says Uddhav Thackeray amid Shiva Sena revolt
'Will resign as chief minister and leave official residence if even one of the disgruntled MLAs says he doesn't want me as CM'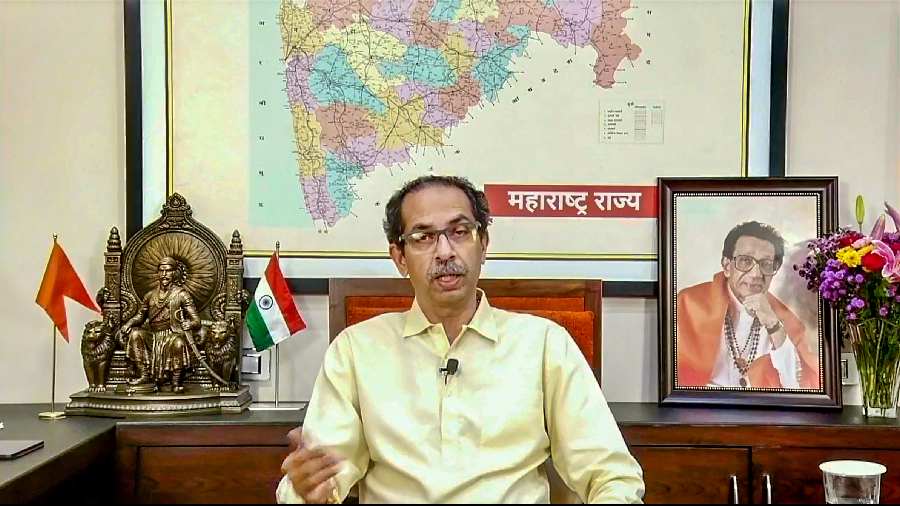 Maharashtra CM and Shiv Sena chief Uddhav Thackeray virtually addresses the people of the state, in Mumbai
PTI picture
---
Published 22.06.22, 02:37 PM
|
---
Maharashtra Chief minister Uddhav Thackeray summoned all party MLAs for a meeting at his residence Varsha at 5pm on Wednesday in what seems like a last-ditch effort to save his coalition government after his minister Eknath Shinde rebelled, claiming the support of 46 MLAs.
Our struggle will continue
No greed for power
Will accept new CM from Sena
This is Balasaheb's Sena
Any Sainik can become CM
Ready to resign as Sena Chief too
Shinde should have spoken to me
If rebels want I will quit
I feel betrayed
No compromise in alliance
Pawar told me I will lead the government. Pawar had confidence in me
No choice but to join Cong and NCP
Will deliver Baka Saheb's promise
Why keep tab on MLAs' movements
Many rebel MLAs want to return
Sena and hindutva are inseparable
Our ideology of hindutva is same, says Uddhav Thackeray
Uddhav Thackeray to speak at 5 pm after 34 MLAs write a letter to Governor backing Sena rebel Eknath Shinde
4 more Sena MLAs fly with state BJP chief to Guwahati
Eknath Shinde says Shiv Sena order to call meeting illegal
All NCP MLAs asked to be in Mumbai, reports NDTV
होय
संघर्ष करणार!! pic.twitter.com/zmsE0CQDL9

— Sanjay Raut (@rautsanjay61) June 22, 2022
शिवसेना विधिमंडळ मुख्य प्रतोद पदी शिवसेना आमदार श्री.भरत गोगावले यांची नियुक्ती करण्यात आली आहे. सबब, श्री.सुनील प्रभू यांनी आजच्या आमदारांच्या बैठकीबद्दल काढलेले आदेश कायदेशीरदृष्ट्या अवैध आहेत.

— Eknath Shinde - एकनाथ शिंदे (@mieknathshinde) June 22, 2022
Maharashtra Assembly 
MLAs: 287
BJP: 106
Maha Vikas Aghadi: 152
Sena: 55
NCP: 53
Cong: 44
Shiv Sena chief whip Sunil Prabhu has written a letter and issued it to some Sena ministers, including the minister of state for Home Shambhuraj Desai who is currently staying with Shinde in Guwahati.
"The Shiv Sena has called for an urgent meeting today evening at 'Varsha' bungalow as there have been attempts to make the MVA government unstable. The details regarding the meeting have been shared with all the members (MLAs) on their registered e-mail address, Whatsapp and by way of SMS.
"You cannot remain absent from the meeting without providing a valid and sufficient reason. If you do not attend the meeting, it would be presumed that you have a clear intention of leaving the party. Hence, there will be action taken against you based on the provisions for preventing anti-defection," the letter said.
Earlier, Congress leader Kamal Nath indicated that there was no  question of dissolving the Assembly as was being speculated, his assertion based on his conversation with Thackeray.  
Thackeray, who has tested Covid positive, was operating from his home. He took part in a scheduled cabinet meeting at 1.00pm via video link. While Congress and NCP ministers were present, sources said, it wasn't immediately clear who all from the Shiv Sena attended.
Shiv Sena leader Sanjay Raut had said that dissolving the Assembly was a possibility, a way out of the crisis. At the same time, he claimed he had had a conversation with rebel leader Eknath Shinde who had now moved to a hotel in BJP-ruled Assam along with at least 35 MLAs.
'No conditions set'
Talking to reporters in Mumbai, Raut said Shinde has not put forth any conditions before the party, and that discussions are also underway with other Sena leaders who are with Shinde. 
Raut expressed confidence that Shinde and other rebel MLAs will be back into the party fold, and said their misunderstandings will be addressed .
Earlier, Maharashtra Governor Bhagat Singh Koshyari was admitted to a Mumbai hospital this morning with coronavirus symptoms. The governor said that anyone who wanted to contact him could do so via video conferencing.
BJP calculates numbers 
Maharashtra BJP leader and former Chief Minister Devendra Fadnavis also held a meeting with his party leaders at his Mumbai residence to discuss Constitutional provisions and the arithmetic required to stake a claim to form a government, sources said. He was in Delhi yesterday to meet the party's high command.
Eknath Shinde needs the support of 37 MLAs - a two-third majority in his party - to split the party without facing disqualification under the anti-defection law.
'I have the numbers' Rebel Shiv Sena leader Eknath Shinde, who arrived in Guwahati in BJP-ruled Assam early this morning in a chartered flight, claimed he has the support of 46 MLAs (40 from the Shiv Sena and six Independents) but that he had no intention of leaving the party.
"I have the support of 46 MLAs including Independents," he told NDTV and denied he was planning to switch parties. Shinde said that he was not breaking away from the Shiv Sena and that he would carry forward the ideology of Balasaheb Thackeray.
"We have not left Balasaheb Thackeray's Shiv Sena and will not leave it. We believe in Hindutva," he said.
Guwahati from SuratThe MLAs arrived from Surat. They were received at the airport by BJP MPs Pallab Lochan Das and Sushanta Borgohain Shinde, who initially refused to talk to mediapersons waiting outside the airport.
The move to shift them to Guwahati came shortly after Shinde's telephonic conversation with Chief Minister Uddhav Thackeray during which he demanded that the Sena renew its alliance with the BJP and jointly rule Maharashtra, ndtv.com reported quoting sources.
Reports suggest the MLAs were airlifted to Assam by the BJP to avoid any further confrontation with Sena leaders.
Sena damage control
As the government stands deep in crisis, Shiv Sena has housed its remaining MLAs in different hotels in Mumbai. 
Shinde was sacked as party's chief whip on Tuesday afternoon. He, in turn, dropped Shiv Sena from his Twitter bio. But before making the change, he tweeted that he was a "Balasaheb Thackeray's Shiv Sainik" and would never cheat for power.
"Balasaheb has taught us Hindutva. We have never and will never cheat for power regarding Balasaheb's thoughts and Dharmaveer Anand Dighe Saheb's teachings," he said in the tweet.
Same template
The developments of the last 24 hours in Maharashtra and Gujarat closely resemble a template seen in Karnataka and Madhya Pradesh where ruling dispensation MLAs had rebelled and taken refuge in BJP-ruled states, their resignations lowering the majority mark and allowing the BJP to wrest power.
Officially, the BJP said it had nothing to do with the Sena rebellion but former Maharashtra chief minister Devendra Fadnavis rushed to Delhi and was huddled with chief party strategist Amit Shah and BJP president J.P. Nadda. Party insiders said in private they were itching for revenge on a once loyal ally that had "backstabbed" them after the 2019 Maharashtra polls.
Shinde, minister for urban development and public works, had been sulking for the past two years, complaining that his importance in the government was not commensurate with his political clout. But Uddhav refused to address his concerns, failing to appreciate either his capability or his inclination to wreak such heavy damage.