Uddhav Thackeray government in Maharashtra fights for survival
Shiv Sena minister rebelled against CM and led an estimated 21 party legislators to BJP-ruled Gujarat, where they checked into a hotel in Surat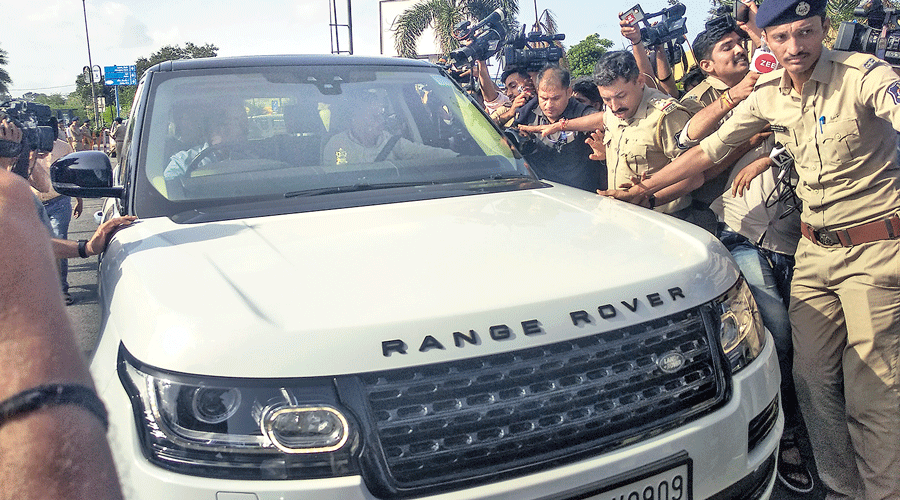 Shiv Sena leader Milind Narvekar arrives to meet party leader Eknath Shinde in Surat on Tuesday.
PTI picture
---
Mumbai/New Delhi
|
Published 22.06.22, 02:43 AM
|
---
Maharashtra's coalition government was teetering on the brink on Tuesday after Shiv Sena minister Eknath Shinde rebelled against chief minister Uddhav Thackeray and led an estimated 21 party MLAs to BJP-ruled Gujarat, where they checked into a hotel in Surat.
Some sources claimed Shinde had the support of 35 rebel MLAs.
The development closely resembles a template seen in Karnataka and Madhya Pradesh where ruling dispensation MLAs had rebelled and taken refuge in BJP-ruled states, their resignations lowering the majority mark and allowing the BJP to wrest power.
Officially, the BJP said it had nothing to do with the Sena rebellion but former Maharashtra chief minister Devendra Fadnavis rushed to Delhi and was huddled with chief party strategist Amit Shah and BJP president J.P. Nadda. Party insiders said in private they were itching for revenge on a once loyal ally that had "backstabbed" them after the 2019 Maharashtra polls.
Shinde, minister for urban development and public works, had been sulking for the past two years, complaining that his importance in the government was not commensurate with his political clout. But Uddhav refused to address his concerns, failing to appreciate either his capability or his inclination to wreak such heavy damage.
Waking up late, the Sena leadership sent two emissaries — Milind Narvekar and Ravindra Phatak — to Surat to talk to Shinde.
While such intermediaries were not allowed to meet the rebel MLAs during the Madhya Pradesh and Karnataka crises — the BJP and its police guarding them 24x7 —Narvekar and Phatak were able to meet their colleagues at the Surat hotel and even arrange a talk with Uddhav.
Sources said Shinde told Uddhav that the crisis would be resolved if the Sena returned to the BJP's arms. Uddhav tried to reason with him, explaining the complexities involved, but Shinde had probably put the condition forward knowing it was unacceptable.
The rebel minister must have made up his mind already when he left for BJP-ruled Gujarat. He has also removed his Sena identity from his Twitter bio. Shinde is familiar with the Sena culture and knows that survival in the party would be difficult for him after the rebellion.
Sena spokesperson Sanjay Raut expressed confidence that the MLAs would eventually return and described Shinde as a trusted colleague, but there were no indications of a rethink till late in the night.
Raut claimed that some of the MLAs wanted to return but were being forcibly held in the Surat hotel. "It's a case of kidnapping," Raut said, alleging there were fights among the MLAs and one of them had been hospitalised.
The Sena's allies have got busy, too, with NCP veteran Sharad Pawar flying back to Mumbai and the Congress deputing veteran Kamal Nath to handle the situation.
The Sena has removed Shinde as its chief whip as a precaution because legal wrangles are bound to follow.
The BJP has 106 MLAs in a 288-strong Assembly, where the Sena-NCP-Congress has a combined tally of 152, just seven above the majority mark of 145.
If Shinde and his MLAs refuse to change their mind, they will have to be disqualified, bringing the majority mark down. However, it may still be possible for the ruling coalition to survive with the support of the Samajwadi Party, AIMIM and a few Independents.
Even if it does survive, the coalition will face another challenge when by-elections are held to the seats of the disqualified MLAs.
However, if Shinde manages the support of 37 Sena MLAs – which is more than two-thirds of the party's House strength of 55 -- there will be no disqualification under the anti-defection law. He can then straightaway join the BJP with his supporters or form a legitimate, separate bloc.
Fadnavis had been trying to dislodge the coalition government and had succeeded in jolting it in the recent Rajya Sabha and legislative council polls. On Monday, cross-voting had allowed the BJP to win five – rather than the expected four --- of the 10 council seats to which elections were held.
The leadership of the ruling coalition appears to have been complacent, taking the government's survival for granted despite its leaders and ministers being hounded by the BJP-led Centre's investigative agencies.
Senior NCP ministers Anil Deshmukh and Nawab Malik had been sent to jail and several Sena ministers had been targeted.
Raut, a Rajya Sabha member, had lodged a formal complaint with House Chairman Venkaiah Naidu alleging the central agencies were pressuring him to destabilise the state government.