Two-year wait for research guides
About 30 students face a career crisis without guides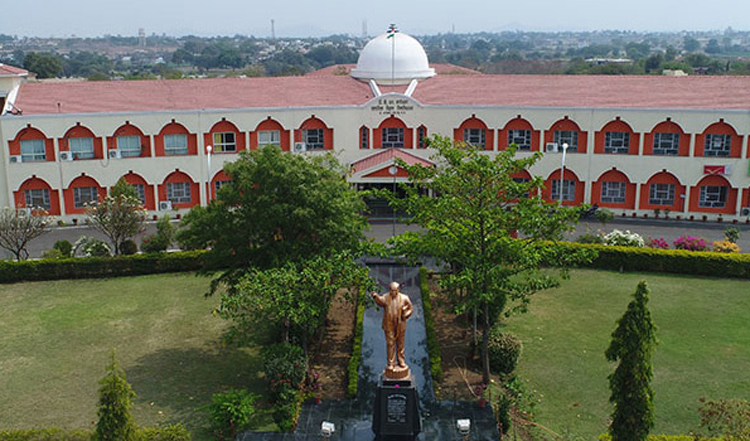 Students of the varsity had sat on dharna for 45 days in October and November demanding recruitment of more teachers but have not got any assurance from the state government
(Picture source: brauss.in)
---
New Delhi
|
Published 22.01.20, 10:10 PM
|
---
Manoj Waskel is waiting to start his research. He has been waiting for the past two years.
The tribal student had enrolled for a PhD in social work in Dr BR Ambedkar University of Social Sciences in Mhow, Madhya Pradesh, in 2015-16, but hasn't progressed beyond his coursework because the varsity hasn't allotted him a guide. It doesn't have enough teachers who can supervise researchers.
So Waskel, a recipient of the central government's Rajiv Gandhi National Fellowship, has not yet been able to start his research work.
He isn't the only one. About 30 students of the state-run varsity, most of them from socially underprivileged backgrounds like the Scheduled Castes, Scheduled Tribes and Other Backward Classes, face a career crisis as the institute has not allotted them guides.
"I had taken admission in this university because it promises to promote the socio-economic and educational development of the marginalised sections. I have lost two years after completion of coursework and am waiting for a guide to be allotted," Waskel said.
A fellow student explained where the problem lies — a decision that goes back four years. The then BJP government in the state, the student said, enacted a law and upgraded an institute that existed since 1988 to a university in 2015-16 without recruiting enough teachers. The newly created varsity admitted nearly 300 students over the next two years.
Before its upgrade the institute — then affiliated to Devi Ahilya University, Indore — had offered PhD and MPhil courses to a limited number of students, with teachers of the Indore varsity as their supervisors.
Ambedkar University has three professors, an associate professor and five assistant professors who can together guide around 40 students according to UGC rules. The university, which has four departments, should ideally have 25 teachers.
Waskel said he has not been getting the fellowship amount for several months because there is no guide to certify the continuation of his research work.
Around 200 students who had enrolled for PhD programmes in social sciences in 2015-16 and 2016-17 have migrated to two other state-run universities under a special arrangement. Waskel, though, doesn't want to migrate.
Students of the varsity had sat on dharna for 45 days in October and November demanding recruitment of more teachers but have not got any assurance from the state government.
Vice-chancellor Prof. Asha Shukla said the varsity should not have admitted research students without enough guides. "Teaching posts have been sanctioned but the government has not given the sanction to fill up the posts. The government has devised a policy of transfer. The PhD students can migrate to other government universities in Madhya Pradesh," Shukla said. "There is no other way."