Sushant Singh Rajput case: The saddest show on Earth
Narcotics Control Bureau arrests Rhea Chakraborty after questioning her for three days in connection with drugs-related allegations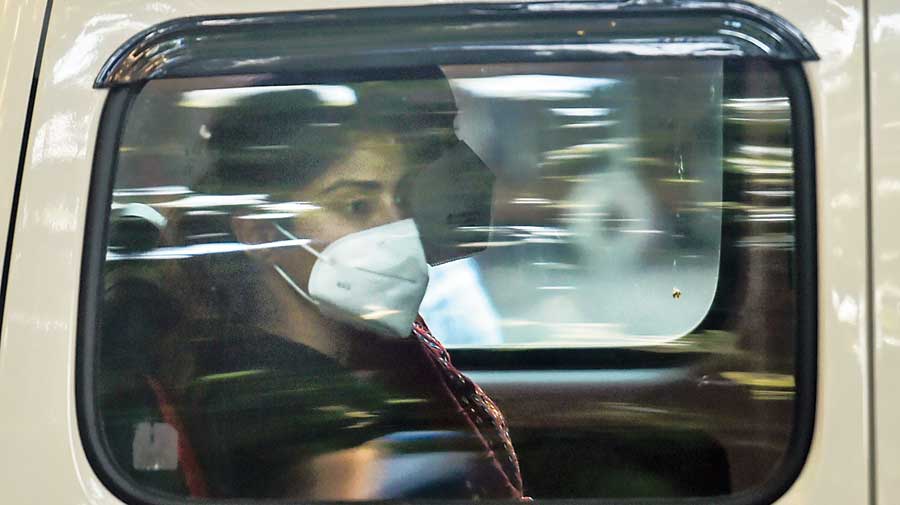 Rhea Chakraborty being taken for a medical test after her arrest in Mumbai.
PTI
---
Published 09.09.20, 02:13 AM
|
---
The Narcotics Control Bureau (NCB) on Tuesday arrested actress Rhea Chakraborty after questioning her for three days in connection with drugs-related allegations in her boyfriend and actor Sushant Singh Rajput's death case, PTI reported.
She has been sent to judicial custody till September 22.
Chakraborty, 28, was arrested under multiple sections of the Narcotic Drugs and Psychotropic Substances Act that deal with sale, possession or manufacture of banned drugs and possession or use of small quantities of banned drugs. In recent TV interviews, Chakraborty had denied that she consumed drugs.
WHAT IT TELLS ABOUT US
⦿ So far used to target mostly groups and political or ideological dissidents, central agencies are now being deployed to hound individual citizens. 
⦿ The transformation of the so-called television "news" media industry into an instrument of oppression of the State is complete. Rarely have private enterprises  become such an indistinguishable organ of the government.
⦿ What the television lynch mob is doing is not journalism. Director Anubhav Sinha told employees of such TV networks in a tweet: "If you still feel like a journalist, RESIGN. You won't die of hunger. You will discover new friends, opportunities and avenues."
⦿ The audience must share the blame, too. The most sordid chapter in Indian opinion-tampering history has brought out the worst of the medieval bloodlust that lurks in our modern drawing rooms.
⦿ No one has any doubt that the charade is being staged to distract them from crises the country has rarely seen before. No one has any doubt that the immediate trigger is the election in Bihar, the home state of Sushant. Yet, many have volunteered to be part of the largest collection of suckers on the planet.