Survey on profiles of Bangladesh border residents
The BJP had been accused of fomenting religious polarisation during its campaign in Bengal for last year's Lok Sabha elections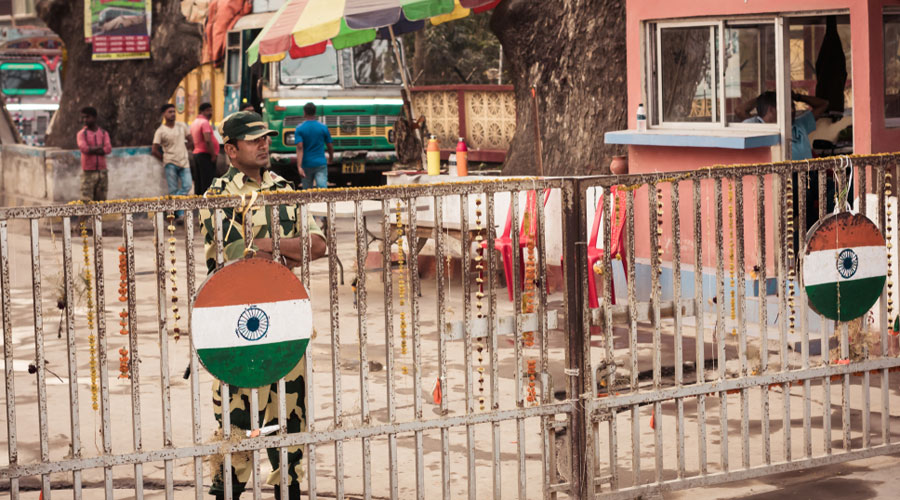 ---
New Delhi
|
Published 21.11.20, 04:21 AM
|
---
Central security agencies have been conducting an analysis of the demographic and economic profiles of populations along the Bangladesh border, especially pockets with sizeable concentrations of Muslims in Bengal, sources in the Union home ministry said.
An Intelligence Bureau official described it as a routine exercise, dismissing questions whether the survey might trigger fears of religious profiling ahead of the Bengal Assembly elections next year.
"Such analysis is done routinely to keep a close watch on the presence of radical elements in border towns," he said.
Asked, Union home ministry spokesperson Nitin Wakankar declined comment on the purported survey along the Bangladesh border.
Another home ministry official, however, said such a survey was bound to send a wrong signal to the minority community because of the prevalence of a sharp anti-Muslim narrative and could trigger apprehensions of being systematically spied on and investigated.
"If such surveys are so essential, they should be conducted in Hindu-dominated pockets too," the official said, requesting anonymity.
Another official wondered if the analysis was politically motivated, citing the upcoming elections in Bengal.
Union home minister Amit Shah has set the BJP a target of winning over 200 of Bengal's 294 Assembly seats. The BJP had been accused of fomenting religious polarisation during its campaign in Bengal for last year's Lok Sabha elections. It had focused on issues such as the NRC, infiltration from Bangladesh and Mamata Banerjee's perceived appeasement politics.
"These issues had paid dividends for the BJP, which bagged an unprecedented 18 seats in the Lok Sabha elections. All these are again going to be among the main issues during the party's Assembly poll campaign. I hope the latest survey based on religious profiling is not part of a bigger strategy of polarisation along religious lines," said a retired Intelligence Bureau director.
In 2018, the Border Security Force had triggered a controversy by preparing a report highlighting an unexpected increase in the Muslim population living along the India-Pakistan border areas of Jaisalmer in Rajasthan.
The report, prepared by the BSF's intelligence wing and sent to the Union home ministry, had expressed concern about an increase in places of Islamic worship. The report had pointed to the presence of some radical elements suspected to be luring locals into passing on information related to military movements in the region.
The BSF is also the border-guarding force along the India-Bangladesh frontier.