The toll from Friday's blaze at a commercial complex in Surat's Sarthana area has risen to 22 with two more students who suffered burns dying on Saturday, a senior police officer said.
Police have arrested the owner of the coaching centre where the students studied.
Two others — Harshul Vekaria and Jignesh Paliwal — both builders, are on the run, Surat police commissioner Satish Sharma said.
Surat police spokesperson and assistant commissioner P.L. Chaudhari said Karnavi Sitapara and Dhruvi Ribadiya, the two students who died on Saturday, had been undergoing treatment in hospitals.
"According to the latest information, two teenage girls have died today, taking the toll to 22, including 18 girls and four teenage boys. A child of about 3-4 years old (also) received burn injuries in the blaze and is currently hospitalised," Chaudhari added.
"The majority of the victims were in the age bracket of 17 to 18. They were students of a coaching institute imparting art and craft training on the third floor of the ill-fated Takshashila Enclave in the Sarthana area."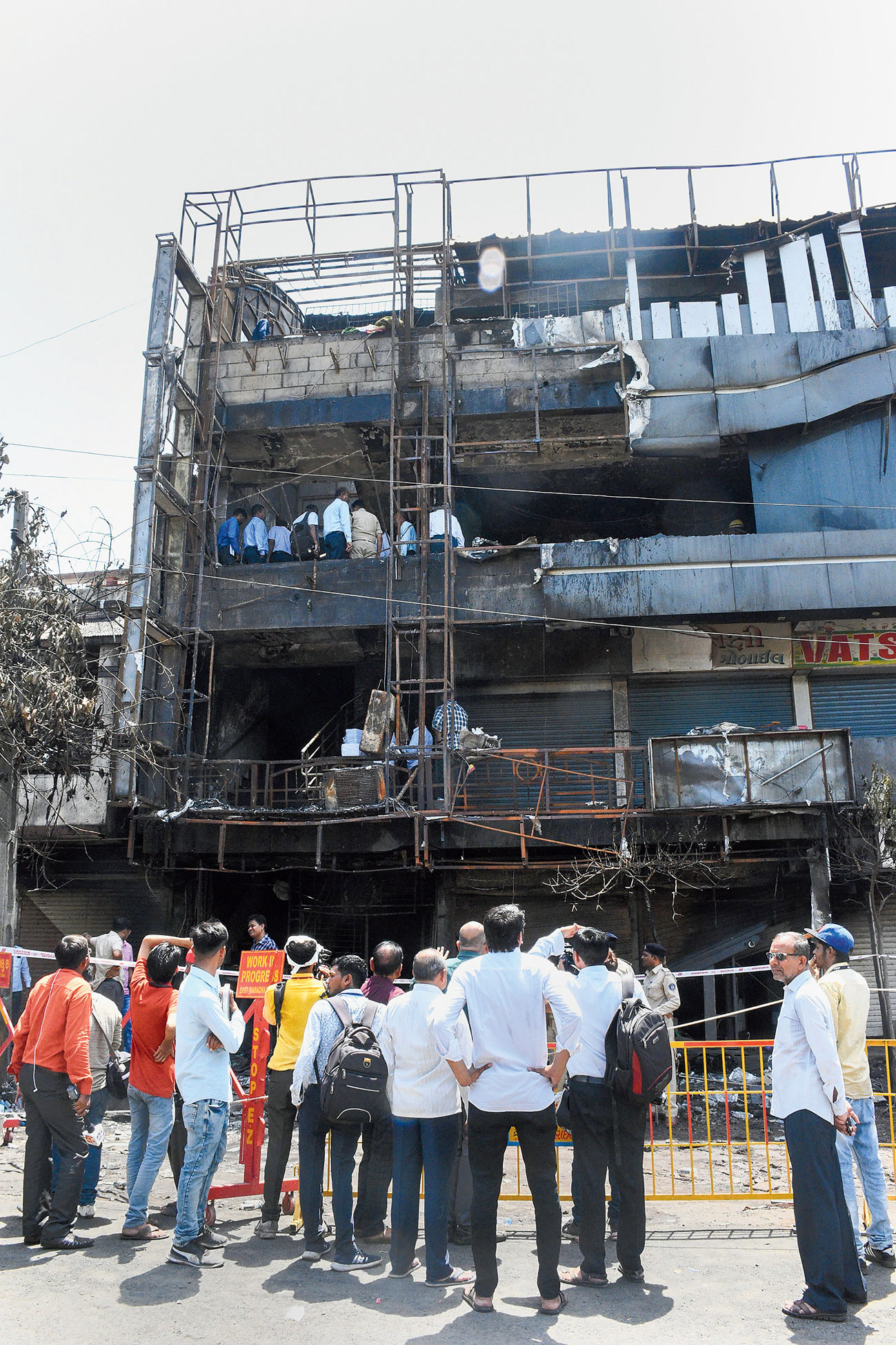 The charred coaching centre in Surat. (PTI)
Inspector M.M. Puwar of Sarthana police station confirmed that 22 students had died in the blaze.
Commissioner Sharma said the police had registered an FIR under various sections of the penal code against three persons on Friday night. "They include the two builders, Harshul Vekaria and Jignesh Paliwal, and the owner of the coaching class, Bhargav Butani," Sharma told reporters. "Further probe has been handed over to the Surat crime branch."
Three of the dead — Yashvi Kevadiya, Mansi Varsani and Hasti Surani — had cleared the Class XII exams of the Gujarat board. The results were declared on Saturday. All were students of Ashadeep School in Surat.
While Kevadiya had passed the exam with 67.75 percentile (C1 grade), Varsani got 52.03 (C1 grade) and Surani 69.39 percentile (B2 grade), according to the results shared by the school's authorities on Saturday.
The National Human Rights Commission has issued a notice to the Gujarat government seeking a detailed report.
"Considering the incident as a grave violation of the human rights of the young students, the Commission has issued a notice to the chief secretary, government of Gujarat, calling for a detailed report in the matter, including status of the criminal cases registered against the building owner and others found guilty, along with action taken against the public servants concerned," the rights panel said.
Gujarat chief minister Vijay Rupani on Friday had ordered a fire-safety audit of schools, colleges and coaching centres across the state .