Supreme Court scanner on Covid-19 vaccines for teenagers
Justices L. Nageswara Rao and B.R. Gavai agreed to examine the matter after Prashant Bhushan sought an early hearing of the application moved by Dr Jacob Puliyel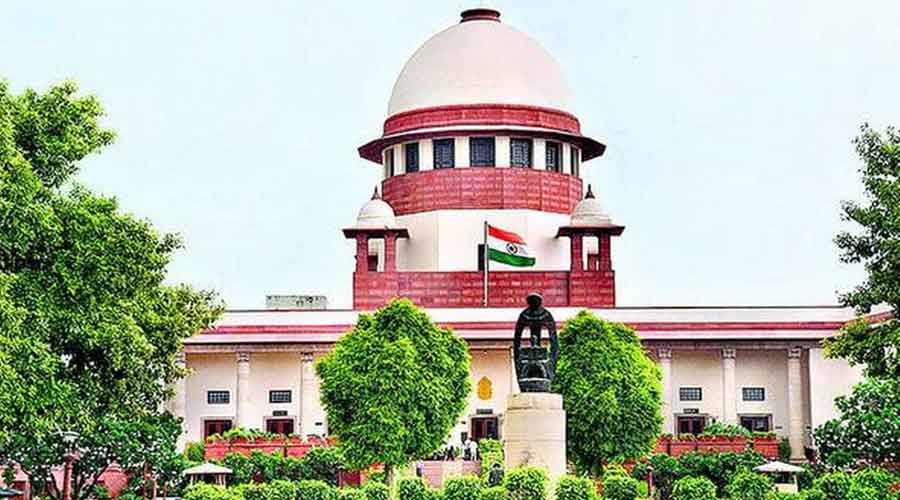 Supreme Court.
File photo
---
New Delhi
|
Published 19.01.22, 01:24 AM
|
---
The Supreme Court on Tuesday posted to January 31 the hearing of a plea to declare as "unconstitutional" and stay the alleged forcible administration of Covid-19 vaccines to kids in the age group of 15-18 by the government for reopening schools and granting fresh admissions.
A bench of Justices L. Nageswara Rao and B.R.Gavai agreed to examine the matter after advocate Prashant Bhushan sought an early hearing of the application moved by Dr Jacob Puliyel, former member of the National Technical Advisory Group on Immunisation.
The petitioner has sought a direction to the Centre to release the entire segregated data for each of the phases of trials that has been undertaken with respect to the vaccines being administered to children in India along with the trial data of vaccines meant for adults and "declare that vaccine mandates for children, in any manner whatsoever, even by way of making it a precondition for accessing educational institutions or sports facilities, is unconstitutional".
The petition drafted by advocate Cherryl Dsouza stated: "There are deeply disturbing reports that government and health advisory groups are calling out in the media for the Covid-19 vaccine in children to enable schools reopening, contact sports or for admissions, etc.
"Any sort of such coercion of children or their parents to accept the Covid-19 vaccines that are still at research stage and about which, no medium or long term, side-effects are known and against a disease which presents no material risk to children, is unethical and irresponsible.
"It violates the principles of medical freedom, informed consent and bodily autonomy which are to be preserved and protected, especially while dealing with vulnerable populations such as children."
According to Puliyel, for any vaccine to be recommended universally in public interest, the public health rationale underlying such a policy must be based essentially on efficacy and safety of vaccination and transmission of the disease.
Quoting various international research papers and material, the petitioner submitted that vaccines did not prevent infection or transmission of Covid-19 and were not effective in preventing infection from the new variants of the coronavirus.
"The efficacy of vaccines in preventing infection or transmission has not been established. This is not being communicated effectively to the public. Various studies have now been published that show that the vaccines do not prevent infection or transmission of the Covid-19 virus. There are many examples of outbreaks of the virus amongst fully vaccinated populations.
"Examples include Iceland and Israel where a high percentage of the population have been fully vaccinated, yet an increase of cases is being experienced. Therefore, administering the vaccine through coercion or without informed consent to children cannot be a matter of public health since the vaccines are not an effective guarantee against infection and transmission," the plea stated.
The ministry of health and family welfare had on December 27 issued guidelines for vaccinating children aged between 15 and 18 years against Covid-19 from January 3.
The petitioner pointed out that these guidelines were issued only a few days after an announcement by vaccination drive architect Vinod K Paul, ICMR chief Balram Bhargava and Union health secretary Rajesh Bhushan on December 24 that there wasn't any scientific basis yet to necessitate paediatric vaccination.
Yet "in a complete U-turn therefore the scientific basis seems to have altered and within three days guidelines were issued by the Ministry of Health and Family Welfare for vaccinating 15-18 year olds", the petition added.
It pleaded that no medical intervention should be introduced on a "one size fits all" basis, but instead should be fully assessed for suitability according to the characteristics of the age cohort and of the individuals concerned, weighing the risk versus benefit profile for each cohort and the individuals within a group.
"It has been established through published research that healthy children are at almost no risk from Covid-19. Previously healthy children dying of Covid or requiring admissions to hospital or intensive care are exceedingly rare, with most children having no or very mild symptoms. All medical interventions carry a risk of harm, so we have a duty to act with caution and proportionality. This is particularly the case when considering mass intervention in a healthy population, in which situation there must be firm evidence of benefits far greater than harms. The current, available evidence clearly shows that the risk versus benefit calculation does not support administering rushed and experimental Covid-19 vaccines to children, who have virtually no risk from Covid-19, yet face known and unknown risks from the vaccines," the petition stated.
The petitioner quoted an article in The Lancet titled "Children and young people remain at low risk of COVID-19 mortality", which stated that severe Covid-19 disease was rare in children.
"In the USA, UK, Italy, Germany, Spain, France, and South Korea, deaths from Covid-19 in children remained rare up to February, 2021…" the petition said.
Similarly, a report in the BBC titled "COVID: Children's extremely low risk confirmed by study" stated that "the overall risk of children becoming severely ill or dying from Covid is extremely low, a new analysis of Covid infection data confirms…those living with multiple chronic illnesses and neuro disabilities were most at risk, though overall risk remained low".
In September last year, the apex court had on Puliyel's plea issued a notice to the Centre and four others — ICMR, Central Drugs and Control Organisation, Bharat Biotech and Serum Institute of India — seeking transparency in clinical trial data and citizens' informed consent for Covid-19 vaccines under "emergency use authorisation". However, the top court declined to stay the vaccination process to avoid any panic or misgivings among the public.